Car owners often go overboard with the size of the aftermarket alloy wheels for their cars in a bid to make their cars look unique.
This video encompasses the entire driving experience of a Kia Seltos owner after installing 20-inch alloys in the SUV. Car owners go to extreme lengths to make their vehicles look unique and stand out in the crowd. However, not all such attempts could be termed as safe or prudent. Here is an example of how such whims could backfire. A Kia Seltos owner has posted this video on YouTube sharing his experience of living with a mid-size SUV with massive 20-inch alloys. Now, this is not a great idea for a variety of reasons. We shall discuss all these here.
Also read: Kia Seltos Tests Build Quality of Tata Nexon – Surprising Results
Driving Experience of a Seltos with 20-inch Alloys
The YouTuber starts the video by taking us along for the ride in this modified Kia Seltos. He gives a live demonstration of what it feels like to drive this SUV with large alloy wheels. He starts listing out problems with the steering feedback, braking, acceleration, stability, suspension, ride quality, etc. In essence, such huge wheels have an impact on all the parameters of a car. These are heavy tyres that drag the car back and require more effort. This reduces the fuel economy drastically. Secondly, the low profile alloy wheels have a low sidewall. It acts as a cushion between the car and the road. But with such a thin sidewall, you would feel the bumps and vibrations from the road a lot.
Also read: Kia Seltos with Ceramic Coating Vs Kia Seltos with PPF Coating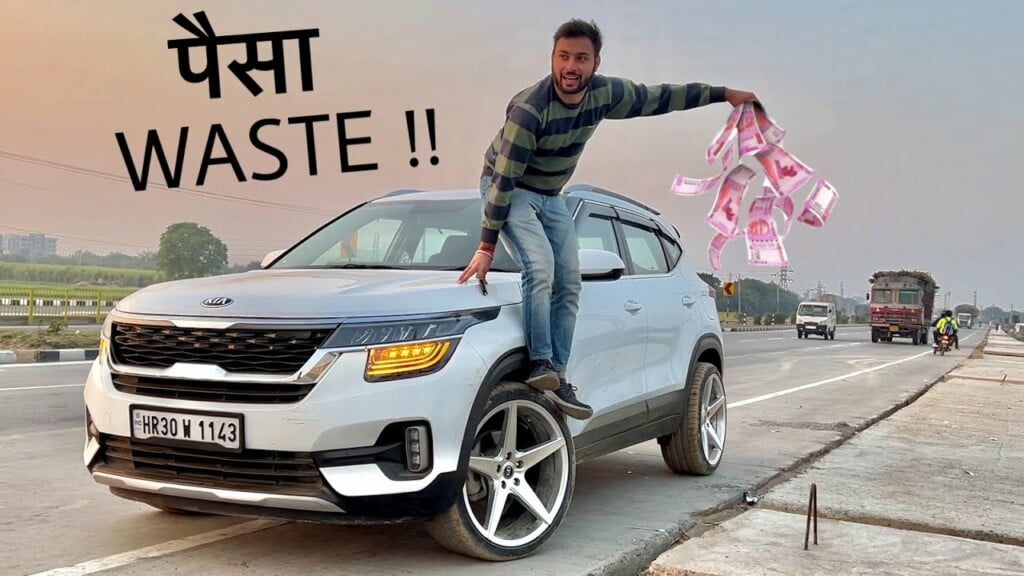 Additionally, every carmaker puts in a lot of R&D behind calibrating a car according to the wheels so as to establish a balance between performance, fuel efficiency, ride comfort and handling. If you opt for such modifications, the calibration gets haywire and all the parameters of your vehicle are affected. This is exactly what the driver also feels. He is not able to drive with confidence as he is facing uncertainty with every aspect of the SUV. The steering has become almost free for the initial turning. Brakes have lost efficiency. We urge all of you to read the car's manual to know which are the standard things that you should get installed in the aftermarket. Otherwise, it could prove to be dangerous.
Also read: WATCH Dealership Staff Struggle to Control a 'Self Driving' Kia Seltos!
Join us for FREE NEWS Updates on our Whatsapp Community or our official telegram channel.