People often attempt seemingly brave but inherently stupid stunts in cars like Maruti Swift risk their own lives along with that of others.
This Maruti Suzuki Swift driving through knee-deep water highlights the perils associated with attempting something this stupid. Swift, first of all, is not a go-anywhere off-roading machine. It is a regular hatchback with minimal off-roading capabilities. Secondly, to attempt anything involving so much water on the road without any safety is completely bonkers. The situation of floods is, unfortunately, quite common in our country. We have seen the power of water several times and wouldn't want to play with it at all. Check out what happens to the Swift once it enters the water.
You may also like: Swift Cross Could Be The New Compact SUV From Maruti Suzuki
You may also like: This Suzuki Swift Sport Replica Runs on CNG, Gets Mods Worth Rs 2 Lakh
Maruti Swift Driving Thru Water
The video has been posted on YouTube. The registration plate of the Swift suggests that the car belongs to someone from Meghalaya. Now, Meghalaya is a part of the seven sister states of North-East India. The terrain and weather conditions of the hilly state are quite challenging, especially during heavy snowfall. Floods on roads and landslides are common occurrences. Perhaps, this video is shot on one of such days here the water level on the roads has risen so high that it is almost impossible for the vehicles to pass through. However, one Maruti Swift tries to push its luck and drives straight into the waist-deep water.
You may also like: Customised Maruti Swift Gets MG Astor Like Interior
The people making the video are surprised to see this sheer display of stupidity. Luckily enough, the Maruti Swift could return from midway a few seconds after attempting this stupid stunt and getting water-borne. Once the driver realised that the water is getting too deep and the car might get stuck, he decides to pull back. Now, this is extremely dangerous because the hydrostatic lock could prevent the ignition from getting switched ON and the car could get stuck there risking drowning. The damage to the engine is obvious, but water poses serious threats to the lives of the occupants, especially if children are involved who can't even swim.
You may also like: Maruti Swift Tests Build Quality of Ford EcoSport – Shocking Result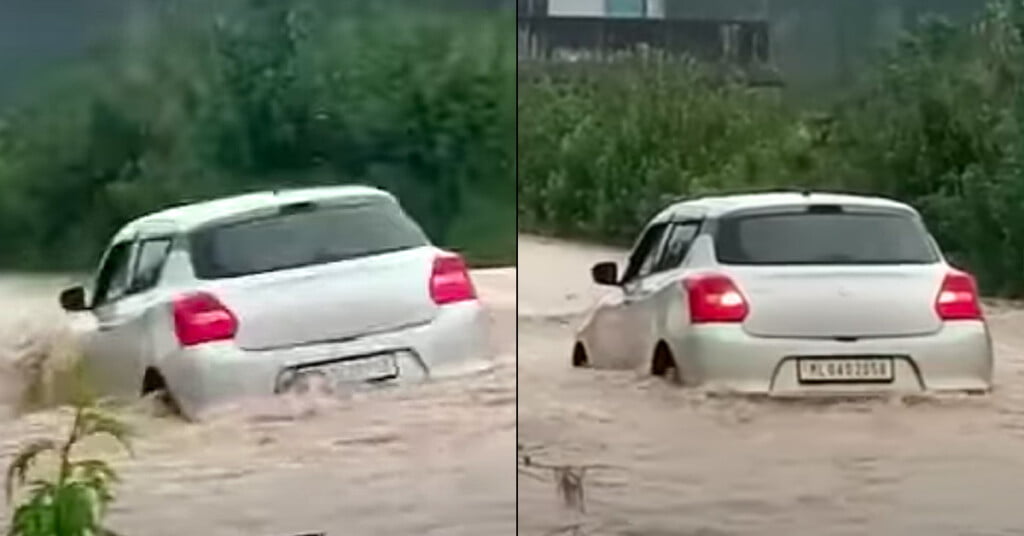 We could only warn our readers to never attempt something like this irrespective of how urgently you need to reach somewhere. Remember, nothing is more important than your life. Just for a brief moment of bravery, you are risking your entire existence which is not prudent. This Maruti Swift driving back from the middle of the water stream should remind you of safety first.
Join us for FREE NEWS Updates on our Whatsapp Community or our official telegram channel.