The Swift is infamous for being not the ideal product when it comes to build quality, while the EcoSport has proven its mettle time and again.
These images show the build quality of a Maruti Swift and Ford EcoSport. Swift is not well-known for being a solid and sturdy product. In various unfortunate incidents, it has not performed as the Maruti loyalists would have wanted. Apart from a couple of products from Maruti, the build quality is not something that it could pride itself on. On the other hand, Ford products have always been popular on the back of that reassuring rugged body that they possess. EcoSport is a prime example of that and we have seen that multiple times.
You may also like: Maruti Swift Outruns Tata Tiago CNG Even With AC and Passenger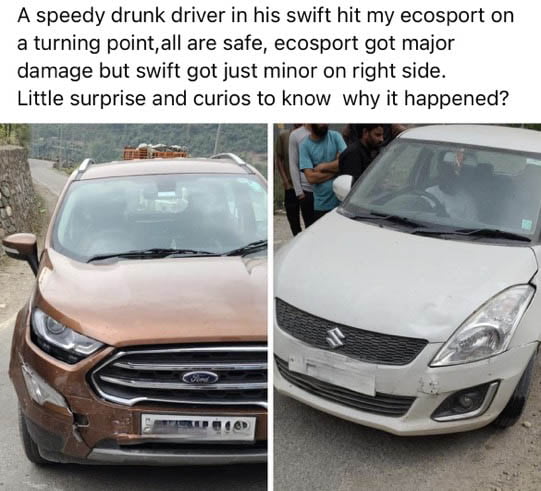 You may also like: EPIC FAIL- VW Polo Trying Reverse Drift Collides Into Maruti Swift
Swift Tests Build Quality of EcoSport
This image has been posted by the owner of the EcoSport on the Owners' Group Page on Facebook. He mentions that the driver of the Swift was at high speed and drunk. These two attributes are a guaranteed recipe for disaster. The owner mentions that this took place at a turning point when the Swift rammed into the EcoSport. What is a bit shocking is the aftereffect on the two vehicles. While the EcoSport experienced a broken bumper and some other damages, the Swift is the one with the least impact. One side of the Swift has seen some minor scratches. but that's about it. This is one of those rare instances where the Swift performed better than the EcoSport.
You may also like: Swift Cross Could Be The New Compact SUV From Maruti Suzuki
Come to think of it, it is entirely possible that the Swift hit the EcoSport at such an angle which resulted in this sort of damage. Because we know the build quality and strength of the body of EcoSport. This raises a serious issue that unfortunate incidents could be highly unpredictable and it doesn't just suffice to own a car with a higher safety rating. What matters is how you drive on the roads. Overspeeding and drunk driving are the most common causes of such events.
You may also like: Ford EcoSport Tests Build Quality of 5-Star Mahindra XUV700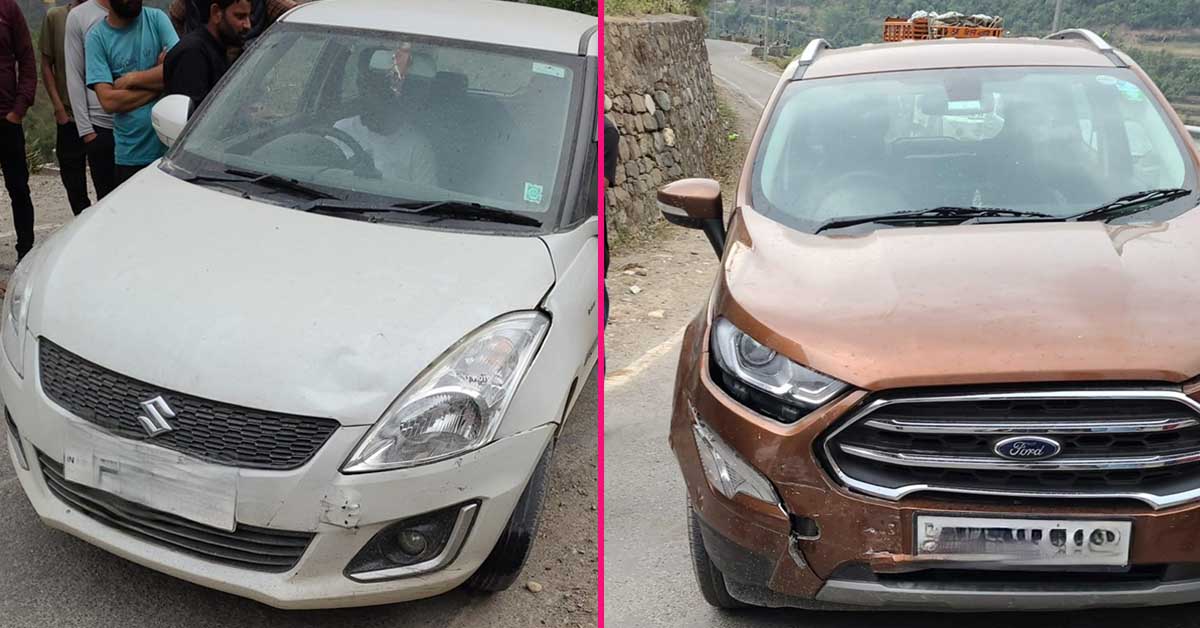 Hence, we advise our readers to always follow the traffic regulations and drive within the speed limits. The point is that you must have control over your vehicle even if the other person on the road is driving recklessly. This incident of a Swift testing the build quality of the EcoSport teaches us just that.