Maruti Swift and Tata Tiago are direct rivals in the hatchback segment and a drag race between these could be a concrete indicator of their performance.
Maruti Swift and Tata Tiago are involved in a drag race to see which hatchback goes home with the bragging rights. Swift is one of the most popular products ever to grace the Indian market. The Tiago, on the other hand, is a relatively new product that is catching the attention of the new-age buyers due to its safety rating and rugged build quality. But what happens when these two hatchbacks drag race?
You may also like: Skoda Slavia (1278kg) vs New Maruti Baleno (920kg) In Drag Race
You may also like: Audi Q2 vs Mahindra XUV700 Drag Race Result Will SURPRISE You
Maruti Swift vs Tata Tiago – Drag Race
Before, we begin, we must advise our readers to not perform such stunts yourself. The YouTuber takes precautions and ensures that an empty stretch of roads is available to drag race. The Tiago in this video is a CNG variant, while the Swift is a petrol version. To make things even, the AC of the Swift is kept ON for the first attempt, while the Tiago has its AC OFF. However, it doesn't make much of a difference as the Swift is quick off the line and maintains a steady lead throughout the course of the race. In round one, the Swift beats the Tiago comfortably.
You may also like: Maruti Swift Vs Mahindra XUV300 Drag Race Yields Surprise Result
After seeing this result, the YouTuber decides to add another person in the Swift and keep its AC ON for the second attempt. The settings of the Tiago are kept the same. This time, the results still don't change much as the Swift trounces the Tiago almost effortlessly. The owner of the Tiago mentions that the lag at the beginning of the launch costs the race.
You may also like: Mahindra XUV300 vs Maruti Brezza Drag Race – Surprising Result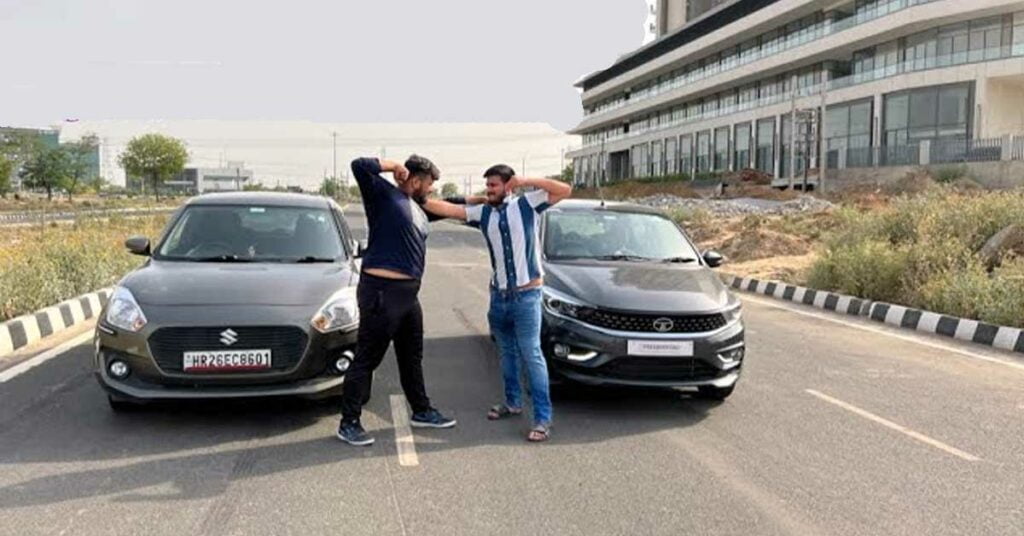 Specs Comparison
The Swift comes with a 1.2-litre naturally aspirated petrol engine developing 88 hp and 113 Nm with the option of choosing between either a 5-speed manual or an AMT gearbox. The prices of the Maruti Swift range between Rs 5.92 lakh to Rs 8.82 lakh, ex-showroom.
You may also like: Watch Kia Carens Vs Hyundai Alcazar in Classic Drag Race
On the other hand, the Tata Tiago CNG comes powered by a 1.2-litre naturally aspirated petrol engine outputting 72 hp and 95 Nm of peak power and torque. The CNG variant comes with a sole 5-speed manual gearbox. The Tiago retails in our market between Rs 5.23 lakh and Rs 7.80 lakh, ex-showroom.
Join our official telegram channel for free latest updates and follow us on Google News here.