The concept of drag race competitions is becoming increasingly popular among the YouTube community to determine which car is better than the other.
Here is a drag race between the rivals in the compact SUV segment, Mahindra XUV300 and Maruti Brezza. While it could be said that both these SUVs are quite popular, the Brezza certainly is much more preferred by the masses. Also, Maruti is about the introduce the facelifted version of the Brezza soon to increase its appeal even further. Mahindra, on the other hand, plans to introduce a more powerful turbo petrol engine in the XUV300 soon, in addition to an all-electric version. Hence, it can be concluded that the future for both these SUVs looks promising. For now, however, let us focus on their performance in this drag race.
You may also like: Mahindra XUV300 & Ford EcoSport Drag Race- Shocking Results
You may also like: New Maruti Baleno Losing Drag Race to Old Model Despite Unfair Start – VIDEO
Drag Race – Mahindra XUV300 & Maruti Brezza
The YouTuber mentions that both these SUVs feature a petrol engine with manual transmission. Because they belong to the same segment, the YouTuber has decided to perform this race. In the first attempt, the SUVs are carrying 2 persons each and the AC is switched OFF to maintain consistency. The XUV300 gets stuck in the beginning to get launched properly and the Brezza takes the lead, as a result. Interestingly, the Brezza remained ahead for the rest of the race. For the second attempt, the AC of both the cars has been switched ON and an additional passenger has been seated in the Brezza. This time around, there is a bit of a lag at the beginning of the race for XUV300 yet again, but it slowly gathers itself and wins the race with a slight margin.
You may also like: Watch Tata Safari vs Mahindra XUV700 in Classic Drag Race
For the third attempt, the AC has been switched OFF again and the passengers remain the same as in the second round. This time as well, the XUV300 experiences trouble getting off the mark. But soon enough, it takes the lead and continues to stay ahead for the remaining duration. The driver of the Maruti Brezza mentions that the performance of petrol cars with AC is significantly affected.
You may also like: WATCH Toyota Fortuner Legender & Mercedes E Class Go Drag Racing!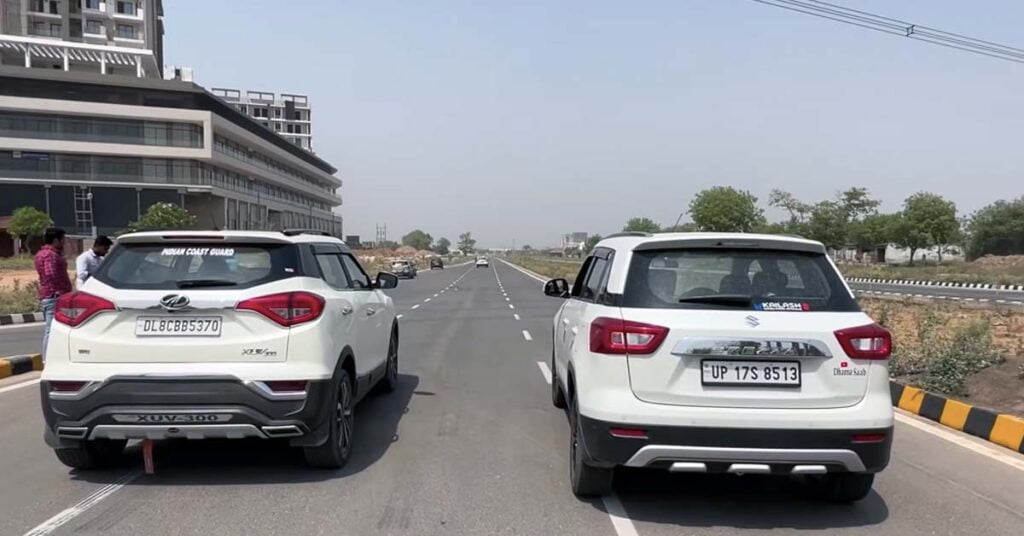 The XUV300 has 110 PS and 200 Nm, whereas the Brezza has 105 PS and 138 Nm of peak power and torque. But the weight of the XUV300 is much more than that of the Brezza which is why it might have lacked that punch despite a much more powerful turbo engine. Nevertheless, Brezza is the clear winner in this drag race with the XUV300.
Join our official telegram channel for free latest updates and follow us on Google News here.