Drag race competitions have become the new norm to test the acceleration of the vehicles side-by-side to determine the more powerful car.
The Mahindra XUV300 and Ford EcoSport are two of the popular products in the compact SUV space and this drag race between them will determine who has better acceleration. The EcoSport has been discontinued in India as Ford has decided to quit manufacturing cars in India altogether. However, there are a ton of Ford fans in our market that want that decision to be reversed. On the other hand, Mahindra has become the all-SUV maker with exciting SUVs on offer. Let us find out which one of these is a better performer.
You may also like: Mahindra Scorpio Can PWN XUV700 in Tug of War, Every Single Time
You may also like: Can You Guess The Winner of Maruti Brezza vs Tata Punch Tug of War?
Mahindra XUV300 vs Ford EcoSport – Drag Race
The YouTuber mentions that the XUV300 comes with a naturally aspirated petrol engine. However, the XUV300 only comes with a turbo petrol engine. After mentioning the details about the car, the YouTuber and his colleagues commence the race. In the first attempt, the XUV300 trounces the EcoSport. The gap between the two by the end of the race was huge. For the second attempt, the drivers were changed. However, the result didn't change one bit. The XUV300 completely annihilated the EcoSport this time around too.
Recognising the massive difference in performances of the two SUVs, the drivers decided to start the race by allowing the EcoSport to be parked a few metres ahead of the XUV300. In this third and final attempt, the EcoSport was unable to redeem itself despite the advantage and the XUV300 soon caught up with the EcoSport and overtook it to win the race. The EcoSport was an older model and the drivers complained about the jerky gearshift and power tapering off after 120 km/h.
You may also like: Mahindra Thar Vs Bolero Camper 4×4 Tug Of War!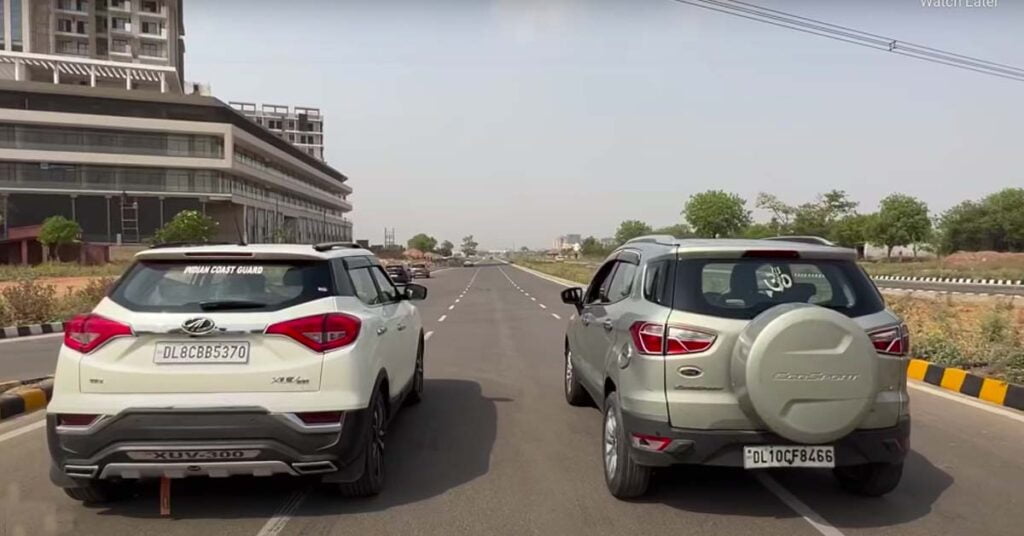 You may also like: Ford EcoSport Lightning Looks Like a Great Tata Nexon EV Alternative
Specs Comparison
The XUV300 in this race had a 1.2-litre turbo petrol engine that churns out 110 PS and 200 Nm while the EcoSport has a 1.5-litre diesel mill that outputs 100 PS and 200 Nm of peak power and torque. Both the SUVs had manual transmissions and the AC was switched off for the drag race. Were you as surprised as we were with the total domination that was displayed by Mahindra XUV300? Or did you know that the EcoSport might struggle from the very beginning?
Join our official telegram channel for free latest updates and follow us on Google News here.