The electric wave is upon us and digital automobile designers are embracing the concept and design language. Here is a brilliant specimen of what the EcoSport would look like with green credentials.
If Ford ever decides to launch an all-electric version of the EcoSport compact SUV, this is what it could look like. The digital artist has come up with quite a compelling version of the EcoSport. Lightning is the term Ford uses to describe its electric products, the most famous one being the F-150 Lightning all-electric pickup truck that is sold in the U.S. market. Following that nomenclature, here is an innovative rendering of the EcoSport all-electric SUV.
You may also like: Ford Owners Wishing to Upgrade Within Family Shows Brand Loyalty
You may also like: This 1:18 Ford EcoSport Model is a MUST-HAVE for All Ford Lovers
Ford EcoSport All-Electric SUV
The designer has taken care of even the minute details in this illustration. At the front, the traditional grille has been omitted. Replacing it is the new-age EV design that consists of a closed-off area. The Ford logo sits neatly at the centre and there is a mesh pattern visible on the sides. Apart from that, the bumper has been redesigned with minimalist features and the textures from the regular model are gone. It has simple creases with black contrasting panels. The side profile is accentuated by the stylish alloy wheels with a distinct pattern typical to EVs. The regular door handles have been substituted with flush-fitting ones highlighting the contemporary design.
The side body cladding is devoid of any curves and quirky patterns. Instead, a simple black strip has been slapped on the door panels. The other characteristics of the regular EcoSport have been carried over to this model too. This includes roof rails, dual-tone roof, black window surrounds, fog lamp housing and the upright stance that we all have come to expect from the EcoSport.
You may also like: Watch FWD Ford EcoSport Off-Roading in Snow, Slush, Mud & More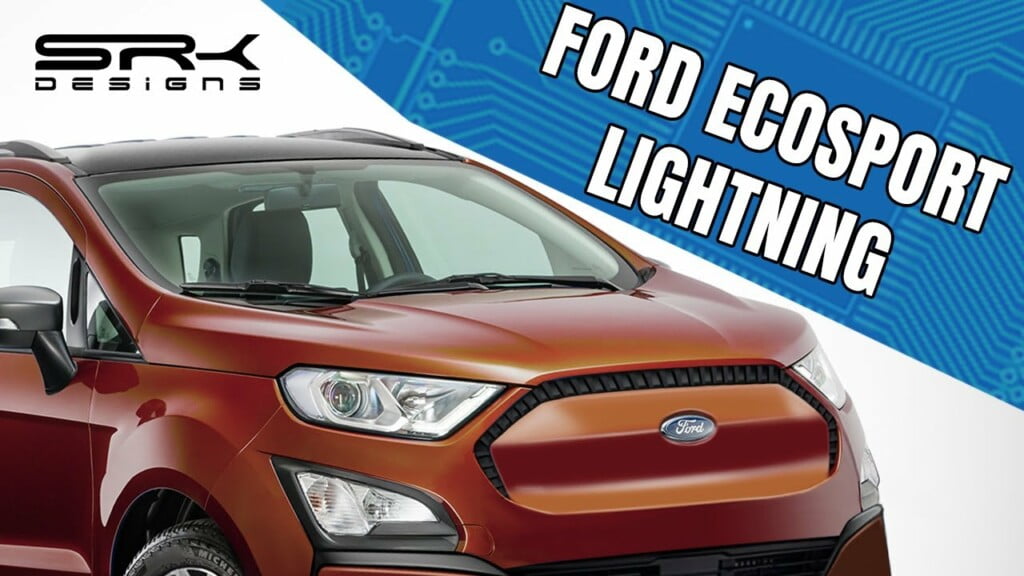 Ford has stopped manufacturing cars in India back in 2021 but there are still a ton of loyal customers that want that decision to be reviewed and potentially reversed. While that might be too far fetched, the existing owners need not worry about getting their old Ford cars serviced. The American carmaker has promised to keep offering spare parts and services for the foreseeable future. In the meantime, let us know your feelings about this all-electric version of the Ford EcoSport compact SUV.
Join our official telegram channel for free latest updates and follow us on Google News here.