Automobile lovers have quite distinctive passion and hobbies. Miniature replica car models of their favourite cars are certainly something many enthusiasts add to their collection.
This unique 1:18 replica model of the Ford EcoSport would be a worthy addition to any car lover's collection. Ford has a ton of fans in the country. The trend of compact SUV that the EcoSport had brought in is the prime reason for it. The tough compact SUV tasted massive success in its earlier days before the likes of Hyundai Venue, Maruti Brezza and Tata Nexon took over. But for the EcoSport lovers out there, this would bring in great joy and excitement.
You may also like: Watch FWD Ford EcoSport Off-Roading in Snow, Slush, Mud & More
You may also like: Kia Sonet Buyer Cancels Booking and Buys Used Ford Ecosport Instead
Ford EcoSport 1:18 Model
These kinds of miniature replicas are known as diecast models. These are not just your average toy kind of models, but designed to a high degree of precision and practically. The attention to detail in these models are impeccable. This video does a great job of highlighting the functionalities of this model. The dimensions are exactly the same but everything has been reduced down to 1/18th of the original SUV. These are imported replicas and could cost above Rs 5,000. The packaging has been done gracefully taking into consideration not to break anything during the transport. It has been bolted on the platform by a screw and wrapped in materials to prevent unwanted movement. The video shows the unboxing of the EcoSport.
What is fascinating is the fact that it gets a small stick that is used to open all 4 doors, the boot lid, the bonnet and the sunroof. These are exactly like in the original model. The spare tyre is neatly mounted on the boot lid and opens up to the boot compartment similar to the real-life counterpart. When the doors are opened, one gets a glimpse of the interior which are also designed with intricacies like to original model with the steering wheel, dashboard and typical EcoSport cabin layout. The tyres are movable with the steering and the model is painted in 3 layers to ensure safety even if a toddler or a pet decides to put it in the mouth.
You may also like: Ford EcoSport is a Perfect Camping Partner With Portable Bed & Kitchen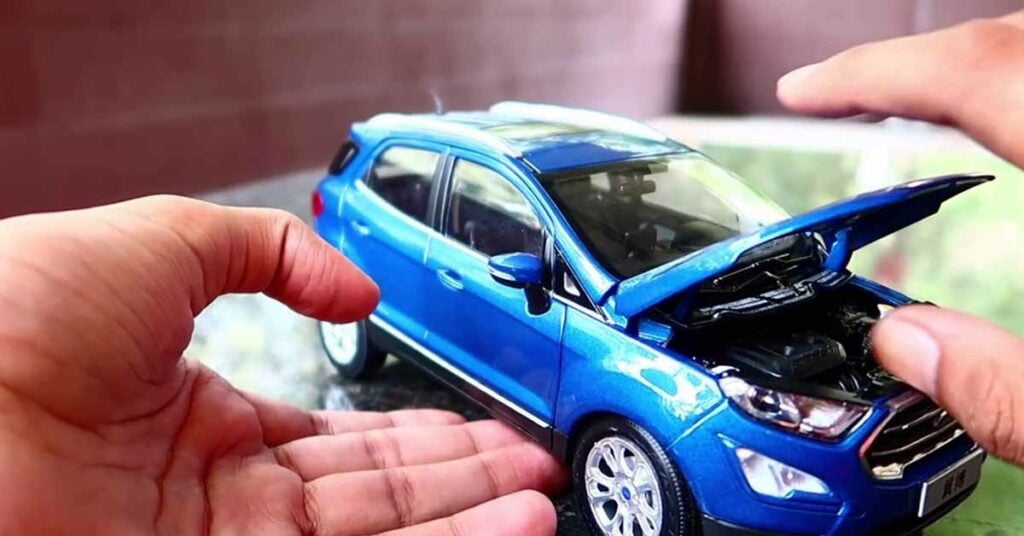 You may also like: 2023 Ford Endeavour Lightning e-SUV Looks Future-Proof
The question still remains if you would be willing to add such professional artefacts to your collection or not. This could be a great exhibition that you could make at your home depicting your love for automobiles.
Join our official telegram channel for free latest updates and follow us on Google News here.