Tug of war is becoming the go-to test among car owners to test the capabilities of their cars. This competition between Maruti Brezza and Tata Punch is the latest addition to that.
A tug of war between Maruti Brezza and Tata Punch has been captured in this video by a YouTuber. Now, while the two SUVs might belong to different segments, the competition is quite interesting nevertheless. Also, the Brezza has a diesel powertrain, whereas the Punch comes with a petrol engine. Let us get into the details of this challenge between SUVs of different segments.
You may also like: Tata Punch vs Tata Altroz Tug Of War
You may also like: WATCH 4×4 Magic in This Mahindra Thar vs School Bus Tug of War Match
Tata Punch vs Maruti Brezza – Tug of War
The YouTuber begins the video at a deserted place outside the city where the surface is composed of dirt and mud. Since the Punch doesn't have a towing hook at the rear, the SUVs are needed to be tied from the front. This means that the acceleration will be done in reverse gear. In the attempts of this surface, there was no clear winner due to the lack of traction. The team decided to move to a place with the tarmac road. Here, the Brezza, due to its much torquier diesel engine, managed to pull the smaller Punch. The result was no surprise to anyone since the diesel engine and a heavier body were advantageous for the Brezza from the get-go.
Specs Comparison
The Tata Punch is powered by a Tiago-sourced 1.2-litre naturally-aspirated petrol engine (also available on the Altroz and the Tigor) that offers 86 hp and 113 Nm of peak power and torque, respectively. Transmission options include a 5-speed manual and a 5-speed AMT. The prices of the 5-star rated sub-compact SUV range between Rs 5.64 lakh and Rs 9.18 lakh, ex-showroom.
You may also like: Jeep Compass Annihilates Kia Seltos Totally in Tug of War – VIDEO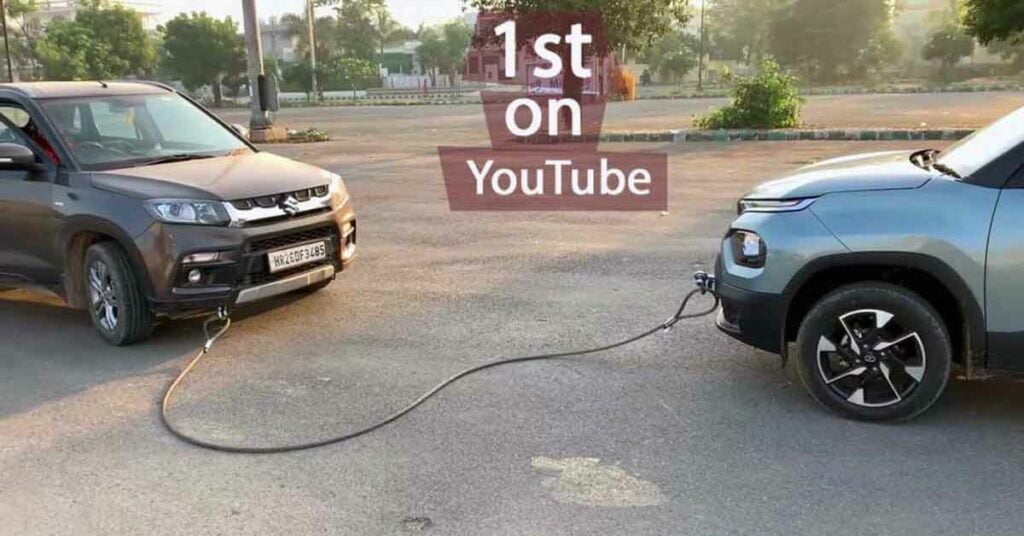 You may also like: Mahindra Thar Vs Bolero Camper 4×4 Tug Of War!
On the other hand, the Brezza comes powered by a sole 1.5-litre petrol engine (diesel has been discontinued) that makes 105 PS and 138 Nm of peak power and torque respectively. There is the option of choosing between a 5-speed manual or a 4-speed torque converter automatic gearbox. The prices of the Brezza range between Rs 7.69 lakh and Rs 11.34 lakh, ex-showroom. The new Brezza is about to make its debut in the market in a few weeks which might bring a slight increase in these prices. We urge you not to do such tug of war activities with your cars as they could cause damage if done carelessly.
Join our official telegram channel for free latest updates and follow us on Google News here.