In this edition of the tug oof war between two popular cars, we have the 4×4 Mahindra Thar and 4×4 Bolero Camper going head-to-head against one another. Watch who comes out on top!
Both the 4×4 Mahindra Thar and 4×4 Bolero Camper come with great off-roading capabilities. While the Thar is a small 3-door SUV, the Bolero Camper is a double-door pickup vehicle That offers strong performance and serves utility purposes. But what happens when these two collide against each other in a tug of war? Here is a video by MR. INDIAN HACKER that puts the 4×4 Mahindra Thar and 4×4 Bolero Camper in a tug of war. Let us see how the two cars perform. However, it is important to note that YouTubers ensure safety while performing races and you should not try such stunts on roads as it could lead to some dangerous consequences.
You May Also Like: Kia Seltos Has a Tough Time Beating Maruti Vitara Brezza in Tug of War
You May Also Like: Maruti Vitara Brezza vs Tata Punch in Tug of War – VIDEO
Tug of War
As you can see in the video above, the first attempt failed as the rope itself broke apart immediately, at the start. In the next round, the car took a slow start and there was a neck-to-neck competition for a while. However, once again the rope broke. The 4×4 Bolero Camper managed to keep the 4×4 Mahindra Thar at its place. Despite having better specs, the Thar could not move ahead. The manual transmission has its advantage. In the third attempt, the Thar had to struggle to maintain its position. The final round also had the opposite results, as the Bolero Camper had to struggle to stay still. Overall, both the 4×4 Mahindra Thar and 4×4 Bolero Camper are very powerful vehicles and can go head to head against each other.
You May Also Like: Less Powerful Ford Endeavour Pwns Toyota Fortuner in Tug of War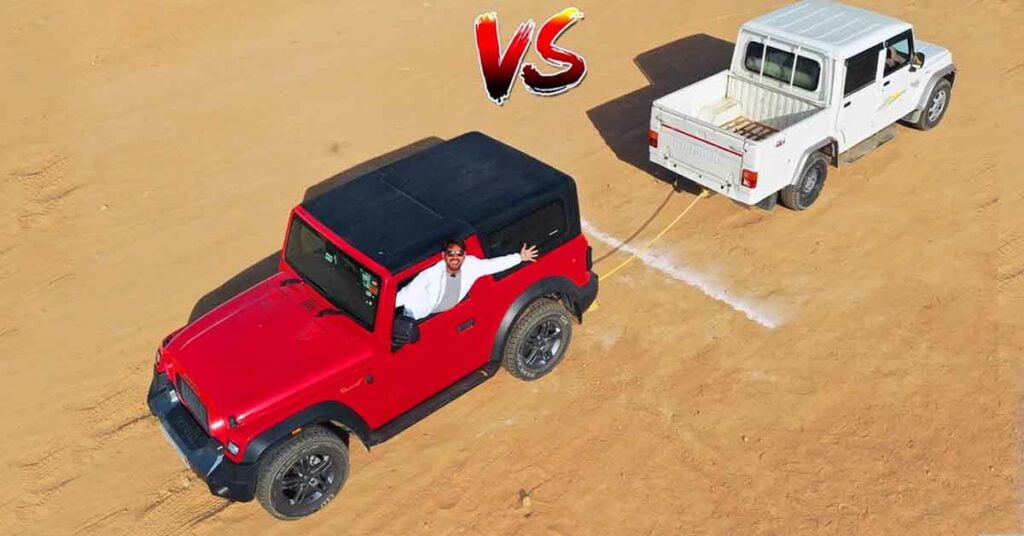 You May Also Like: Mahindra XUV700 TOTALLED in Worst High Speed Accident Yet – VIDEO
Specs Comparison
The Thar comes with 2 engine options, a 2.2-liter turbo-diesel, and a 2-liter turbo-petrol. The oil-burner makes 130 PS/320 Nm of peak figures while the petrol makes 150 PS/320 Nm of max figures. Transmission options for both the powertrains are a 6-speed manual and a 6-speed automatic with a low range box. On the other hand, the Mahindra Bolero Camper is powered by an m2DICR turbocharged diesel engine that offers 63 bhp of power and a healthy torque of 195 Nm. It also features independent front suspension, high ground clearance, and a 4WD option to improve the drivability on the off-roads.
Join our official telegram channel for free latest updates and follow us on Google News here.