The season of tug of war competitions is heating up and this time around, we have the two popular SUVs from the same family, the Mahindra XUV700 and Mahindra Scorpio.
This tug of war comprises the two popular SUVs from Mahindra, the XUV700 and Scorpio. One is the latest SUV in its all-SUV lineup, while the other is a veteran in the industry. Scorpio has a massive and argent following various parts of the country. People use it for all sorts of applications including passenger carriers, luggage carriers, off-roaders or for everyday use. The XUV700, on the other hand, focuses on modern comforts, conveniences, features and everyday usage. In this video, the XUV700 is petrol-powered FWD, while the Scorpio is a diesel-powered RWD vehicle.
You may also like: Less Powerful Ford Endeavour Pwns Toyota Fortuner in Tug of War
You may also like: Mahindra Thar Vs Bolero Camper 4×4 Tug Of War!
Mahindra XUV700 vs Scorpio – Tug of War
Both the SUVs are tied up from the rear end and pushed forward. In the first attempt, the Scorpio manages to pull the XUV700 quite clinically. The ease with which it was able to do that was surprising for most people. Interestingly, the AC in the Scorpio was ON. The team decided to go for the second attempt. By this time, a crowd has gathered around to watch this interesting event. The second attempt is almost an action replay of the first. The Scorpio dispatches the XUV700 almost effortlessly. Had it not been for the braking of the XUV700, Scorpio would have taken it along for quite some time.
The reason for this domination by Scorpio is the fact that it is diesel-powered and RWD. When the acceleration starts, the entire weight of the vehicle shifts on its rear wheel. Hence, the rear wheels have the most action available. This gives the engine an opportunity to put down all the power without worrying about tyre spin. In this case, the front wheels of the XUV700 are not able to use all the power from the engine because there is not enough weight on its front wheel. This principle can be used in various scenarios while reversing or driving from a standstill on a slope. If you want the car to pull, make sure its driving wheels have maximum traction.
You may also like: Kia Seltos Has a Tough Time Beating Maruti Vitara Brezza in Tug of War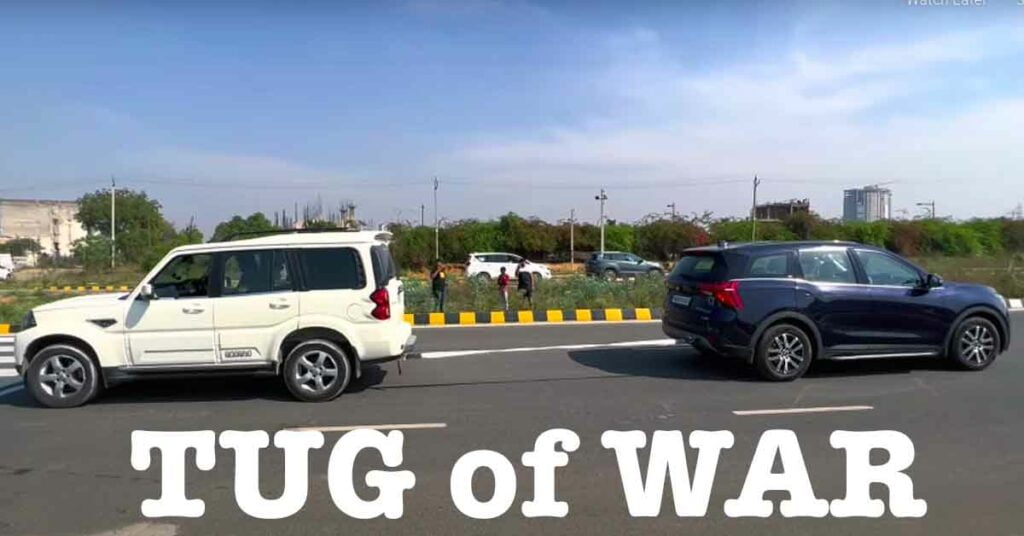 We urge our readers to not try these things on your own. Such attempts could damage the car permanently and the spare parts might be needed to be replaced. Also, let us know if you were surprised by this result or not.
Join our official telegram channel for free latest updates and follow us on Google News here.