While Ford EcoSport is a sufficiently robust vehicle that scored 4-star in ANCAP, the Mahindra XUV700 has a 5-star rating from GNCAP
Launched last year, the Mahindra XUV700 has been a stellar success with waiting for this SUV stretching for over 22 months to April 2024. The 7-seater SUV has bagged a 5-star rating from Global NCAP, thereby becoming one of the safest cars to have ever gone on sale in the country. Also, the SUV has time and again proved to be a safe vehicle by keeping its occupants unhurt in major crashes. Meanwhile, the Ford EcoSport is not on sale anymore but is easily among the favourites of many car enthusiasts. The EcoSport has a 4-star rating from ANCAP but the Indian model was never tested by Global NCAP. Still, though, it's known for its strong built and high protection. But things take an interesting turn in a collision between the XUV700 and the EcoSport –
You may also like: Is Not This The Best Modified Mahindra XUV700 Yet?
You may also like: Mahindra XUV700 vs Toyota Fortuner – Tug of War
This accident took place near Varanasi in Uttar Pradesh. The mishap took place when an XUV700 entered a highway from a service lane while an EcoSport travelling at over 90 kmph was just approaching that intersection. It can be seen in the images we have here that both the vehicles have suffered from a pretty high damage to their front-end. Also, both the vehicles had multiple occupants. The accident seems to have taken place owing to the compact SUV not being able to shed momentum owing to the high speed at which it was travelling. On the same time, even the XUV's driver was required to make a proper judgement and enter the highway only when there was no impending risk.
You may also like: Mahindra XUV500 Crashes Head-On Into Army Truck- SEE RESULTS
Fortunately, both the cars kept their occupants totally safe in this accident. However, it looks like it's the Mahindra XUV700 that has suffered from a higher cosmetical damage. As seen, the EcoSport has damages to its bumper, front left fender and hood. On the other hand, the XUV suffers from a totally destroyed front bumper, headlights, bonnet and front right fender. However, between these two, it's the Ford that will require bigger repairs as its front airbags had deployed on the collision. There was no deployment of airbags in the XUV700 but it has clearly suffered from a higher degree of external damage.
You may also like: Audi Q2 vs Mahindra XUV700 Drag Race Result Will SURPRISE You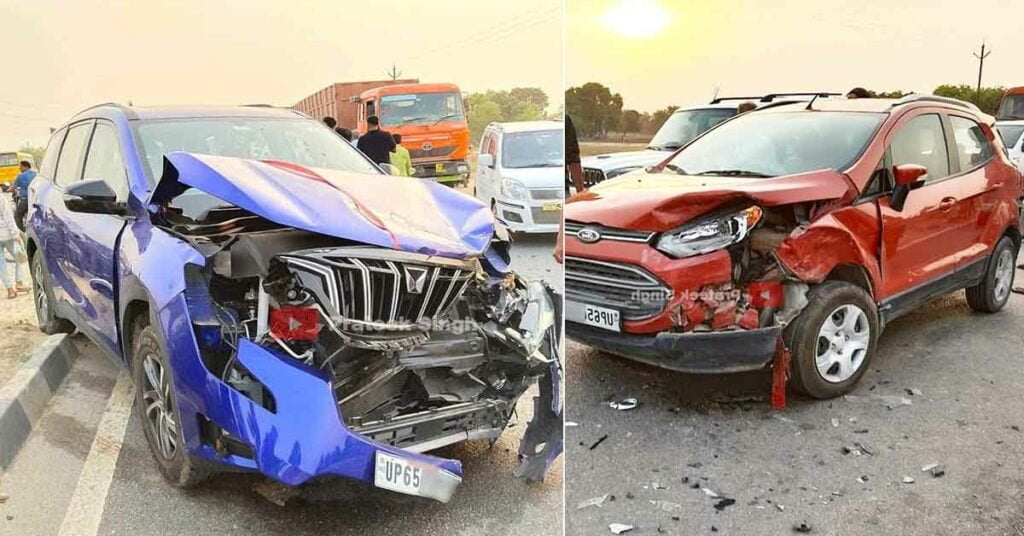 You may also like: Brand New Mahindra XUV700 Looks Amazing After a PPF Job
Regardless of which car suffered more damage, we're happy no one got hurt in this high-speed accident between the Ford EcoSport and Mahindra XUV700. We urge all our readers to be extra cautious when driving on expressways, especially when at high speeds.
Join our official telegram channel for free latest updates and follow us on Google News here.