A new approach to in-car infotainment will be unveiled at the Geneva International Motor Show (8 – 18 March). Working with Italian designer Franco Sbarro, systems integrator and vehicle electronics specialist Delphi Automotive has developed an interactive in-car demonstration of sophisticated infotainment systems that provide reliable high-speed connectivity and an impressive user experience.
The Delphi Sbarro F1for3 is an Formula One-inspired three seat sports car that brings the latest user experience, entertainment and information technologies to life. At its heart is the ability to stream TV and internet data to a passenger's portable device such as a tablet PC or smartphone. Its sleek 'black-panel' center console allows passengers to control infotainment, comfort and convenience features using touch sensitive multi-use surfaces. Additionally, a slim-line roof module integrates reception and connectivity electronics.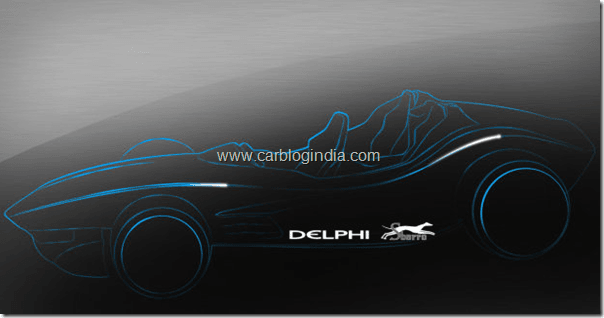 image – Delphi F1FOR3 Concept Teaser Image
Providing connectivity while on the road even in areas of poor reception is an issue that Delphi is addressing with its advanced reception systems. "It is easy to demonstrate data streaming in a stationary vehicle," continues Steger. "But it is much more difficult to provide uninterrupted connectivity when traveling at motorway speeds". Delphi offers advanced multi-service antenna reception systems that can integrate transceivers for radio, TV, GSM, GPS, services such as eCall and Car-2-Car, tyre pressure monitoring and keyless entry. In the F1for3, Delphi has added 4G capability to demonstrate robust, high-speed internet access direct to occupants' mobile devices. The F1for3 reception system is part of the slim-line roof module that provides an advantageous location for alarm sensors, camera, WLAN router and ambient cabin lighting and can be seamlessly integrated into the vehicle.
The F1for3 features products and technologies from Delphi's MyFi™ family of connected infotainment solutions. Serving as a hub for entertainment and communication features, MyFi systems use an open architecture platform to implement a broad range of features including Bluetooth, WiFi, and cellular connectivity, natural voice recognition, hands-free system operation and audio streaming. Premium MyFi connectivity solutions can even leverage local and wide area networks for smart phone apps, remote servers and cloud-based services.
The "F1for 3" includes a MyFi™ multi-function infotainment unit and a touch-sensitive, 'black-panel' centre display. This system interfaces with SD cards and USB memory as well as Bluetooth™-enabled and other portable devices including iPods.
In addition to standard radio and navigation, this innovative infotainment system integrates internet connectivity by using Delphi's embedded connectivity system or by using the occupant's mobile telephone as a data modem. This demonstration of data connectivity allows services providing information such as weather data and fuel prices to be overlaid on maps and viewed on the navigation screen.
The integrated centre display uses Delphi's 'black-panel' design to provide flexible and distinctive control features that can be quickly configured for different applications. The capacitive touch-screen responds to a light touch of a finger and allows users to manage infotainment and climate control features from a single unit. This design simplifies vehicle integration and validation, decreases weight, and reduces packaging space.