The interaction between Anand Mahindra and his followers/fans on Twitter is a treat to watch, as is evident in this latest post.
A fan asked Anand Mahindra to wear a cowboy hat while driving the Scorpio SUV. Naturally, it was meant partially in good humour but partially in seriousness too. Scorpio is a rugged and renowned product in our market. There is a substantial cult following for the SUV. On the other hand, Anand Mahindra is always sport for anything unorthodox and witty. Being the kind of guy he is, fans thought it was appropriate for him to wear a cowboy hat while driving the SUV. However, how it all went down on social media is quite fascinating.
You may also like: Anand Mahindra Reacts to an Interesting 'Then & Now' Pic of a Mahindra XUV700 Owner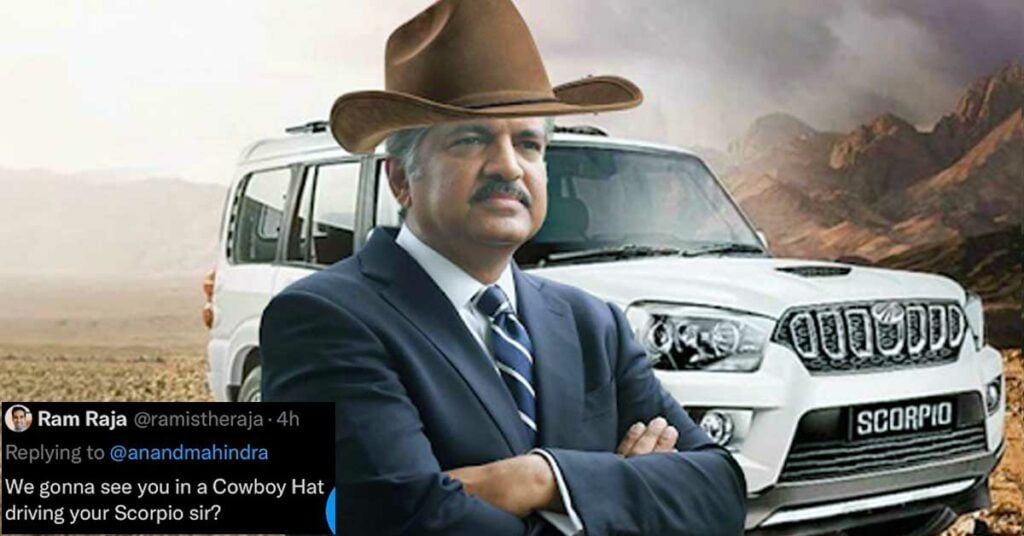 You may also like: Anand Mahindra Reacts to Kid Who Didn't Sleep All Night Waiting for Delivery of Scorpio N
Anand Mahindra with a Cowboy Hat
As per a tweet by a certain Ram Raja, it was mentioned that, "We gonna see you in a Cowboy Hat driving your Scorpio sir?" Anand Mahindra, known for his instant witty replies suggested, "Now there's an idea… Will do that. But I'm sure someone will be also go ahead and morph a cowboy hat onto my photo…" It was clearly an invitation and a challenge to the people to use their photoshop skills and create the required image. Finally, someone replied to it with the photo that he made.
You may also like: Statistics Say Black Cars 47% More Likely to Have Accidents, Anand Mahindra Says 'Kuch Bhi'
This Twitter user, Himanshu Baria replied with the image of Anand Mahindra wearing a brown cowboy hat with the Scorpio SUV in the backdrop. The post said, "Aye, Aye Captain". To this rather good-looking rendition, Anand Mahindra replied, "Not bad." That is what we appreciate about the billionaire business tycoon. He loves to interact with everyone on Twitter revealing his humble and enthusiastic side.
You may also like: Anand Mahindra Reacts to Meme on Tesla ft Pankaj Tripathi
He has over 9 million followers on Twitter alone making him one of the most followed businessmen in the country. He keeps posting motivational content along with his candid and honest opinions about various things happening anywhere in the world. Obviously, he is more in touch with the latest news related to automobiles. Apart from that, he loves talking to Mahindra customers to get feedback on the SUVs his company makes. What do you think about Anand Mahindra?
Join our official telegram channel for free latest updates and follow us on Google News here.