They say, "Statistics are 90% facts and 10% truth" which is what seems to be the theme of this Tweet by Anand Mahindra.
Anand Mahindra has been in the news once again with his 'Kuch Bhi' tweet. He is known for his witty social media posts and comments. That is the reason why he is one of the most followed businessmen in the country. He has over 9 million followers on Twitter alone. He keeps himself updated with the latest happenings around and is involved in the matters which is what social media users enjoy and appreciate. Here are the details of the latest incident.
You may also like: Anand Mahindra Reacts to Raveena Tandon's Wish to Buy Thar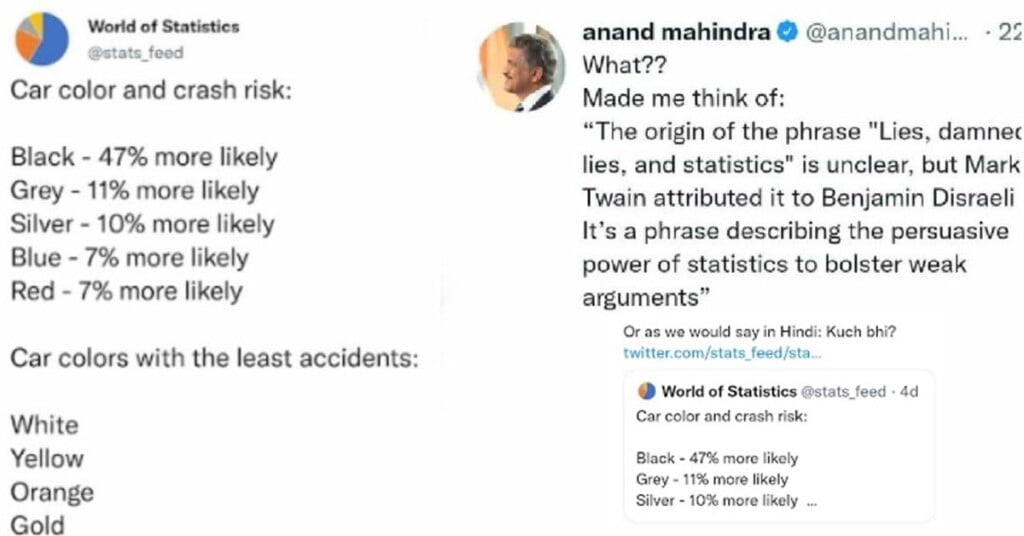 You may also like: Anand Mahindra Reacts to Meme on Tesla ft Pankaj Tripathi
Anand Mahindra 'Kuch Bhi' Tweet
As per the tweet by World of Statistics, there is a list of the colours of the cars that are more susceptible to crashes. In that list, black colour is quoted as being 47% more likely to be involved in a crash. As for the other colours, Grey has 11% more chances of being involved in a crash, while Silver, Blue and Red have 10%, 7% and 7% chances of the same respectively. The other part of this tweet mentions that the colours with the least likelihood of an accident are White, Yellow, Orange and Gold. The source of this survey and the conditions are not mentioned.
You may also like: Anand Mahindra Frustrated Over Electric Scooter Getting Fined for No PUC
To this report, Anand Mahindra was quoted as replying, "What? Made me think of: "The origin of the phrase "Lies, damned lies, and statistics" is unclear, but Mark Twain attribute it to Benjamin Disraeli. It's a phrase describing the persuasive power of statistics to bolster weak arguments". Or as we would say in Hindi: Kuch Bhi?". He is clearly not impressed by this survey and the statistics it throws up.
You may also like: Man Escapes Elephant Attack, Declared "Best Bolero Driver In The World" by Anand Mahindra
Statistics Questionable
The main argument here could even be the fact that not all colours are proportionally sold in the market. It could be that the black and grey colours are the most sold which makes them feature at the top of this list but white is equally well sold. Moreover, most incidents in our country are not even reported. Therefore, it is almost impossible to understand the basis behind these stats. Nevertheless, we should bother less with the stats and more about driving safely and following traffic rules. Because if there is one reason that is common in almost all accidents, it is overspeeding and disrespecting traffic laws.
Join us for FREE NEWS Updates on our Whatsapp Community or our official telegram channel.