The electric vehicle industry, it seems, has to tackle even more grievous challenges than just the charging infrastructure.
In the latest tweet by Anand Mahindra, he is evidently frustrated by a challan of an electric scooter for not having the PUC (Pollution Under Control) certificate. Mahindra is famous for being a candid social media personality who keeps himself updated with the latest happening in the country. People appreciate his hilarious and witty tweets making him one of the most-followed Indian Businessmen on Twitter. He has over 9 million followers. Let us check out what he said in his latest tweet.
You may also like: Man Escapes Elephant Attack, Declared "Best Bolero Driver In The World" by Anand Mahindra
You may also like: Reacting on Cyrus Mistry's Demise, Anand Mahindra Pledges to Always Use Rear Seatbelts
Anand Mahindra Tweets About Electric Scooter Challan
This incident took place in Kerala. The owner of the electric scooter shared the image of the receipt of the challan. Funnily enough, a traffic police official issued a challan in the name of the EV owner for not having the PUC certificate. Now, anyone even remotely familiar with EVs must know that these vehicles don't produce tailpipe emissions. As a result, they don't need any PUC certificate. That is the reason why the industry is heading toward electrification in the first place.
You may also like: Anand Mahindra Feels Bolero Users Who Smuggled Alcohol in Roof Could've Been Automotive Designers
After the EV owner posted the image of the scooter and challan receipt of Rs 250 on Twitter, the netizens went into a frenzy. People couldn't believe that the authorities could be this ignorant and ill-informed. To this Anand Mahindra tweeted, "And you thought the biggest challenge to going electric was charging infrastructure?" It highlights his frustration and it is something that a lot of others also feel. The mass adoption of EVs could be severely hampered if such incidents persist.
You may also like: Anand Mahindra Asks Nitin Gadkari To Build Trunnels
Incentives
Our government is trying hard to offer a ton of incentives so that people get excited about buying electric cars. EVs look like the only way to ensure sustainable future mobility causing the least amount of damage to the environment. Almost all the major carmakers in the world are focussing on EVs. They have invested heavily in the technology. We see them coming up with new models at the present while revealing their future plans on becoming carbon neutral within this decade. What are your thoughts on this?
You may also like: Anand Mahindra Jokes He Won't Allow Rohit Shetty to Blow Up Scorpio N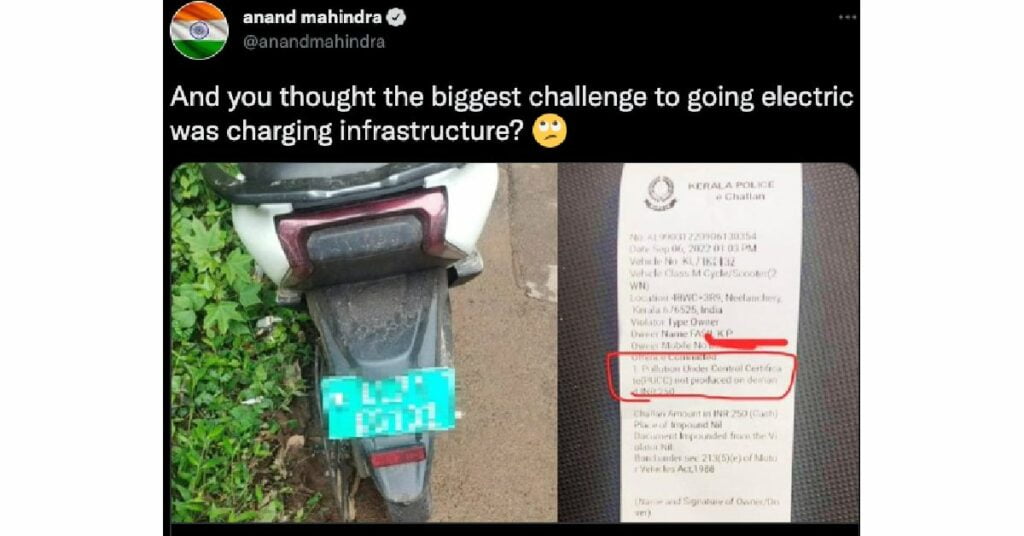 Disclaimer- The embedded videos/ external content is/are being used as a convenience and for informational purposes only; they do not constitute an endorsement or approval by Car Blog India of any of the products, services, and /or opinions of the corporation or organization or individual. Car Blog India bears no responsibility for the accuracy, legality, and/or content of the external site or for that of subsequent external videos/ external content. Contact the external publisher for answers to questions regarding its content.
Join our official telegram channel for free latest updates and follow us on Google News here.