Anand Mahindra continues to amuse the netizens with his humorous and innovative tweets and ideas.
In his latest tweet, Anand Mahindra asks Nitin Gadkari to bring a new element into the construction of highways. Nitin Gadkari is the Union Minister for Roads, Trasport and Highways who is known for being active in devising innovative policies and solutions. He promotes the use of alternative fuels to power future mobility. Electrification and infrastructure of roads and highways continue to be his priorities for the country. Anand Mahindra is a renowned industrialist and businessman who keeps promoting innovative ideas and does a lot of philanthropic activities.
You may also like: Anand Mahindra Jokes He Won't Allow Rohit Shetty to Blow Up Scorpio N
You may also like: India's First Homemade Electric Jeep Leaves Anand Mahindra Totally Impressed
Anand Mahindra Tweets To Nitin Gadkari
In his latest tweet, Anand Mahindra refers to Nitin Gadkari sharing a video clip of a road covered by trees on both sides. They make an organic tunnel on a regular road. He comes up with the word 'Trunnel' for this phenomenon which is famous in some parts of the country. One user confirms that the video clip is from a South-East Asian country where such type of occurrences is common. Anand asks Gadkari to build such trunnels, wherever possible while constructing so many new highways in the country.
You may also like: Anand Mahindra Reacts on India's Longest Loaded Train
The government and the MoRTH, in particular, are focussing a lot on the development of infrastructure for the construction of efficient highways and roads in various parts of the country. This will lead to increased green cover. Also, the natural vegetation and wildlife will be minimally affected by the construction of roads in such a manner. With strict environmental regulations prevailing all over the globe these days, it becomes necessary to take such measures into consideration.
You may also like: Anand Mahindra Asks Thar Owners To Exercise Restraint – Here's Why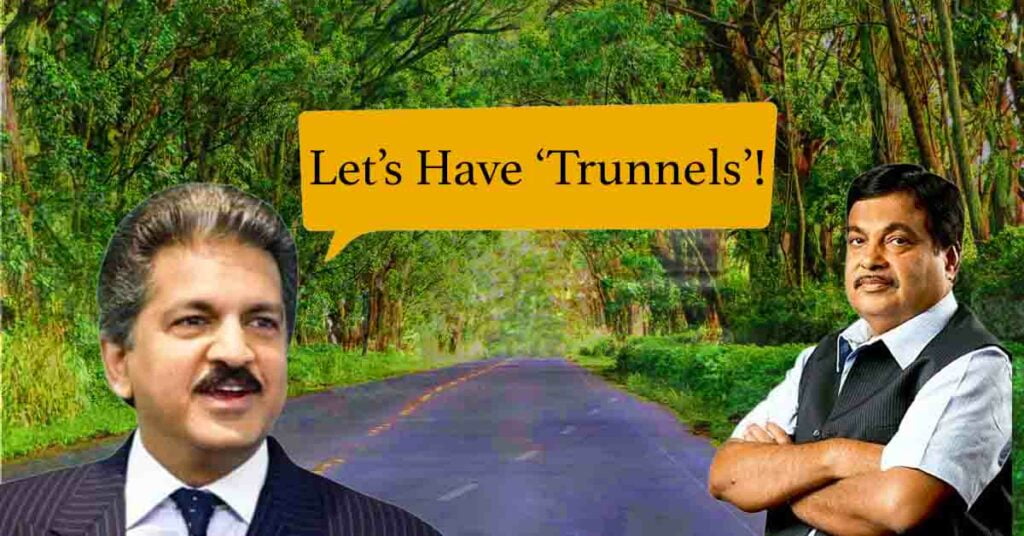 Rapid development looks like the new normal but we have to be conscious of the nature around us too. That is the reason why we have seen so many new highways leaving enough spaces for animal crossing to ensure that their natural habitat is not destroyed. At the same time, such initiatives are great that will ensure that a lot of trees are not cut in the process of road construction. Also, having the natural elements around creates a positive feeling while driving which is crucial for road safety.
Disclaimer- The embedded videos/ external content is/are being used as a convenience and for informational purposes only; they do not constitute an endorsement or approval by Car Blog India of any of the products, services, and /or opinions of the corporation or organization or individual. Car Blog India bears no responsibility for the accuracy, legality, and/or content of the external site or for that of subsequent external videos/ external content. Contact the external publisher for answers to questions regarding its content.
Join our official telegram channel for free latest updates and follow us on Google News here.