Anand Mahindra is known for his witty and humorous tweets and this latest one from him is a source of entertainment for the netizens.
In his latest tweet, Anand Mahindra mentions Rohit Shetty. He is known for coming up with hilarious tweets and engaging with the public on social media quite often. That makes him one of the most followed business entrepreneurs in the country. He has over 9 million Twitter followers currently. In a post, he shared an engaging video of the making of the Scorpio N at Mahindra's state-of-the-art manufacturing facility in Chakan. It was widely applauded by the netizens and one of the comments asked him to invite Rohit Shetty to the facility.
You may also like: Anand Mahindra Shares Tweet on Indian Lady Who Joked to Foreigners About Having Only Elephants in Garage
You may also like: India's First Homemade Electric Jeep Leaves Anand Mahindra Totally Impressed
Anand Mahindra Tweets About Rohit Shetty
Because in his original post, he mentioned how dramatic and exciting the manufacturing process of an automobile is. With it, he posted a near 2 mins long video showing the robots assembling the body parts and the employees giving the final touches to the Scorpio N. The Twitter user asked Rohit Shetty to be invited to the unit in order to show him the dramatic process. To this, Anand Mahindra replied, "We'll invite him, but you can be sure he won't be allowed to blow up any ScorpioNs in our plant!!"
You may also like: Anand Mahindra Reacts on India's Longest Loaded Train
This comment has already received over 1,700 likes indicating how well people liked it. The reference, for the uninitiated, is that Rohit Shetty is famously known for being a great action director who features stunts involving blowing up vehicles in most of his movies. That has become his style. Anand Mahindra makes it very clear that his SUVs are out of the question for stunts like that. His sense of humour is widely appreciated on Twitter and in general.
You may also like: Anand Mahindra Asks Thar Owners To Exercise Restraint – Here's Why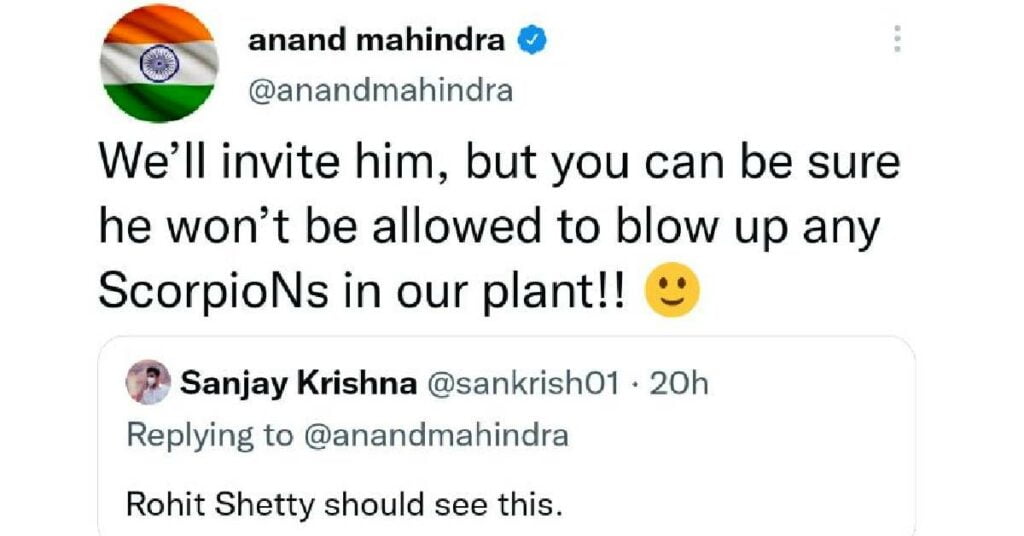 Mahindra recently showcased its 5 new EVs on Independence Day as a part of its future plans. The EV industry is growing at a rapid pace and Mahindra wants to keep up with the trend and not lag behind. Automobile manufacturers not adapting to the changing trends might end up with huge losses since the future of mobility is inevitably looking electric. What are your thoughts on the upcoming EVs from Mahindra?