Anand Mahindra is a popular figure on Twitter and one of the most followed businessmen and industrialists in the country.
Anand Mahindra reacts to people using the Bolero to smuggle drugs. We recently reported a case in Bihar where a few miscreants used a Mahindra Bolero in order to smuggle illicit liquor. They devised an innovative technique by opening the roof of the SUV and fitting the boxes of alcohol in there. It was shut closed just as it was before in an attempt to eliminate any suspicions or traces. However, the Police had the intel and were able to catch the criminals in time recovering 960 bottles of alcohol.
You may also like: Miscreants Smuggle Alcohol in Mahindra Bolero's Roof, Nabbed
You may also like: Mahindra Bolero Gets New Logo, Spotted With Old Model
Anand Mahindra Reacts People Using Bolero To Smuggle Alcohol
In a recent tweet, Anand Mahindra said, "Unfortunate that these chaps went down the wrong moral path. Otherwise they could possibly have been creative automotive design engineers!!" He is known for recognising and appreciating talent. However, in this case, the talent was wasted in a negative activity which must be punished. In the past, he has supported people trying to come up with unique solutions for everyday problems. That is what makes him so popular among the netizens.
You may also like: Bolero Neo-based 2022 Maxx Pik-Up Truck Revealed in New Spy Media
Mahindra Bolero is a popular SUV from Mahindra driving most of its sales from the semi-urban and rural parts of the country. This segment is growing and Bolero seems to be the ideal product considering the environments and situations people often find themselves in. The SUV is rugged, has utilitarian aspects, is tough to take on difficult terrains and carries large people and luggage to even the remotest parts of the country. That is the reason why it has been among the top-selling products from Mahindra for years and continues to be so.
You may also like: Bolero-Based Mercedes G-Wagon On Sale for Rs 8.25 Lakh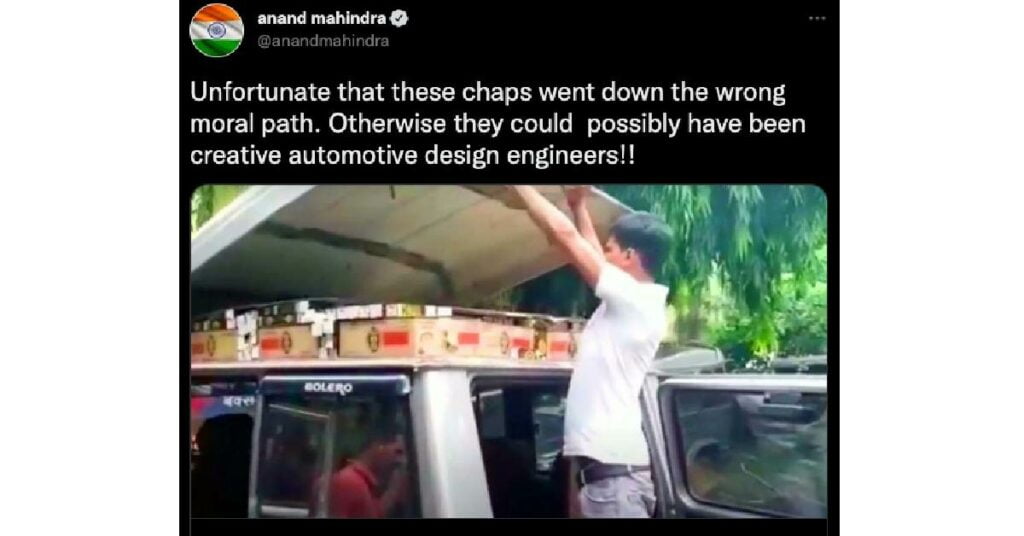 For the future, Mahindra recently revealed its upcoming range of electric SUVs in order to capitalise on the EV space. It has realised that electric cars are the future and most global automobile players have shifted to that. Mahindra showcased 5 brand new SUVs that will start launching from December 2024 until 2026. The first product will be called the e8 which will be the electric version of the XUV700. Moreover, the XUV400 (electric version of the XUV300) is bound to hit the roads in the coming weeks.
Join our official telegram channel for free latest updates and follow us on Google News here.