Twitter is the medium through which Anand Mahindra offers constant motivation, joy and humour to the rest of the world.
In the latest tweet by Anand Mahindra to Raveena Tandon, he hints at something big. Anand is one of the most followed businessmen in the country with over 9 million Twitter followers. We have seen him come up with candid, witty, motivational, and many others kinds of tweets in the past. That is what keeps his followers engaged and in constant awe of the man. While there are a ton of philanthropic activities that he does, people mostly love him for his witty comments.
You may also like: Anand Mahindra Reacts to Meme on Tesla ft Pankaj Tripathi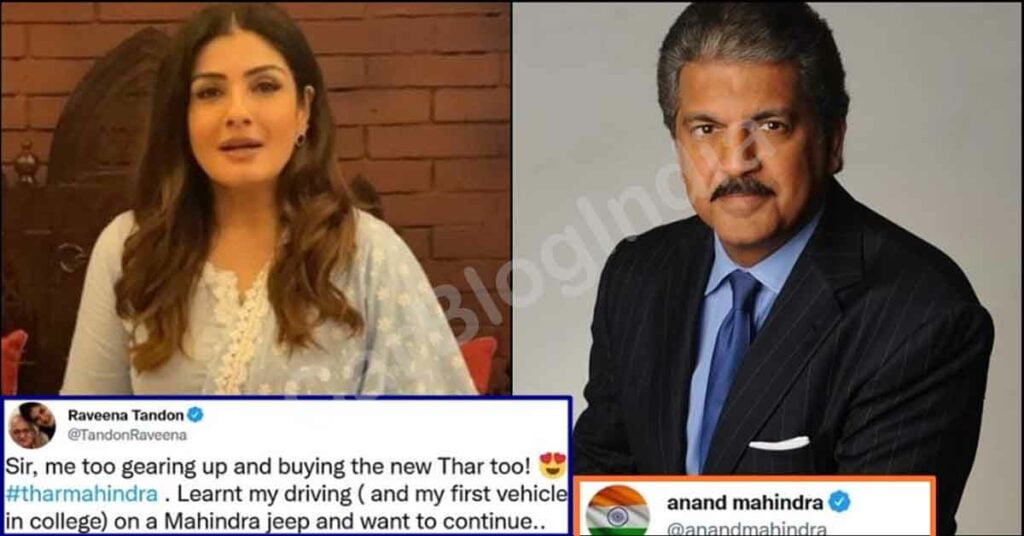 You may also like: Anand Mahindra Frustrated Over Electric Scooter Getting Fined for No PUC
Anand Mahindra Reacts to Raveena Tandon's Tweet
In a recent tweet, Raveena Tandon was quoted saying, ""Sir, me too gearing up and buying the new Thar too! #tharmahindra . Learnt my driving ( and my first vehicle in college) on a Mahindra jeep and want to continue.. @anandmahindra" She clearly mentions that she learnt to drive in a Mahindra Jeep which a lot of people have done in their younger days since the Jeep was a prominent vehicle back in the day. Clearly, there are memories attached to it. Thar is the representation of the Jeep from the yesteryears that has still maintained that off-roading DNA.
You may also like: Man Escapes Elephant Attack, Declared "Best Bolero Driver In The World" by Anand Mahindra
Anand Mahindra is always quick to reply. In this instance, he replied, ""Nothing like taking a Thar to a Club Mahindra resort! (A double benefit for @MahindraRise." Anand is always seen appreciating people who are interested and invested in Mahindra products. He was very active during the promotion and launch of vehicles like the XUV700, Thar and Scorpio. In addition to the credibility of these SUVs, Anand's constant involvement also plays a huge role in establishing the image of the brand.
You may also like: Anand Mahindra Asks Nitin Gadkari To Build Trunnels
Thar
Mahindra Thar comes with 2 engine options, a 2.2-litre turbo-diesel, and a 2-litre turbo-petrol. In the current-gen model, the oil-burner makes 130 PS/320 Nm of peak figures while the petrol makes 150 PS/320 Nm of max figures. Transmission options for both the powertrains are a 6-speed manual and a 6-speed automatic with a low-range box. You also get a transfer case and a mechanically locking centre differential. The prices range from Rs 13.59 lakh to Rs 16.29 lakh, ex-showroom.
Join our official telegram channel for free latest updates and follow us on Google News here.