The Ford Endeavour is looking quite unique in these 26-inch rims and might be the first SUV to do so. It isn't every day that you hear about a car with 26-inch wheels. But the passion of automobile owners to make their cars stand apart from the crowd makes people do such things. The Endeavour has been discontinued in India along with all the other Ford cars. The American carmaker has ended the production in our market altogether. People can still get their hands on a Ford car until the stock lasts. Endeavour is one such off-roading monster that will be terribly missed. Let us take a look at these massive alloys in depth. The images can be found on the Instagram of Velocity_Tyres.
Also read: Ford Endeavour Window-Deep in Water Shows Why Off-Roading is Not For Faint-Hearted!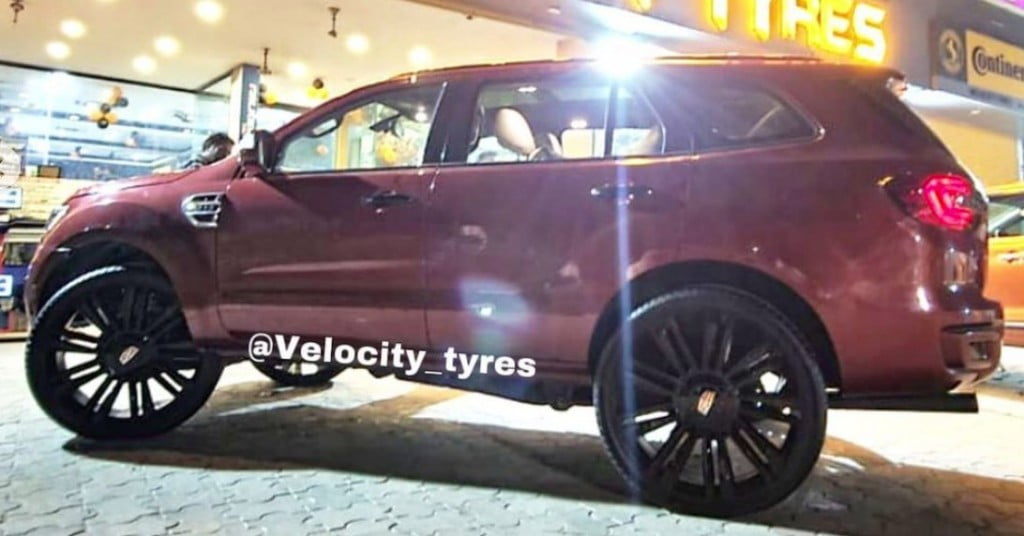 First Ford Endeavour with 26-inch Rims
The images show that the Endeavour is maroon in colour and the black alloy wheels complement the sporty appearance greatly. The design is a dual 9-spoke pattern painted in black. The tyres are also low profile which can provide a lot of grip around the corners. The handling is greatly enhanced by such low-profile tyres. On the other hand, the ride quality is affected by such tyres incredibly. The shocks and jerks on the roads thud through into the cabin. Such tyres are not very common due to this exact reason. Generally, such rims won't make for good off-roading adventures. Off-roading conditions require high-profile tyres with a high side-wall that could absorb all the undulations from the dirt track.
Also read: Ford Endeavour X Expedition Mashup – Looks Great, No?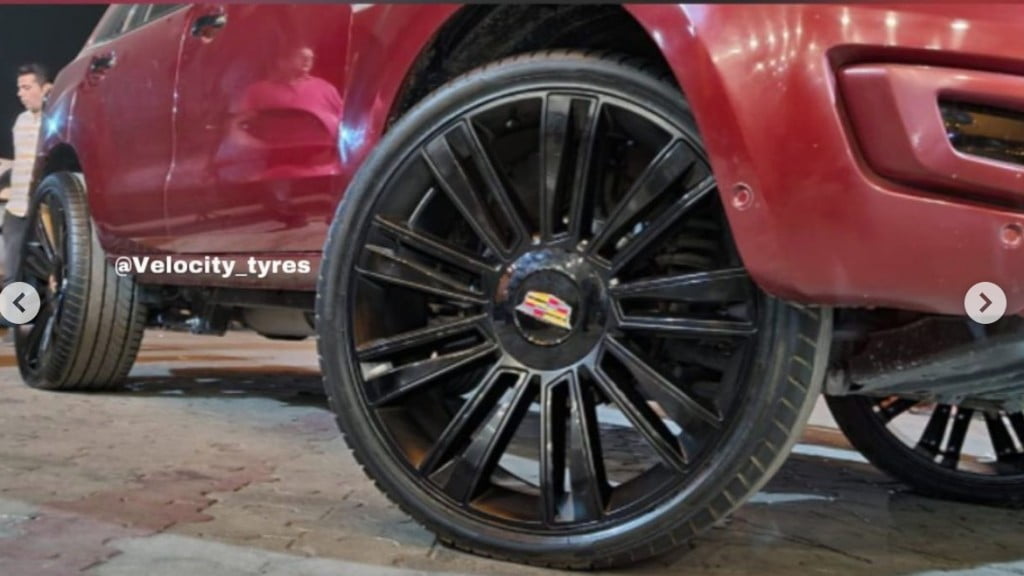 Specs
Before discontinuation, the Endeavour came with a 2.0-litre diesel engine making 175 PS of peak power and 420 Nm of peak torque. The transmission duties are carried by a 10-speed automatic gearbox. Various drive systems (4×4) and terrain modes help in propelling the Endeavour through any kind of environment. You can get your hands on one before the stock runs out with prices ranging from Rs 33.81 lakh to Rs 36.26 lakh, ex-showroom. The direct and worthy rival to the Endeavour has always been the Toyota Fortuner. Apart from that, it also had competition from Isuzu MU-X and MG Gloster.
Also read: Disgruntled Owner Uses Donkey To Tow His Ford Endeavour to Dealership