Check out this accident between first-generation Ford Figo and Tata Tiago facelift and see the impact on both the hatchbacks.
The current Ford Figo is one of the safest hatchbacks in India, securing a safe 4-star safety rating. The first-gen Figo did not get this high safety rating but was quoted by many owners to be well built. Instead, it did not come with an airbag that time and was clearly a car with zero-star safety rating. Here is an example of an accident between a 0-star rating and a 4-star rating car.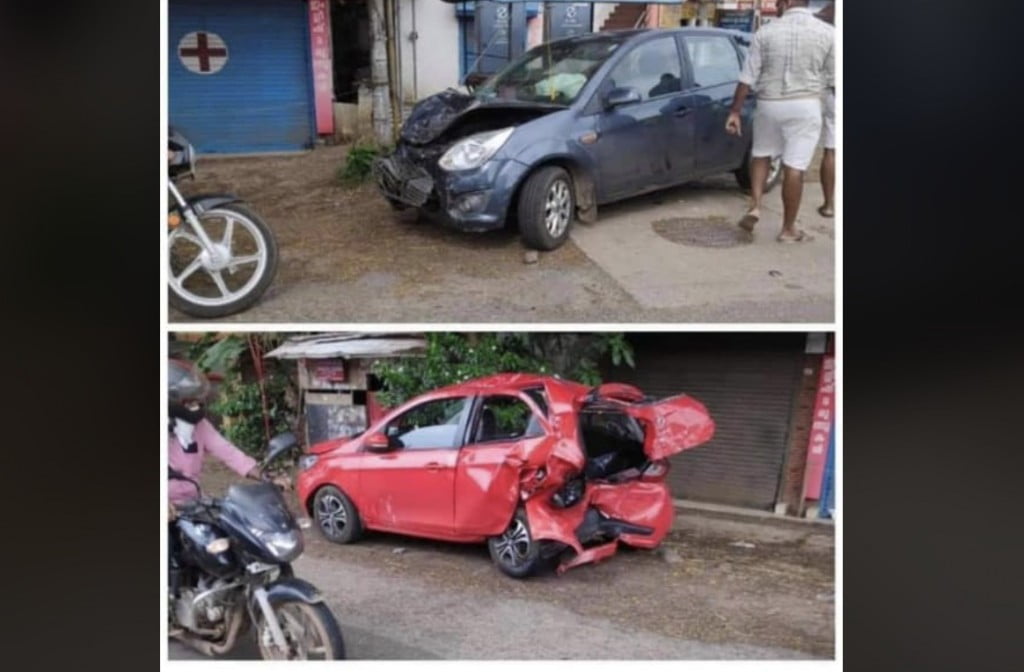 On the other hand, we have Tata Tiago which is also among the safest hatchbacks in the country. This is the facelifted model which was launched towards the starting of this year. In this accident, you can see that the Figo has rear-ended the Tiago and the latter has taken a far more impact than the other.
Also Read: Old Ford Figo Turtles 5 Times With Passengers Inside; All Safe!
The Tiago had three people seated inside and it was waiting at a signal. The Ford Figo was overspeeding and could not halt in time, ended up rear ending the Tiago. As you can see that Figo has received a comparatively lesser impact as only its bonnet and bumpers have been damaged. Even after this, the bumper has not come off and it can be repaired to its original condition.
However, Tiago has completely crumpled up from the back, taking the pillars and roof along with it. The wheels are still intact but the impact has almost reached them. Passengers in both the cars were completely safe and they walked away without any injuries. More surprising and interesting is that all the three passengers of Tiago walked away without any injuries.
In case of Ford Figo, the appreciative part is the build quality and how less damage it took. On the other hand, despite taking such a severe impact, Tiago managed to keep its passengers safe. Now both the cars are among the top 4 safest hatchbacks of the Indian market, battling its position with Volkswagen Polo.