Twenty Two Motors Pvt Ltd has unveiled the first prototype of their Smart Scooter 'FLOW'. The Smart vehicle, which is enabled by Artificial Intelligence, is aimed at the young and modern. The 'FLOW' boasts provides an amalgam of modern technology, smart features, and a lithium-ion battery. While the company was established in 2016, the Research and Development has been carried out for an extensive period of time and thus, the 'FLOW' is the first ever electric scooter concept from the manufacturer.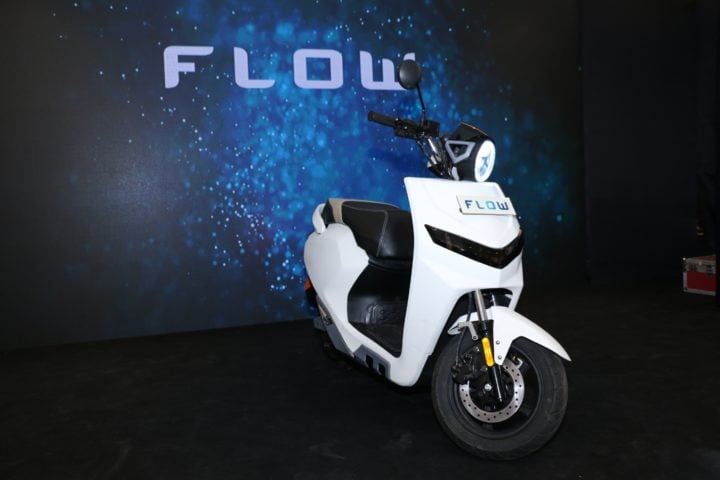 ALSO SEE- Upcoming Bajaj Electric Bike
The Smart Electronic Vehicle is connected to cloud server throughout the time, thus ensuring that user can keep an eye on systems performance even when the user is a thousand miles away. Servers analyze data through complex data analytic algorithms and suggest any upcoming service requirements. As the vehicle performs, aggregate rider and vehicle data help with customized vehicle updates which are delivered automatically on the touch dashboard display. The user-centric mobile application provides a one-touch solution to control every aspect of the vehicle. The user can track the vehicle remotely, while the in-built Geo-Fencing allows security against theft. Vehicle automatically alerts the vehicle owner, once the vehicle is beyond the defined geographical boundaries, whereby the owner can shut it down using the smart APP.
The vehicle weighs approximately 85 kgs and is equipped with a DC  motor, which is powered by a Lithium-Ion Battery, which can be charged within a short span of 2hours and can travel through a distance of more than 80kms with an unmatched speed of 60 KMPH, with a single charging session. The product will be available with an option of dual battery at the higher-end. FLOW is facilitated with numerous features such as telescopic suspension, in-built mobile charger with sufficient storage space for 2 helmets. Flow is expected to be priced at INR 65,000 to 70,000
Commenting on the launch Parveen Kharb, CEO and Co-Founder, Twenty Two Motors said "We are super excited to unveil the prototype of FLOW to the consumers in India. FLOW boasts of industry-defining features which are going to be the benchmarks for others to follow. We conducted surveys and open houses for about 500 customers in NCR, Pune and Jaipur and the response was overwhelming. We have put an initial investment of about 5mn in the manufacturing facility in Bhiwadi which has an installed capacity of 10,000 units"
Flow Electric Scooter Concept Images
"We will look at increasing the capacity of the manufacturing facility but that would be decided by the rollout of the first batch of Smart vehicle sometime early next year" he further added.