Ford India has partnered with Loyola Private Industrial Training Centre in Bangalore to launch an educational centre called Launch Automotive Student Service Educational Training or ASSET. This centre for learning aims to create high powered individuals who have the knowledge and expertise in the technical field and expose them to more opportunities. The inauguration of the centre took place in Bangalore on 18th of November 2014 in collaboration with ITI Bangalore and marks the second educational involvement of the company, the first being Cochin. 
Ford aims to train with regard to latest Ford technology and usage of Ford training material, tools kit, component display and cut section. This will create a pool of trained workers that Ford itself can hire and use for their benefit in the longer run within India. Future plans include 10 similar educationals centres to be opened in India by the year 2015.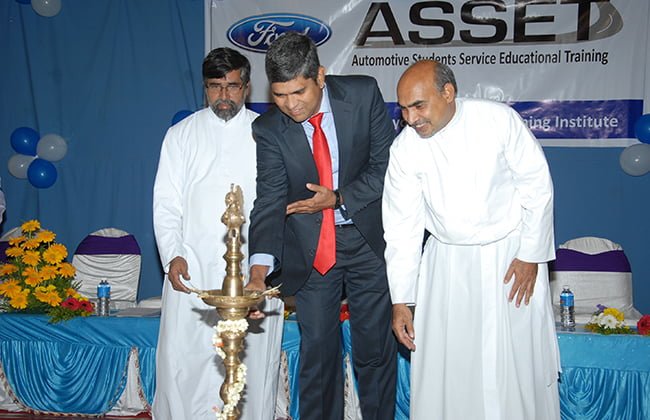 Ford will set up an exclusive technical training corner within the grounds of Loyola Private Industrial Training Centre in Bangalore to educate and train students on Ford technology as part of Motor Mechanic Vehicle (MMV) curriculum. The chief guest of the event was Mr. P.K. Umashankar, vice-president, Customer Service Operations, Ford India who inaugurated Ford ASSET. Among other Ford dignitaries were Rector Fr. Francis S.J and Fr. John D'Souza from Loyola Group of Institutions.
Umashankar told the gathering that this move will not only help the workforce to be more skilled but will also open up new and improved avenues for the students with regard to personal and career growth. He also mentioned that this endeavor does not stop at only this centre but several more will come up  in the next year of a similar kind, "We are going to expand to more cities and would like Ford ASSET centers to be the primary source of trained pool of technicians for Ford dealers across the country."
This program is not only for the students who enroll but to ensure a permanent setup which is rock solid with respect to latest information and teachers, they will follow the T-T-T program (Train The Trainer). In this program there will be classes and lectures designed for the teachers as well so as to get them up to speed with Ford's latest.
The Ford ASSET training facility will be a three party initiative which involves Ford, ITI as well as the dealer. The students are also to be given hands on training with the dealership Metro Ford, an ancillary division of VST Auto. This will encourage regular engagement for the students through special sessions from master technician or in-house trainers from the dealership. This will also include on-the-job training with Ford vehicles at the workshops. The entire experience will certify them to service Ford cars and becoming eligible to work in Ford service network across the country.
Join us for FREE NEWS Updates on our Whatsapp Community or our official telegram channel.