Ford Motor Corporation's President for Asia Pacific and Africa region, Joe Hinrichs in an interactions with Hindustan Time has revealed some important long-terms strategy of Ford For India and Asia Pacific region. One of the most important information revealed by Hinrichs is that Ford will launch a small car in the volume car segment to India under the small car Ford Figo which will help to increase sales volumes and market share of Ford in India. Ford Figo has been a phenomenal success for Ford India with Figo constituting major part of Ford India's total sales. Figo is also exported to about 50 countries across the world from India.
The small car, smaller than Ford Figo will be a suitable and high volume product for emerging markets like India, China, Brazil and Russia. The Ford sub-Figo small car is a part of Ford India's plan to bring 8 new cars to India by 2015. The Ford EcoSport compact SUV / Crossover will be one of these cars to launch in India soon as the production version of the EcoSport has broken covers at the Beijing Auto Show of 2012.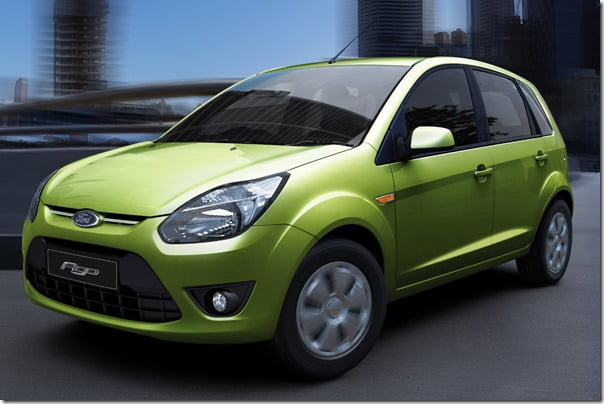 image- Ford Figo Small Car India
Hinrichs told HT
"We are capable and willing to make and sell cars smaller and cheaper than the Figo. Figo was not part of our global portfolio and we built it from scratch for India and other emerging markets. Its success has given us confidence and now I think we know what Indian consumers want"
Ford Figo is priced in India in a price band of approximately Rs. 4 to Rs. 6 Lakhs and the smaller car is expected in a price band of Rs. 2.5 Lakhs to 4 lakhs which will compete with high volume segment cars like Maruti Alto, Hyundai Eon, Maruti Wagon R etc. in India. The specifications, engine details etc. are not known at the moment, but we expect that small car to feature around 1 litre displacement fuel efficient engine with low maintenance cost and high value features like the Figo offers. Ford cars are also known for their sharp handling characteristics and we expect the Ford sub-Figo small car to have equally good or better suspensions and handling characteristics. It will be interesting to see new entrant from Ford to challenge the high volume segment players in India. We will keep you posted on the same, do sign up for our free email newsletter and like our official Facebook Page.
via – HT