The market for the conversion of internal combustion engine-powered vehicles to electric vehicles is growing at a rapid pace with unique innovations.
This video showcases a full converted electric version of the Maruti Suzuki Dzire. There are a plethora of startups that are developing technologies to retrofit normal cars with electric motors. This is primarily due to high fuel prices. Also, electric cars are quite expensive and there aren't all that many options in the market either. Hence, retrofitting an electric powertrain from the aftermarket is the only way to go full electric at reasonable prices. Check out this video where the owner of the company explains how he has managed to achieve this.
Also read: Auto Rickshaw Tests Build Quality of Maruti Dzire in Chennai
Full Electric Maruti Dzire
The entire powertrain has been designed, developed and manufactured by Northway Motorsport itself. They have the necessary certifications from the concerned authorities and their cars are street legal. So, you could be rest assured that it is not some run off the mill retrofitting that will be done on your car. The electric components, including the electric motor, electric cables, wires, switches, buttons, relays, etc have all been manufactured by Northway Motorsport. This has allowed them flexibility and full control of how they would fit the entire electronic system in the car. All these components have been placed inside the engine bay itself. There has been no element fitted anywhere else in the car.
Also read: Rs 6.5 Lakh Suzuki Electric Car to Debut in 2025 – DETAILS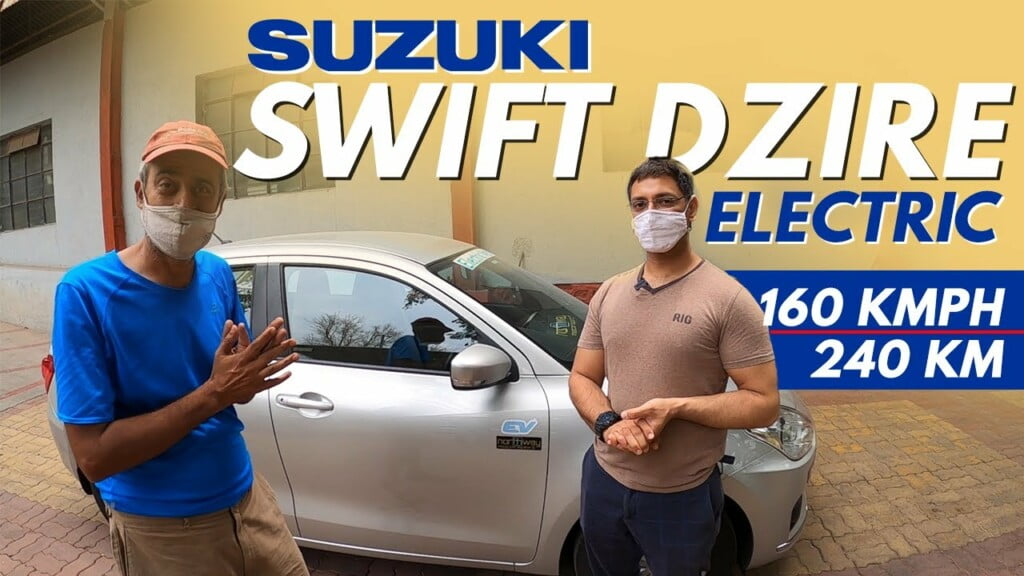 The owner of the car also claims that this car has substantially more torque than the regular model. The battery pack could be charged in 1 hour with the fast charger and in 8 hours with the regular charger. In terms of range, with moderate and city driving, one could expect a range of 240 km and a top speed of 160 km/h which is impressive. The 0-100 km/h acceleration time is also sub-10 seconds. The gearbox has been kept intact and could be used to control varying levels of regenerative braking. Therefore, all the elements of an electric vehicle have been added to this car. All the parts of design and manufacturing have been done keeping in mind the Indian mentality and infrastructure. You would also be able to install something like this in your cars quite soon with more such players entering the EV space.
Also read: Mahindra Bolero Neo Tests Build Quality of Electricity Pole!
Join our official telegram channel for free latest updates and follow us on Google News here.