Here is a video of the Mahindra Bolero Neo highlighting the build quality of an electric pole. Mahindra had introduced the new-gen Bolero Neo earlier this year. Bolero is a popular SUV primarily in the semi-rural and rural sections of the population. The reasons for that are quite simple. The SUV is a rugged offering and boasts of a ton of practicality and utility. Essentially, the Bolero is used as a multi-purpose vehicle that could be used for carrying a lot of passengers or a ton of luggage. Also, its tough built ensures that it could even reach the far-flung areas of the country. Now, this incident has surfaced where the Bolero Neo was seen testing the build quality of an electricity pole. Check out the details of this bizarre event here.
Also read: First-Ever Mahindra Bolero Neo With 17-Inch Alloys- This is IT!
Mahindra Bolero Build Quality
The video is uploaded on the YouTube channel of Nikhil Rana who brings the latest crash test videos of various vehicles. This incident comes from Gujarat. Reportedly, the guy was learning how to drive. But he decided to do it in the narrow streets of his neighbourhood. According to the details that are out, because he was a novice, he pressed the accelerator pedal instead of the brakes. This is something that happens to a lot of people. That is the reason why it is always advised to learn from a professional driving school. Along with that, a new driver must not practice in actual streets as long as he/she is not comfortable. An open ground is a great place to start learning how to drive. Because of these mistakes, the Mahindra Bolero Neo collided with an electricity pole.
Also read: Mahindra Bolero Neo Camper is an Affordable Alternative to Isuzu V-Cross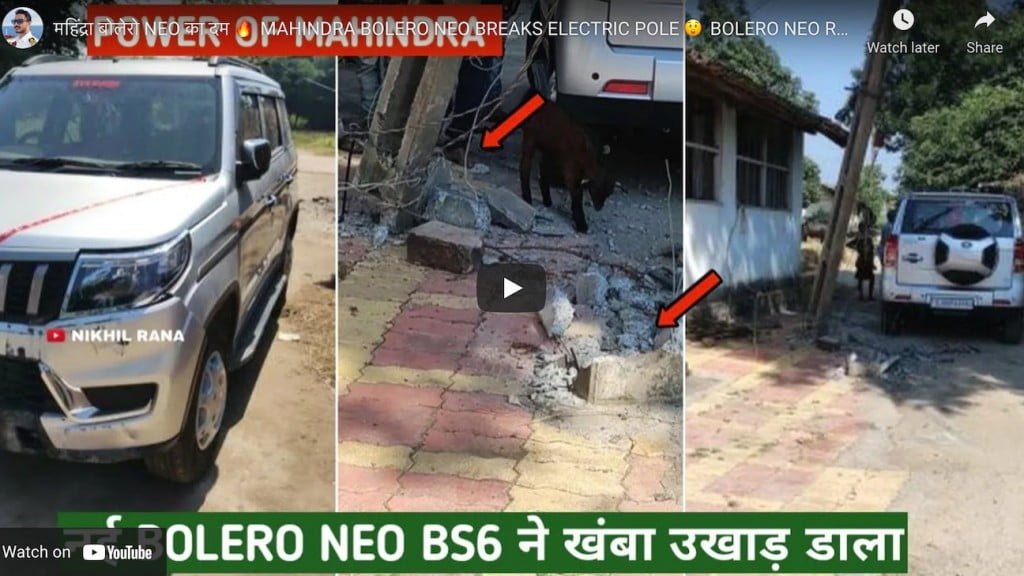 However, what is interesting to know is that the SUV didn't sustain major damage. It is quite impressive and speaks volumes about the build quality of the SUV. The front end of the Bolero Neo has seen some minor scratches on the bumper. However, there is no visible dents or deformations on the body shell. The body cladding and bonnet seem to be in perfect shape. This is a great parameter to judge the strength of the compact SUV. The video also shows some damage on the road. We urge our readers to always follow traffic rules and drive safely so that such unfortunate incidents could be avoided. Thankfully, no one was injured in this crash.
Also read: Bolero Neo Makes it to List of Humble Cars of Anand Mahindra