George Kittle is an American footballer tight end who plays for the San Francisco 49ers in NFL.
He recently showcased his beautifully restored 1969 Mach 1 Ford Mustang.
The video of the modified muscle car is doing rounds on the internet.
George Kittle recently shared a video of his beautifully restored Ford Mustang. By the looks of it, it seems like the 1969 Mach 1 version of the muscle car. Kittle was born in Madison, Wisconsin in the USA in 1993. He played college football at Iowa and was drafted by the 49ers in the fifth round of the 2017 NFL Draft. He is a four-time Pro Bowler and was a First-team All-Pro in 2019 and 2022. Let us take a look at this unique modified muscle car.
You may also like: Diverse Car Collection of Captain America Chris Evans
You may also like: American Biker's Reaction on Riding RE Classic 350 is PRICELESS
George Kittle Ford Mustang
This video has been uploaded by TheSFNiners on YouTube. It captures the arrival of the modified Ford Mustang in a truck. As it is taken out of it, the muscle car shines in all its glory. The vehicle is finished in an off-white colour with red stripes on the sides of the door. Moreover, there is a long hood which looks like it has been painted in some dark paint (black or brown). Being a muscle car, there is a hood on the bonnet as well that accentuates the vintage appearance and silhouette of the Mustang.
You may also like: Car Collection of American Rapper Fabolous – VIDEO
On the inside, the entire cabin has been finished in red colour with premium materials. This includes the upholstery, the dashboard, the door panels and the centre console. To make it modern, there is a small touchscreen at the centre and a new audio system on which George and what looks like her girlfriend are playing some loud music while driving on a highway. They are having a good time in this modified Ford Mustang from back in the day.
You may also like: Border Crossing from Canada to USA by Car – What All Should You Know
Specs
Being a vintage car, it comes with a massive 7.0-litre V8 water-cooled engine that used to make 335 hp and 440 lb-ft of peak power and torque. The engine is made up of cast iron blocks and heads which was impressive for the time. There was a 3-speed automatic transmission powering the rear wheels. The 4-passenger coupe was the best car of the year at the time. The 0-60 mph (0-96 km/h) acceleration takes just 5.7 secs and the top speed was capped at a decent 115 mph. What are your thoughts on the Ford Mustang of George Kittle?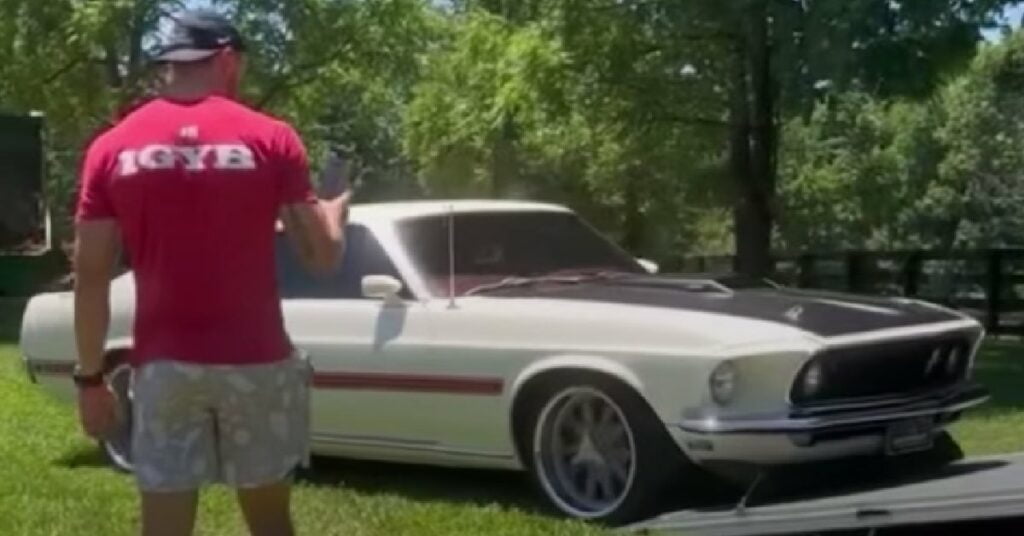 You may also like: Used Car Prices in USA See Sharp Decline
Disclaimer- The embedded videos/ external content is/are being used as a convenience and for informational purposes only; they do not constitute an endorsement or approval by Car Blog India of any of the products, services, and /or opinions of the corporation or organization or individual. Car Blog India bears no responsibility for the accuracy, legality, and/or content of the external site or for that of subsequent external videos/ external content. Contact the external publisher for answers to questions regarding its content.
Join our official telegram channel for free latest updates and follow us on Google News here.