Travelling from Canada to the US via car is a rather common phenomenon.
This video highlights some key tips to take into consideration while doing that.
The YouTuber is explaining these things from his own experience.
In this video, an Indian YouTuber shares some valuable tips for crossing the border from Canada to the US. This route is quite popular for a whole bunch of people who are either working in one country and then travelling back home often or tourists, who are living in one country and then visiting the other country for a short duration. Therefore, this video holds a lot of promise and value and people can use it as a reference to know the formalities of how to do it. Let us take a look at the details of this.
You may also like: Tips on How to Claim Car Insurance in USA
You may also like: Best Credit Cards For Car Rental Insurance In Canada
You may also like: Indian Girl Shows Biggest Problem with Owning a Car in Canada
You may also like: Canada Proposes Date For Banning Petrol & Diesel Vehicles
Crossing Border From Canada to US
The video has been uploaded by Desi Immigrant in Canada. He talks about his recent trip from Ottawa, Canada to Pitsburg, USA. The journey is around 900 km long. He made an overnight halt in Toronto and then continued on to Pitsburg the next day. Being a weekend, the border near Niagra Falls was quite busy. Hence, you must keep in mind that travelling across the border, including toll and immigration formalities, will take a couple of hours. Also, if you are travelling to the US for the first time, there might be additional formalities needed.
You may also like: Indian Truck Driver in Canada Shares Experience of Breakdown in -25 Degree Celsius
You may also like: How to Come Back From Canada to USA via Rainbow Bridge
That is exactly what happened with the YouTuber. He was asked to meet the immigration officer and go through a brief interview. It included details of the purpose of travelling and the date of returning back in addition to a valid travel document and visa. After this, he got the approval and was allowed to cross the border. He also mentions that if you are travelling via car, you need to take care of a few things.
You may also like: 5 Best Used Cars for Students in Canada – Honda Accord, CR-V & More
This includes things like valid car insurance (whether you are travelling in a rented or a personal car), a valid driving license (generally, a regular Canadian driver's license is valid in the US too), valid mobile carrier services (since you are leaving Canada, the tariffs will no longer be valid and you will need to activate roaming facilities for your service provider), speed limits (Canada uses km/h, while the US uses mph units), and some US currency to pay at the tolls or such places where credit cars might not be accepted. We hope you got some useful information from this post to ease your travel across the US-Canada border.
You may also like: Here Are The Top 10 Most Stolen Vehicles in Canada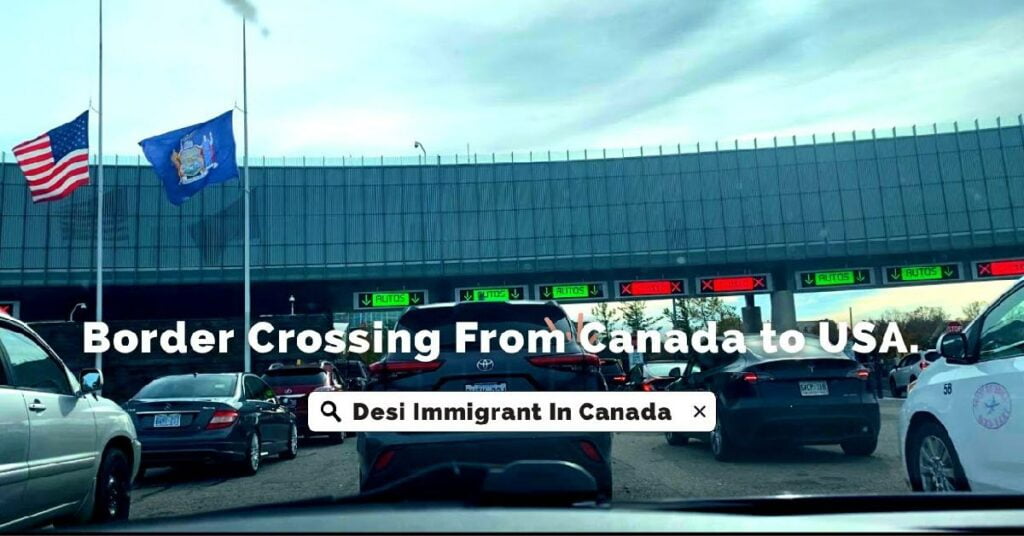 You may also like: A Look Into Life of Indian Truck Driver in Canada – Income & Lifestyle
Disclaimer- The embedded videos/ external content is/are being used as a convenience and for informational purposes only; they do not constitute an endorsement or approval by Car Blog India of any of the products, services, and /or opinions of the corporation or organization or individual. Car Blog India bears no responsibility for the accuracy, legality, and/or content of the external site or for that of subsequent external videos/ external content. Contact the external publisher for answers to questions regarding its content.
Join our official telegram channel for free latest updates and follow us on Google News here.