This Maruti Baleno has been modified into a Mercedes A-Class from the front, while it retains it original rear portion design.
Mercedes A-Class is the most affordable car from the Merc stable that you can buy. Its design is similar to a large hatchback but there are some bits of SUV styling also seen. Now, it has been discontinued and will shortly be replaced by a fancier A-Class Limousine. Even the sedan version of it will be very affordable.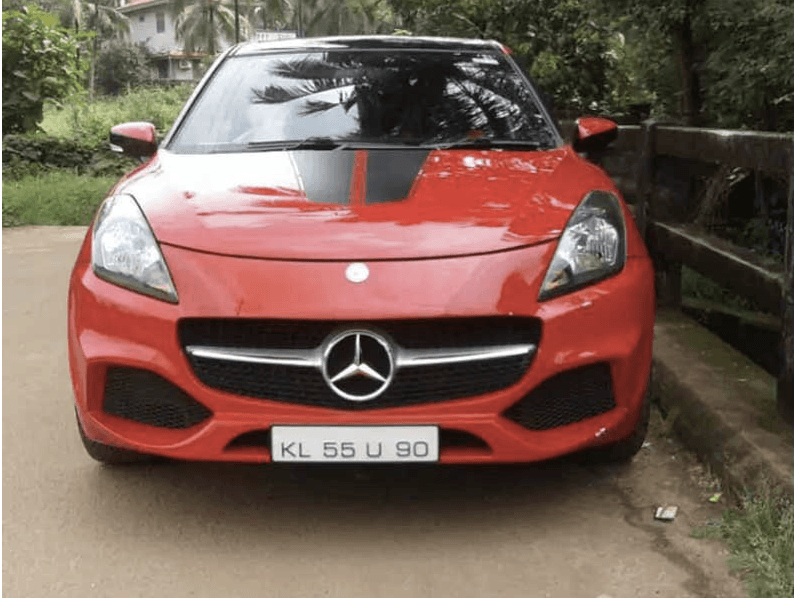 Here is one example of a modified Maruti Baleno that has nailed the Mercedes A-Class look. On the front, you can spot the big Mercedes Grille with diamond mesh and chrome plated plate flanking the logo. The front bumper has been tweaked completely to look like the A-Class, along with the same air vents on either side of the bumper.
Also Read: Buy Maruti Baleno With Heavy Discounts Of Up To Rs 35,000 For May 2020
At the rear, it gets some modifications like faux diffusers, dual exhaust ports, new LED taillights, a refreshed bumper and the Mercedes logo. Do not miss on the A-Class branding along with the AMG plate. You can buy this modified Maruti Baleno in the used car market as it has been impounded by the Kerala Government.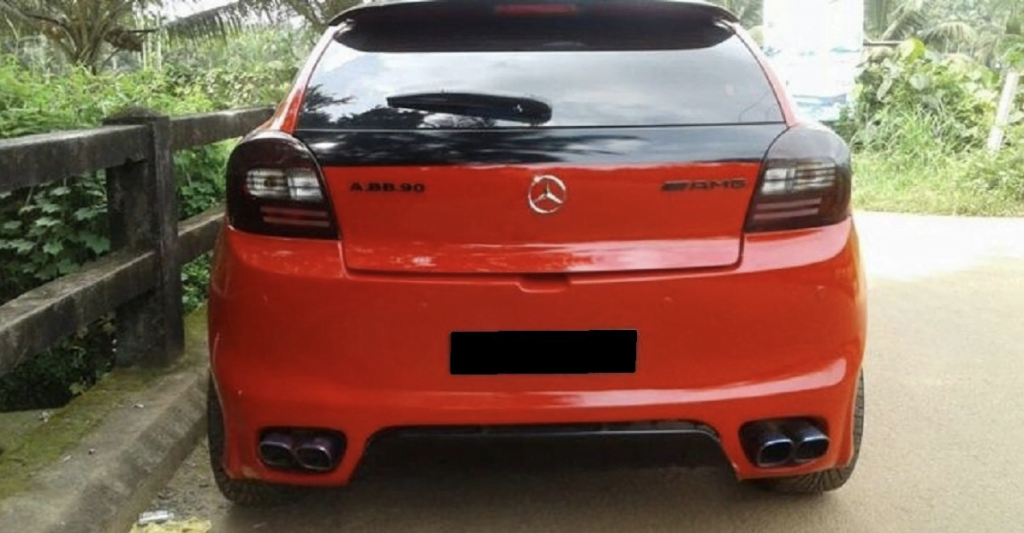 We cannot see if any changes have been made inside the cabin or to the alloy wheels. However, from the front, one might actually get confused with the A-Class. The new Baleno as well as the older original model, both are one of the most modified cars in India. The original one was more powerful and we have seen a lot of examples with ECU upgrades.
Baleno now comes with two engine options including a 1.2 Litre petrol and the same engine with a mild-hybrid system. The latter is standard in some of the variants making it more fuel-efficient. Also, the mild-hybrid engine is more powerful as it produces 90 PS compared to the 83 PS.
Also Read: This 176 BHP Maruti Swift Is As Powerful As A Skoda Octavia 1.8 TSI
Maruti Baleno comes with the option of a 5-speed manual gearbox and a CVT. Features onboard include rear parking camera, dual airbags, 7-inch touchscreen infotainment system with Android Auto and Apple CarPlay, UV cut glass, LED projector headlamps, LED DRLs, diamond cut alloy wheels, automatic climate control and much more. The prices start off at Rs 5.63 Lakhs up to Rs 8.96 Lakhs.