Continuing strong sales trend for past few months, Hero MotoCorp has registered yet another 5 Lakh plus sales mark in March 2012 closing the Financial Year 2012-12 with a sales number of 62,35,205 units of two-wheelers which is a record number of sale. In March 2012 the company sold 5,28,290 units in the month of March 2012. It had sold 5,15,852 units in the corresponding month in 2011, which may seem a small growth number in a monthly sales, but it concludes a very strong and steady growth of 15.4 per cent over the last financial year (FY 2010-11), when it had sold 54,02,444 units.
During the year, Hero MotoCorp forged alliances with the US-based Erik Buell Racing (EBR) and Austria-based AVL to quickly scale-up its own in-house R&D capabilities and engine technologies. Through the strategic partnership with EBR, Hero MotoCorp also made its debut in the exciting world of international motorcycle racing, by participating at the AMA Pro Racing National Guard Superbikes Championship in the US.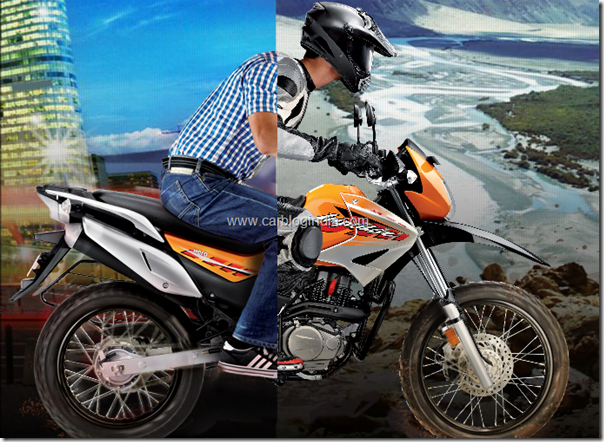 image – Hero Impulse Off-Road On-Road Bike
Summing up the performance in the financial year, Mr. Pawan Munjal, Managing Director & Chief Executive Officer, Hero MotoCorp Ltd said,
"FY'12 has indeed been a defining year for us – action-packed and memorable. Having taken the bold decision to chart our own course, we not only managed to retain our leadership position, but actually improved on our earlier performance to further enhance our market share during the financial year. We excelled in every sphere of our activity – be it in new product launches, sales performance, or in our communication. We not only ensured a seamless transition of our brand identity, but also captured the imagination of the entire nation with our new campaign. Within a short span of time, we also put in place strategic alliances with key international partners in order to quickly scale up our in-house R&D capabilities.
As we begin a new Financial Year (2012-13), the geographical boundary of our business is set to expand beyond our existing markets. We are set to leverage emerging opportunities in global markets such as in Africa and Latin/Central America by commencing exports to some of these new markets in the coming months. We have also been constantly gearing up to meet the ever-growing market demand for our products. While we are further augmenting capacity at our existing plants to seven million units, we will also be announcing new plants. With our strategic plans and innovative initiatives, we are well-poised to further build on our leadership position and drive growth in the industry,"
In keeping with its trend of innovative brand-building initiatives, the company's "Billion Voices" campaign, focusing on customer-generated content, has evoked unprecedented interest among fans. An extension of the highly-successful "Hum Main Hai Hero" campaign, the "Billion Voices" initiative has set a new benchmark in the field of innovative marketing communication.
Taking forward its association with sports, Hero MotoCorp sponsored the men's and women's hockey qualifying events for the London Olympics 2012. The event, titled "Hero FIH Road to London" and held in Delhi in February, saw the Indian men's hockey team qualify for the London Olympics.
check out more-
More Related News