The past year has been very crucial for Hero Motorcorp, as even after splitting from the Japanese giant Honda the company has shown persistent growth in sales as well as product lineup. Strengthening product portfolio has taken place without missing a beat, signaling strong intentions to retain its position as the world's largest two wheeler manufacturer. After unveiling the new Karizmas, Xtreme, Pleasure and Passion Pro TR, the company has said that it will be launching two more new products before the festive season this year; these will be the Hero Splendor Pro Classic and Xtreme Sports. Both these bikes aren't new but are -Fancy- variants of existing products. The focus is on the Splendor as it's the top selling bike of India, thus the Splendor iSmart was launched and the new Splendor Pro Classic is further expected to boost the image of India's top selling motorcycle brand by maintain the iron grip over the sub 150cc commuter segment. So we bring to you a report on both the scheduled launches expected to happen in the coming months.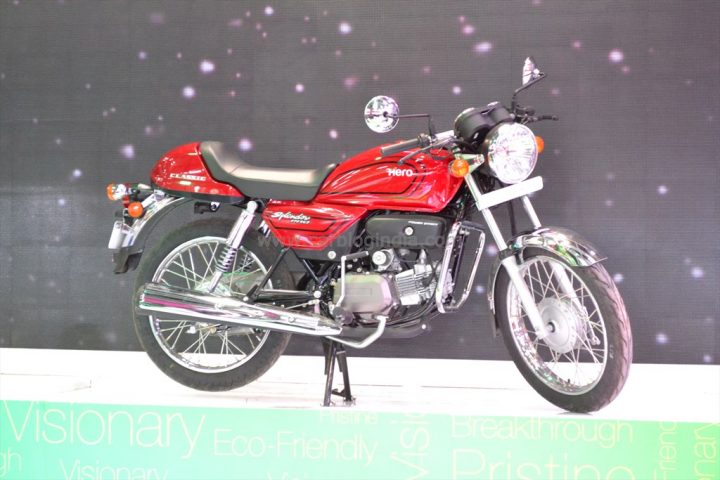 Splendor Pro Classic:
Hero MotoCorp sold 622,835 Splendor bikes in the first quarter (April-June) of this financial year, 14% growth over the corresponding period of last year which is evidence of the popularity of the bike in India. The Splendor undoubtedly has been a long serving and trusted servant of the Hero legacy, but whether it classifies as a "classic" even with a retro cafe racer look is up for debate.
The Passion Pro TR is built to take on the rough with it's high perched front fender, headlamps which feature a safety grille, a bash plate to shield the  engine and knee pads on the tank for additional grip. Power comes via an Air-cooled, four-stroke, single cylinder, 97.2 cc engine, which makes 7.7 BHP at 7500 rpm and 8.04 Nm of torque at 4500 rpm, while tyre size is 3.00 x 18 at the rear and 2.75 x 18 up front. Fuel tank capacity is 12.8 litres, 1.8 litres more than the regular model.
A new handle bar, retro round headlight and tail light, cafe racer styling, chrome  fenders and round-shaped rear view mirrors provide the Splendor Pro Classic a distinct look. The Splendor Pro Classic is powered by a 100cc air cooled single cylinder engine that puts out 7 BHP and 8.4 Nm of torque.
Price:
Expect the Splendor Pro Classic around the Rs. 55- 60,000 mark.
Verdict:
This quite honestly is a gamble from Hero, they have radically changed the look of the bike to come across as a cafe racer. Now I can say this with utmost confidence that no serious enthusiast would want to ride a cafe racer with about 7.7 bhp of of power. On the other hand the segment which already buy the splendor blindly due to its reputation and familiarity factor might get put off or even intimidated by this 'new-look' splendor.
Hero Xtreme Sports:
On the other end of the spectrum we have the rather aggressively designed, Xtreme Sports. The Xtreme Sports is just another variant of the recently launched 150cc Xtreme, with few styling changes and a considerable bump in power. This variant is said to develop 15.4 PS of power, a whole 1 PS more than the standard Xtreme, and an 'exclusive-for-it' set of features such as a new front end with different set of headlamps and LEDs, different analog-digital instrument console, fuel tank extensions and rear pillion grab rails.
Price:
Expect Hero to charge a considerable premium over the Rs. 67,000 of the 2014 Xtreme.
Verdict:
We literally have nothing new to write about the Xtreme Sports, as a bike with minor tweaks here and there it should appeal to the college going crowd looking for some bling on a budget. Whether this bling will be able to match up to the proven TVS Apache and the FZ version 2.0 is a different matter altogether.
What Now ?
The festive season is a big money moment for any auto manufacturer in India. Usually the more established brands have great sales figures to show for it as well and we are sure so will Hero this time around. But this shift of ideology to Quantity over Quality is sure to hurt some loyal Hero fans in times to come. The uninspired and derivative designing is not the best way to go forward in their quest to retain the pole position because Bajaj is hot on their heels with an arsenal full of launches waiting to happen across segments.
What do you think about the Splendor Pro Classic And Xtreme Sports? Share with us through the comment section below