At the 2018 Auto Expo, Hero Motocorp made huge headlines with new premium motorcycles concepts. Out of the showcased models, 2 models were confirmed to launch in India by the end of 2018. One is the Hero Xtreme 200R and the other is XPulse 200.
Xtreme 200R was launched in August 2018, after some delay. For some unknown reason, it was first launched in the North Eastern states and West Bengal. Till the time it came for the rest of the country, its buzz was sort of declining.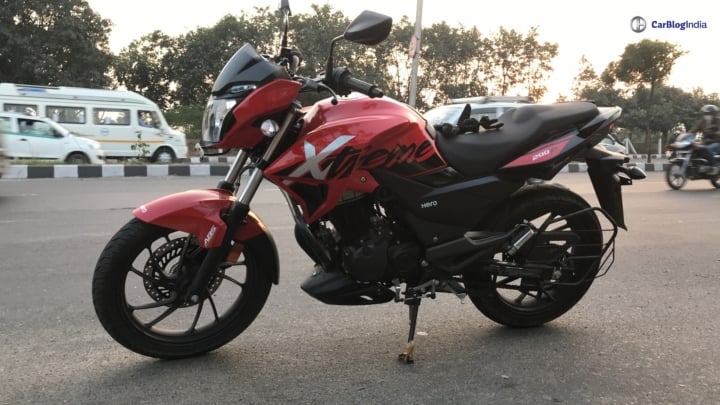 With the Xtreme 200R, it made a leap in the entry-level premium motorcycle segment. For years, it was trying to establish itself as an all-rounder but ended up being the commuter segment king. This time, it feels like Hero has done it right.
The street naked 200cc bike is built on the heavy re-worked platform of Xtreme Sports. That's why you can see a lot of resemblance here. But trust me, it looks a lot more mean and sporty than its younger sibling.
Without making you wait for any longer, let's check out the Hero Xtreme 200R Review. We evaluate this motorcycles on the basis of its mileage, handling, engine performance, top speed and design.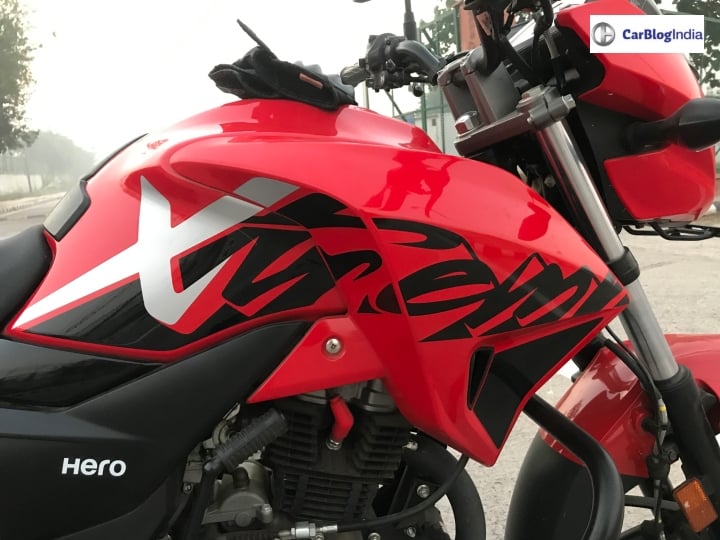 Hero Xtreme 200R Review – Design and Styling
My, oh my! This is so far, the best looking Hero Motorcycle ever. The bold smouldering looks combined with a beefy but chiseled body portrays that it is built for performance and no bullshit. The sharp creases add up to the sporty and premium look of the bike.
It is a street naked bike with perfectly set handlebars and an upright riding position. Although a sense of commuter motorcycle can be felt from the bike. You won't feel it much, but if you notice carefully, you will.
The bodywork on the Xtreme 200R is funky, especially teamed up with the loud 'Xtreme' decal. The Red-Black colour option that we had, which suited well on the bike. However, the rear portion of the bike looks a bit dull and faded with the outdated LED tail light, grab rail and huge exhaust muffler.
The switches and instrument cluster also follow an old-school feeling. The fit and finish of the switches as well as the body panels are good enough.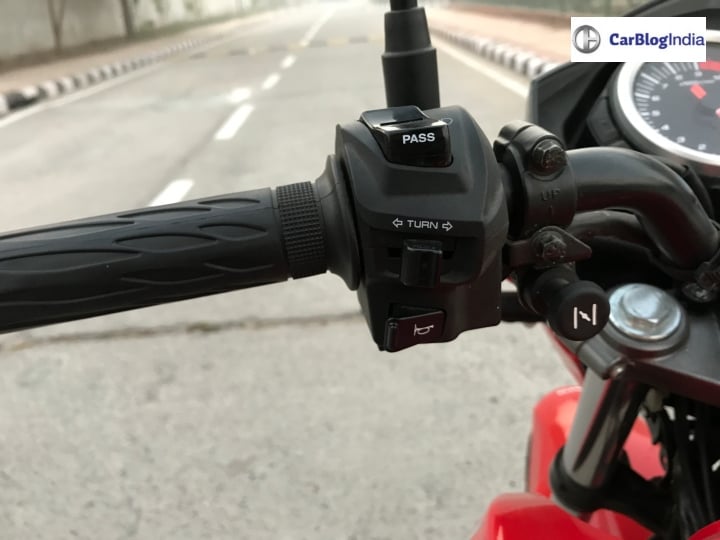 Another disappointment comes in the form of an outdated instrument cluster. Hero Xtreme 200R comes with a digital-analogue instrument cluster which displays 2 Trip meters, a clock, odometer, speed and the remaining fuel. Hero could have made it more informative by adding average fuel economy, average speed and such things. Turn signals, ABS and Side stand indicators are placed above the cluster.
The headlight style is more on the aggressive side. However, I think there was a need for LED headlamps. Most of the bikes priced around 1 Lakh come equipped with LED headlamps. Nevertheless, Xtreme 200R comes with twin LED pilot lamps, which to be honest, do not offer much illumination.
Summing up, the styling is quite sporty and eye-catching. A little commuter motorcycle look is felt sometimes. Although, this one time, it felt like a larger displacement motorcycle because it is actually a bit beefy.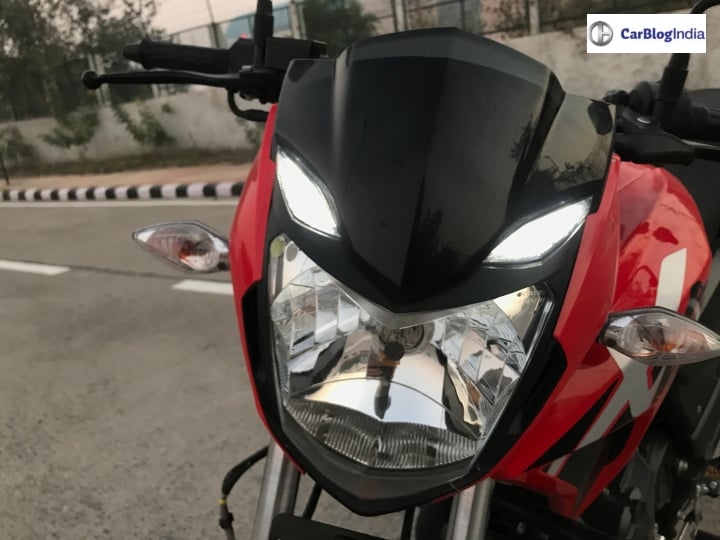 Hero Xtreme 200R Review – Engine performance, Acceleration and Top Speed
On the first day of riding, I could easily differentiate it as a city tourer. The 199.5cc engine is quite peppy and great for overtaking in heavy traffic. Hero's commuter bike nature is clearly seen over here.
The best thing about the bike is that it feels awesome to rev up after in 3rd and 4th gear. The gear shifting is easy and relaxed. The long gear ratios help and easy pick up from as low as 20 km/h in 3rd and 4th gear. You might feel a sense of adrenaline rush pumping as you increase the revs.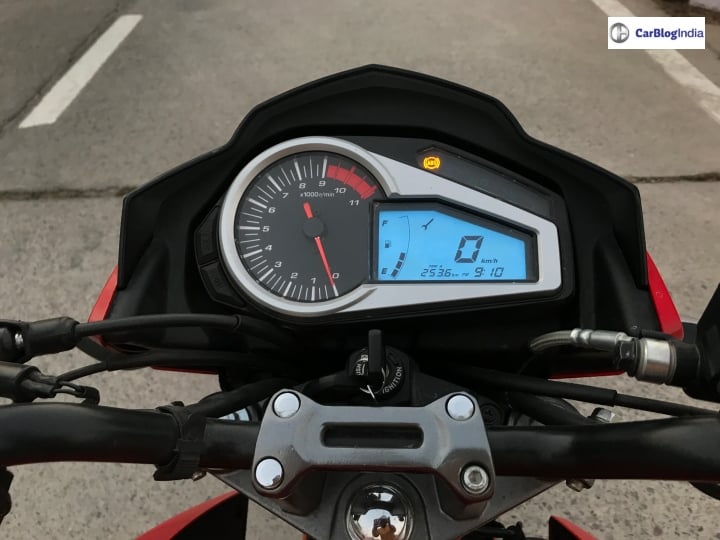 The biggest disadvantage here is absence of 6th gear. A 200cc bike without the 6th gear, feels unusual. As a result, the bike goes out of breath very quickly. Also, it is not able to cruise well at high speeds. Above 90-95 kmph, it felt like the engine was running out of breath.
Another uncomfortable thing was the heavy vibrations. Vibrations start pouring in right from 6000 RPM. As it nears the red line, the vibrations are so high that you actually feel guilty for putting it through hard times.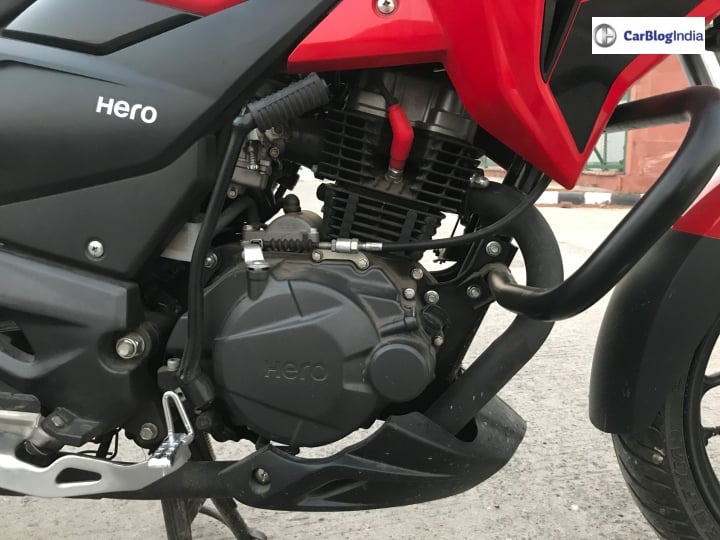 But above 6000 RPM, is one fun thing that you experience. Hero Xtreme 200R has a very good exhaust note, which gives it a much sporty behaviour. The loud and sportier note comes in after the bike crosses 6000 RPM. This indicates that Hero has used a performance air filter. However, if you leave the accelerator at high RPMs, the bike tends to produce an awful worn out exhaust note.
We achieved a top speed of 115 km/hr on this bike, which is lower than its other 200cc rivals. It sprints from 0-60 km/hr in 4.6 seconds. From standstill to 100 km/hr, it takes 14 seconds in all.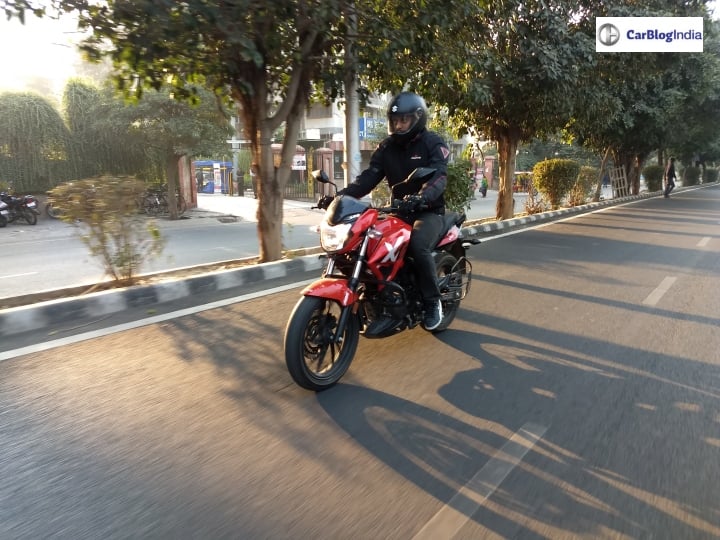 Overall, Xtreme 200R is a great and peppy bike for the city and short highway stints. Lack of the 6th gear makes it a little no-no for long touring. It has all the excitement that you need in it, which makes it very likeable. Do not forget that the exhaust note makes you want to accelerate harder than ever.
Hero Xtreme 200R comes with a 199.5cc air-cooled engine that puts out 18.1 BHP of max. Power and 17.1 Nm of peak torque, paired with a 5-speed gearbox.

Hero Xtreme 200R Review – Mileage
As far as the mileage goes, Xtreme 200R delivered around 38 kmpl in the city traffic. On the highways, it surprisingly went up to 45 kmpl. Average mileage estimated is 42 kmpl. For a 200cc motorcycle, the mileage figures are good. We had to calculate the average mileage because of the lack of average fuel economy on the instrument cluster.
With a fuel tank capacity of 12.5 litres, Xtreme 200R offers a riding range of around 525 kms.

Hero Xtreme 200R Review -Handling
For a bike of nearly 150kgs, it doesn't feel one. The upright stance and the perfectly designed bodywork makes the bike very nimble. Manoeuvring through the traffic is a piece of cake and is actually fun to do.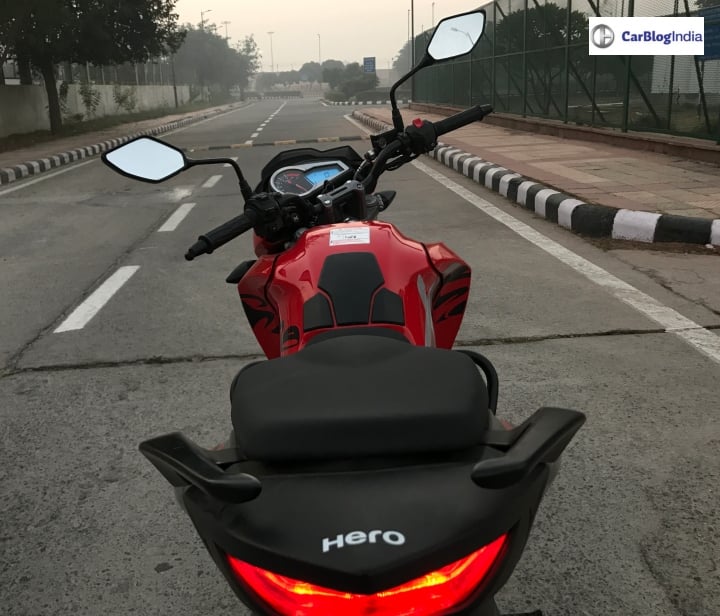 Hero has tried hard to give it a sporty look, but here again it falls little short. The tall set handlebar and relaxed footrests incline it towards a commuter bike feeling.
One thing I noticed was that at high speeds, it tends to wobble a bit. However, this feeling kicks in once after you cross 100 km/hr, which is quite normal for a lot of bikes. A firm grip and proper stance over the bike will help you gain confidence during the wobbles.
While cornering the bikes, I found it to be very promising. At the back, it sports 17-inch radial tires. So even at high speeds, you will be confident of taking it through the hard turns.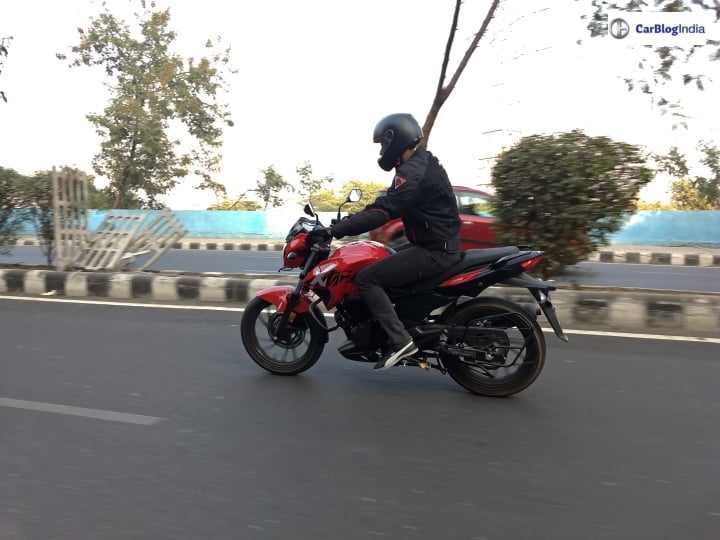 As talked earlier, the suspension setup is just soft, which makes it 'Wow-Wow'. It will give you as well as the pillion rider lesser jerks to the back.
Hero Xtreme 200R Review – Comfort
Xtreme 200R gets a single seat, but the pillion seat is lifted. The good thing about these seats is that they are very comfortable. Between a daily office commute of 80 kms, my derriere did not hurt a bit. No adjusting the position while riding too.
The bike has an upright posture, which combined with a soft seat can make you feel relaxing for long commutes.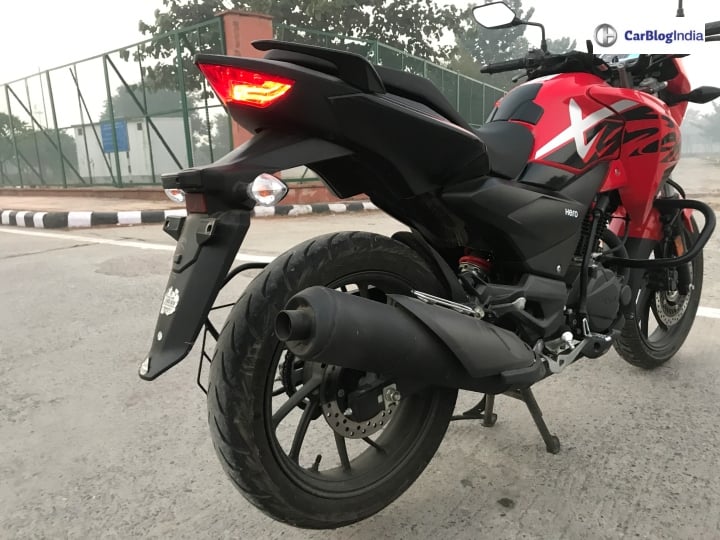 It uses conventional telescopic forks at the front and 7 step adjustable monoshock suspension at the back. The suspension setup is on the soft side, which helps the bike in easily gulping potholes and bad roads. Trust me, there were no jerks to the back as well. Actually, it is the first Hero motorcycle to sport a Monoshock suspension.
Overall, since Hero wants to prove its commuter nature, Xtreme 200R offers you a comfortable ride.

Hero Xtreme 200R Review – Braking
Hero Xtreme 200R comes with front and rear disc brakes combined with a single-channel ABS. That means at the rear, there are chances of the wheel locking up.
However, with both the brakes put hard, most of the times the bike did not skid. But, sometimes it did.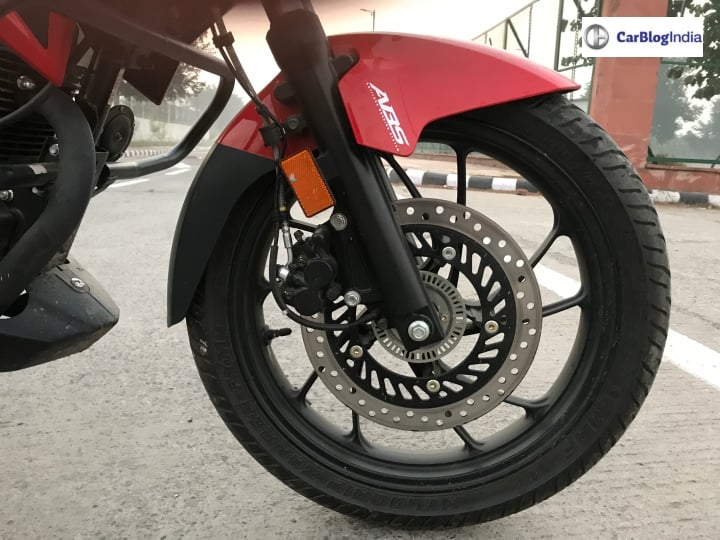 The bite of both the brakes is quite impressive and ABS actually prevents locking the front wheel. When applied the rear disc brake alone, it definitely skids.
From 100-0 kmph, it took around 4 seconds to come to a standstill. From 60-0 kmph, it took around 2 seconds.
The absence of a rear ABS setup is felt, provided to the superb braking up front. However, maintaining its stand as the most affordable 200cc bike, the costs had to be kept in control.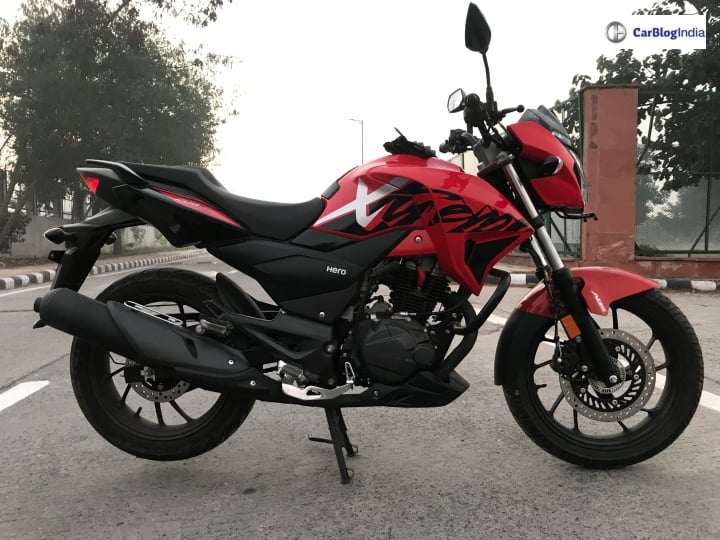 Hero Xtreme 200R Review – Verdict
Hero has done quite well with its Xtreme 200R. Not only has it set its foot in the 200cc segment, but has successfully tried to provide a tough competition to TVS Apache RTR 2004V and Bajaj Pulsar NS200.
During the bike's stint with me for 5 days, I found few but somehow important issues. First thing, absence of the 6th gear is felt very badly. The 5-speed gearbox does the job just fine, but additional gear would be appreciated.
Lack of features is another disadvantage. It lacks an informative instrument cluster, LED headlamps and probably a liquid-cooled engine. I personally am a fan of analogue old-school tachometers, so I somehow ended up liking the cluster.
Now talking about the pros, it has a peppy engine and a great exhaust note. The suspension setup is great for long daily commutes. Suspension combined with nimble handling makes it a perfect city tourer.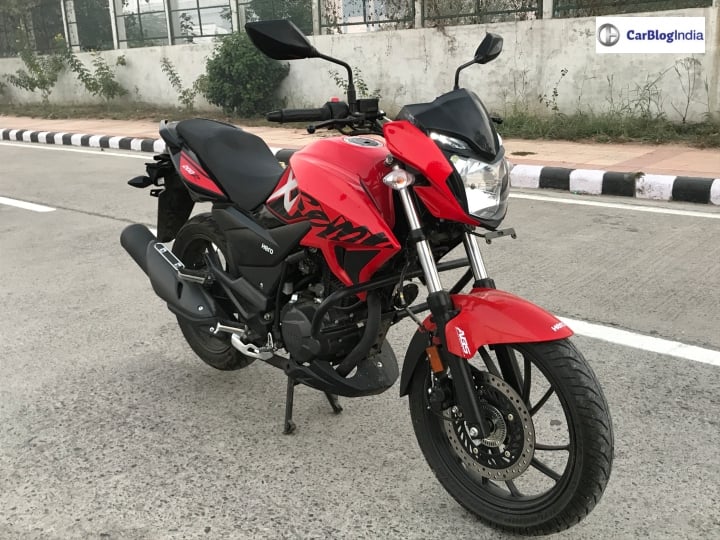 To sum it all, at a price of Rs 89,990 it is the cheapest 200cc motorcycle. Also, it comes in the price range of 160cc bikes. A 200cc bike with ABS in the price of a 160cc bike which offer optional ABS sounds pretty good to me.
Those who are looking for pure performance bikes would not fancy this. It doesn't mean that Hero Xtreme 200R has no performance traits. It is just that its a commuter-focused performance motorcycle.
Join us for FREE NEWS Updates on our Whatsapp Community or our official telegram channel.