Honda is one of the successful brands in the country and holds a significant share both in the car market as well as the two-wheeler segment. On one hand where the Honda SIEL Cars India, the brand dedicated to manufacturing of cars, is recording declining sales because of the unavailability of diesel engines, the Honda Motorcycles and Scooter India(HMSI), the one dedicated to manufacturing of two-wheelers, has shown amazing growth and catapulted the company to the third highest seller position.
HMSI is a fully owned subsidiary of Honda while SIEL owns a 5 percent share in the HSCI, the car manufacturing subsidiary. As per the latest news, Honda is considering merging these two subsidiaries into one entity but when asked a spokesperson at HSCI, he denied to comment on the same. Also a recent report in Business standard also mentioned that the Honda SIEL joint venture is also going through a bad phase and the joint venture may end in India.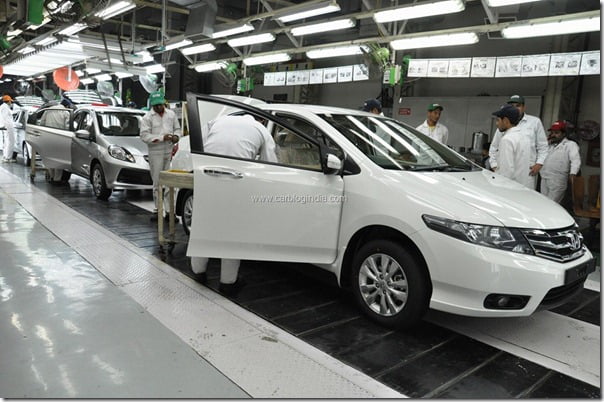 image – Honda SIEL Production line at Greater Noida, India
Honda has been facing a tough mainly for a couple of reasons. In 2010 Honda announced the end of the joint venture between Hero Group and Honda which was a big distraction for the Japanese maker as it was not able to concentrate on its Indian operations. But Honda showed its potential and worked really hard, eventually overtaking Chennai based TVS motor company and became the third largest seller in the two-wheeler market.
In the car market, Honda has been a consistent player over the years but with increasing competition and lack of diesel engines, its sales have shown a steep decline. Between April and February the car's sales have dropped by as much as 22.3 % but this is well justified by the constrained supply of components from Japan and Thailand.
We hope the merger does happen as it will benefit the maker but more importantly it is the diesel portfolio that the buyers are looking at and we wish to see diesel engines being introduced by year end of early 2013. We will keep you posted on the latest developments, do stay tuned to us by signing up for our free email newsletter and like our official Facebook Page.
Source – BusinessStandard