HMSI (Honda Motorcycles And Scooters India) has been working hard to increase its presence in Indian two wheelers market and its efforts are proving to be fruitful with the sales of Honda scooters and motorcycles on a rise in India at a faster pace than the average growth of the two wheeler market in India. In February 2012 in India, HMSI registered a growth of 41% by selling a total of 2,06,043 two wheelers compared to 1,45,819 in February 2011. Out of this total figure of about 2.06 lakhs, HMSI sold 1.23 Lakh Scooters and 83 thousand scooters. The growth in the sales of scooters is higher by 54% compared to the growth in the Motorcycle segment which stood at 26%. So far in this financial year, HMSI has sold about 18.87 Lakh two wheeler units which is about 25% compared to the same period last year. The market share of HMSI in India is also on an upside.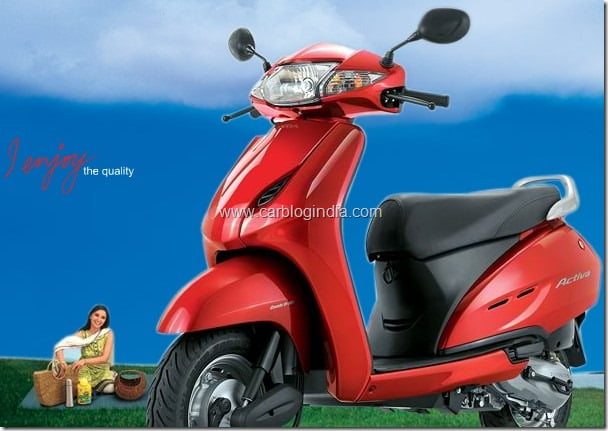 image – Honda Activa gearless scooter
The high growth scooter segment in India by HMSI includes some very popular scooters like Honda Activa, Honda Aviator, Honda Dio etc. The motorcycles portfolio includes Honda CB Twister, Honda CB Unicorn Dazzler etc. which are some popular products with super refined and fuel efficient Honda petrol engines. In performance segment, Honda has entered India with a 250 CC Bike Honda CBR250R In India which has become fairly popular with its reasonable pricing and great specifications. Encouraged by response of Honda CBR250R in India, HMSI is soon going to launch the Honda CBR150R which is a lower power sibling of 250R and has been unveiled at the Auto Expo 2012 in India. The expected pricing of Rs. 1.2 Lakhs of the CBR150R is going to make it a lucrative offering.
In the mass commuter segment, Honda Dream Yuga commuter segment bike's launch is also just around the corner. To cope up with the increasing demand and to keep the waiting periods under control, Honda has recently started its second plant and third plant has also been approved in southern India. Future seems promising for HMSI in India with high value quality products on the offer.
check out more-
More Related News