Compact SUVs are the next most important type of cars after hatchbacks (small cars) not just in India but on a global level too. It is pretty evident from the response that Renault Duster received from the Indian automobile market and buyers which made it a immediate hit. This has led to a revolution which will soon be joined by Ford's latest compact SUV, Ford EcoSport and other similar vehicles being developed by Hyundai and Volkswagen. Chevrolet is also said to be coming up with Chevrolet Trax for India.
In fact a while back we also told you about Honda developing a compact SUV based on Honda Jazz. The latest buzz around the same project not just contains text but some believable images too. Honda is developing a mini SUV, a smaller Honda CR-V you can say, for international markets and it will have the underpinnings of its big brother CR-V. The platform of the upcoming SUV will be different and it will have lesser ground clearance.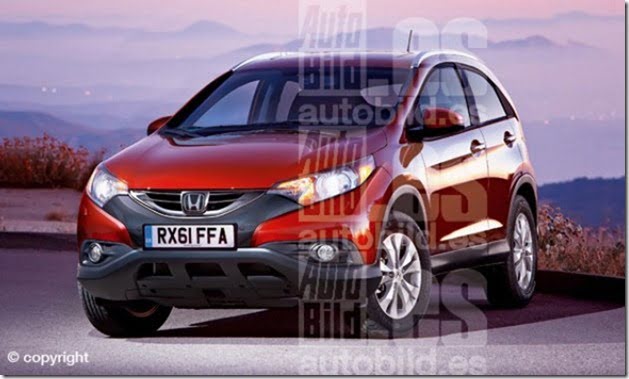 Speculations related to the new car have already started hitting the internet like falling asteroids. Expectedly this baby CR-V will measure 4.2 meters in length and could be named as Honda HR-V (can't say what H means). Since it is small and will target the affordable SUV segment, we expect the car to feature a front wheel drive configuration while the all wheel drive system will be available in the top end variants. The 4 wheel drive system will be electronically controlled and will not bear any resemblance to CR-V's hydraulically operated mechanism. Honda will also reduce the weight of the new car in order to deliver better fuel efficiency to its customers.
Coming to the engine of the car, expectedly it will equip a 2.0 litre i-VTEC unit good enough to deliver 150 BHP of max power. A 2.2 litre i-DTEC diesel unit with a peak power output of 150 BHP and peak torque output of 350 Nm, could also make it to the list of engine options. Honda's 1.8 litre diesel engine from the Earth Dreams project could also be seen on the car.
A Hybrid version of the car is possibly going to come too. And we expect it to feature a 1.5 litre petrol unit combined with a 14 BHP electric motor. Together the two units will produce close to 125 BHP which will be adequate for a car of such size.
We are sincerely looking forward to this car and hope Honda to price it competitively. Stay tuned for more updates on the same.
Image credits & Source – AutoBild