Honda has come up with Honda Fuel Cell Vehicle Concept or FCV concept in Japan, ahead of its debut at the 2014 Los Angeles Auto Show. The car quipped with this concept will be designed to use a hydrogen fuel cell and this concept will be launched in Japan in 2016. Based on the same technology, Japanese Automaker Toyota is going to introduce its fuel cell sedan, Mirai in 2016.
The Fuel Cell Vehicle Concept is a successor to the Honda FCX Clarity fuel cell vehicle and an evolution of FCEV concept which was shown at Los Angeles Auto Show last year. The FCV concept uses a new fuel-cell stack that is 33% smaller than previous fuel cell stacks when installed in the vehicle.  In FCV, the new fuel cell stack can produce more power with an output of 100 kW and an output density of 3.1 kW/L. It will help to improve overall performance by approximately 60 per cent.
The FCV has more power and improved styling than FCEV. The interiors of the car are more futuristic. The exterior is given a noticeable change, specially at the rear. It has a 70MPa high-pressure hydrogen tank giving more than 300 miles (+480 km) on one fill-up with zero emission, emitting only water vapours. While this tank if fully depleted, it can be refilled in three minutes to five minutes from a charging station.
It also comes with a newly developed, great feature-"Honda Power Exporter CONCEPT". This feature allows an external power feeding function to be combined with an external power feeding device to transform the Honda FCV concept into a mobile power plant generator to produce electricity when required, for example- in emergency situations like disaster, earthquake etc.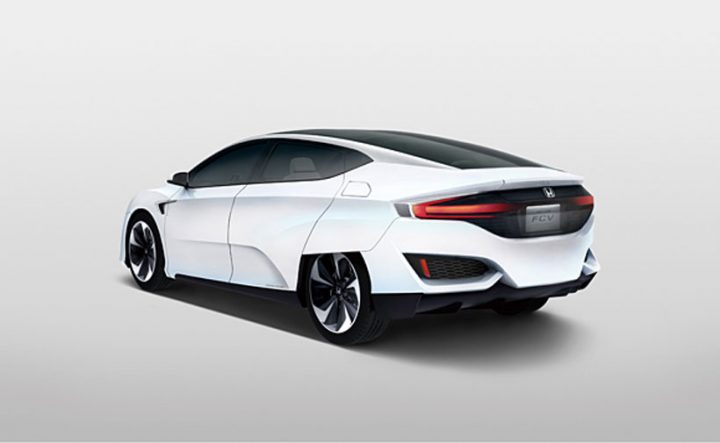 The FCV Concept's production version is still a year away. This FCV concept is expected to be launched into the Honda's domestic market Japan by March 2016, followed by United States and Europe.
Also Read- Mercedes, Ford and Renault-Nissan Join Hands To Develop Fuel Cell Technology