Honda SIEL India has been facing sever production constrains because of which the sales were badly impacted, for a couple of months the production was almost halted for some car models like Honda Brio while some other Model like Honda City were being produced at partial capacity. The supply side constrains have been resolved by Honda SIEL and the car sales by Honda in India are back with a bang. After a drop in sales of about 79% and 71% for the months for December 2011 and January 2012, Honda SIEL registered impressive 83% growth in car sales in February 2012 compared to the sales in the same month in 2011. The company reported robust sales of 8,856 units in the month of February 2012 as against 4,843 units in the corresponding month last year backed by strong demand for the new City which posted a growth of 65% during this month.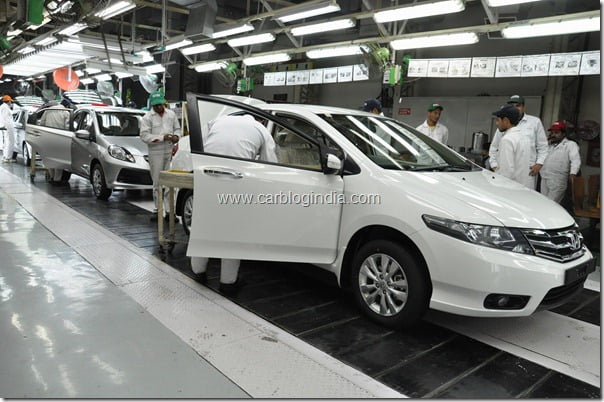 image – Honda City and Brio rolling out of the HSCI Greater Noida Plant
Mr. Jnaneswar Sen, Sr. Vice President – Sales & Marketing, Honda Siel Cars India said
"February month has been very exciting as well as rewarding for us. With normal production resuming in our Greater Noida plant from middle of last month, we are working towards normalizing the supplies and cater to the growing demand of our cars. Our sales in February have been very impressive and reflect customer trust and confidence in our product and services. The Honda Brio and New City have received an overwhelming response from the market and we are positive that the growth momentum will continue in the coming months with increased demand for all our products."
Model wise sales break-up of the sales include : Honda Brio : 2046 units; Honda Jazz : 356 units; Honda City : 6052 units; Honda Civic : 208 units; Honda Accord :  94 units and Honda CRV : 100 units. Recently Honda SIEL also indicated that once the capacity at the Honda Noida plant reached its full capacity, they will also start using the Rajasthan Facility for assembling cars. As of now, Honda SIEL uses the Rajasthan Facilities for component manufacturing only. This is a good signal and good sales number for Honda after long time.
For more updates, sign up for our free email newsletter and like our official Facebook Page. Check out more-
More Related News