According to Indian culture, on buying a new vehicle, worshipping is considered to be extremely auspicious. So, it shouldn't come as a surprise that a businessman from Hyderabad took his recently-purchasing 'vehicle' to the Yadadri Temple for Vaahan Puja. The interesting bit here though is that the vehicle in question is a brand new Airbus H135 helicopter that costs a whopping Rs 50 crore.
You may also like: Naseer Khan has Arguably the Most Expensive Car Collection in India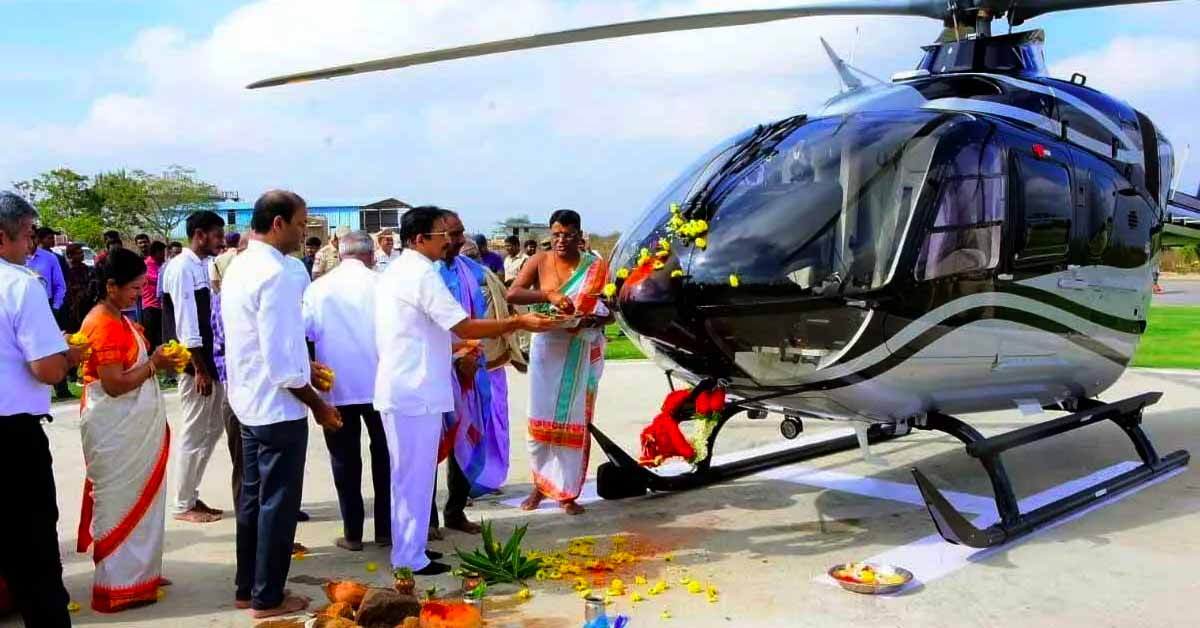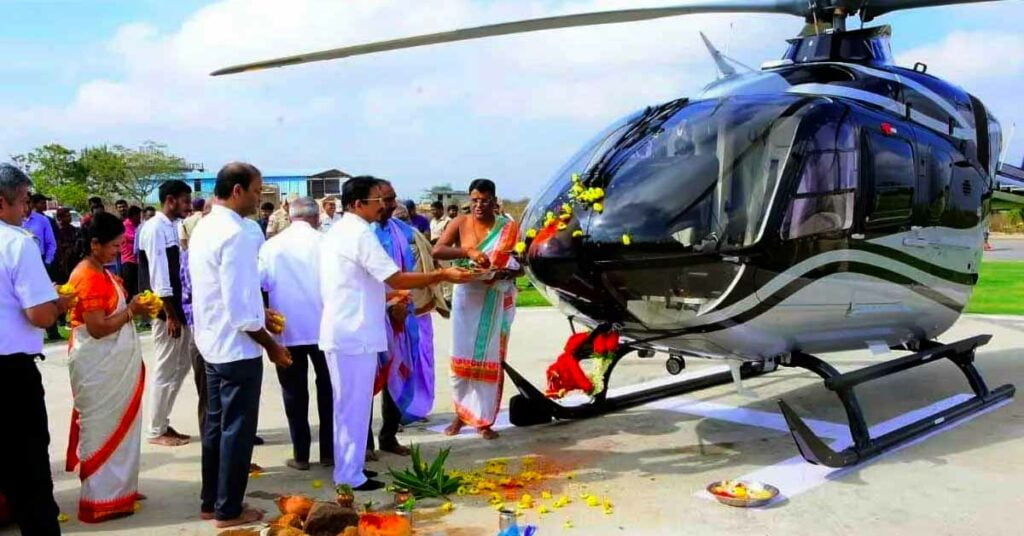 You may also like: Incredible Car Collection Of F1 legend Lewis Hamilton
Former Maharashtra Governor Vidyasagar Rao Also Present at Ceremony
Boinapalli Srinivas Rao, the owner of Prathima Group, recently bought a new Airbus H135 (T3). The helicopter costs Rs 50 Crore and is one of the best in the industry. It was first taken to the Sri Lakshmi Narasimha Swamy Temple at Yadadri, about 100 km from Hyderabad, where all the rituals were performed. The video is now going viral on social media.
In the video, we see the owner Boinapali Srinivasa Rao along with his family members performing the rituals along with the priest. Former Maharashtra Governor Vidyasagar Rao was also present at the puja. For those wondering, he is a relative of Srinivasa Rao. Once all the rituals were completed, the helicopter was taken for a ride over the city.
300 Airbus H135 Sold So Far
As Airbus' most successful light rotorcraft, the H135 is known for its compact build, low sound level, and supreme reliability. It also has the lowest maintenance costs in the twin-engine category. Over its lifetime, Airbus has shipped more than 300 of the H135 to 60 different countries. It is the most demanding helicopter in passenger transport service and it is the Fenestron tail rotor that helps in reducing the overall noise during operations.
Specs
The Airbus H135 gets two engines, the Safran Arrius 2B2 Plus and the Pratt & Whitney PW206B3. Both have 500-700 hp soft horsepower while the helicopter can cover a distance of 342 miles with a full tank of fuel at a top speed of 140 kmph. It can take off with 2980kg weight and can fly up to an altitude of 7,200 feet.
You may also like: Car Collection of India and Pakistan Cricketers – Who Has Better Cars?
The H135's main rotor measures 34.1 feet in length while it is 40.2 feet tall and 12.8 feet wide. The cabin is divided in various ways – it can seat 6 more people with one or two pilots. This is the most preferred helicopter in emergency situations and can carry 2 pilots, and 2 doctors along with their equipment and 1 stretcher.
Another Big Ticket Purchase from Hyderabad
Another businessman from Hyderabad, Nasser Khan, also bought India's most expensive Super- Mclaren 765LT Spider car, which costs Rs 12 Crore in the country. He posted the video on his Instagram account where the car was clearly seen. The car gets an MSO Volcano Red exterior colour shade and is one of the fastest convertibles ever made by Mclaren.
You may also like: Hyderabad Man Buys Rs 12 Crore Mclaren 765 LT Spider – India's Costliest Supercar