Although the Hyundai Aura vs Skoda Rapid is not a apples to apples comparison, both cars have similar engines with similar outputs and are priced very close to each other as well. But which one is quicker? Read on to find out.
The recent trend and influx of small capacity turbo-petrol engines in our country is hard to ignore. These downsized turbo-petrol engines actually produce more or less the same power and torque or in some cases, even more than slightly larger naturally aspirated petrol engines. Two brands who have made turbo-petrol engines quite mainstream recently are Hyundai and Volkswagen. Both have a 1.0L turbo-petrol engine in their lineup that is characterized by their punchy nature when driven hard. Here are are comparing the performance of the Hyundai Aura vs Skoda Rapid, each with their 1.0L turbo-petrol engine.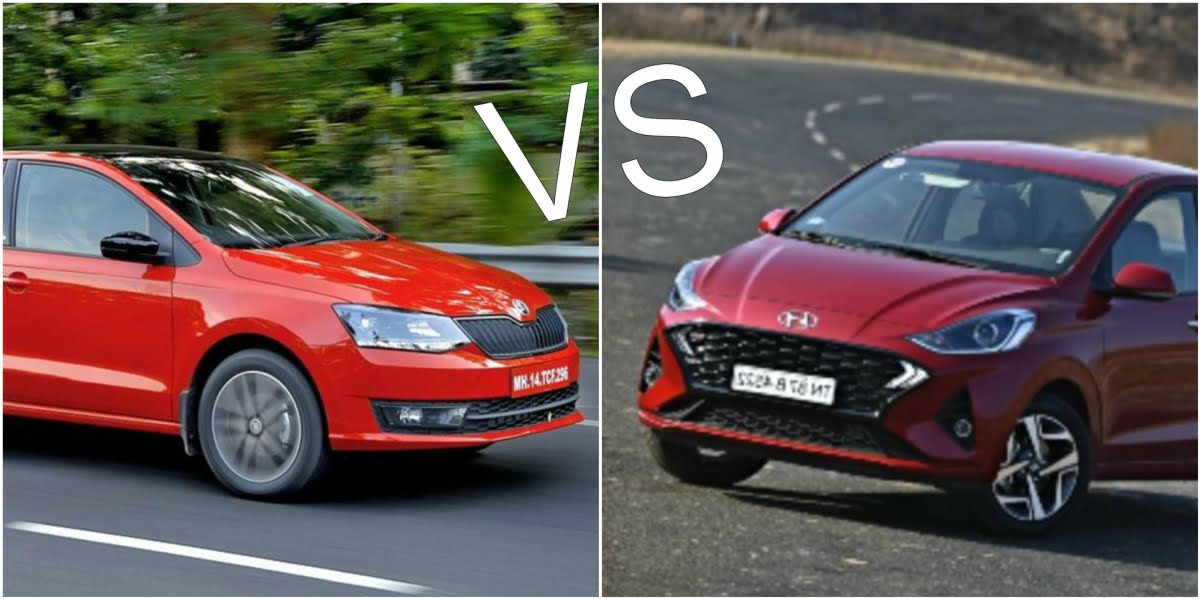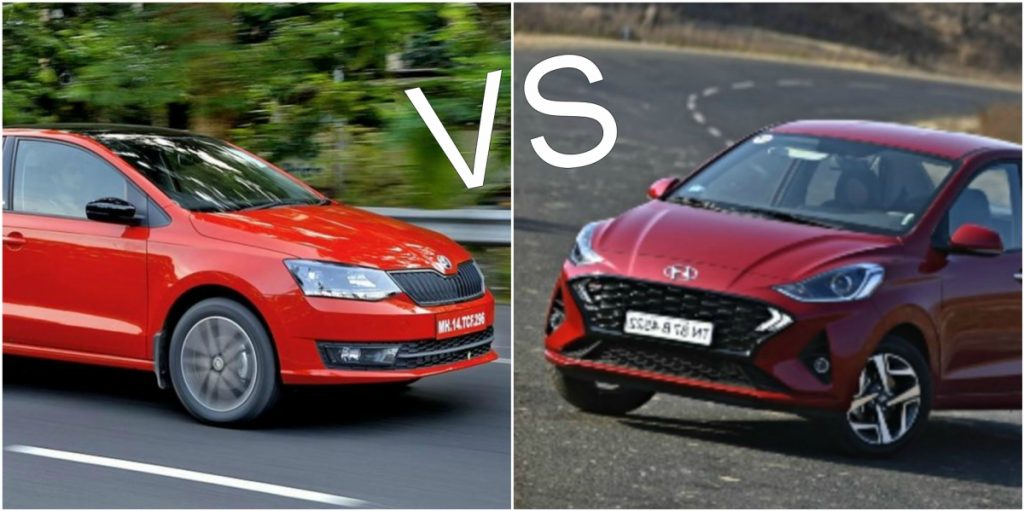 Okay, lets get the obvious out of the way. We admit that this is not an apples to apples comparison as the Hyundai Aura is a sub-compact sedan while the Skoda Rapid is a mid-size sedan. However, if we compare the prices of the Aura and the Rapid, the base Rapid Rider and Rider Plus variants actually undercuts the price of the Aura Turbo by a fair margin. So why not? Moreover, the Rapid Rider Plus variant comes reasonably equipped as well and you do not miss out on your essential features either. But which one should you pick in terms of their performance? Well, lets find out.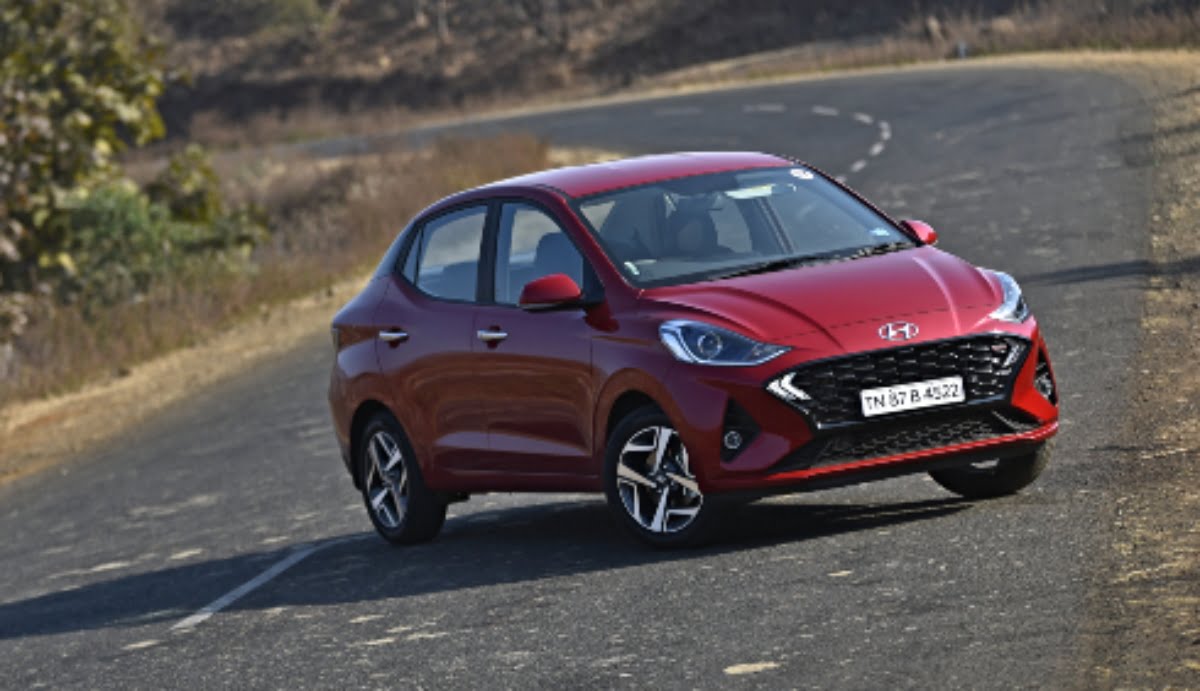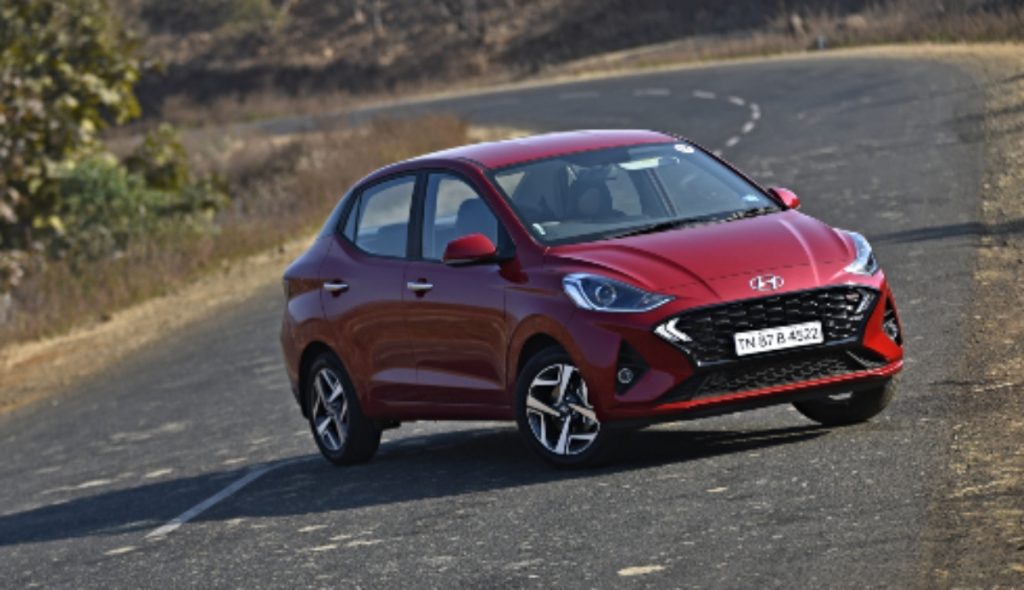 | | | |
| --- | --- | --- |
| | Hyundai Aura | Skoda Rapid TSI |
| Engine | 1.0-litre 3-Cylinder Turbo | 1.0-litre 3-Cylinder Turbo |
| Power | 100PS | 110PS |
| Torque | 172Nm | 175Nm |
| Transmission | 5-speed manual | 6-speed manual / 6-speed automatic* |
But first, here's the specs. Both the Hyundai Aura and the Skoda Rapid are powered by a 1.0L three-cylinder turbo-petrol engine. The Rapid however has the upper hand with 10PS more power and 3Nm of more torque. You also get an additional gear with the Rapid with its 6-speed manual gearbox while the Hyundai Aura only comes with a 5-speed manual gearbox. Also, if you want an automatic gearbox with your turbo-petrol sedan, you will have to go for the Rapid as the Aura does not get an automatic gearbox option with its turbo-petrol engine.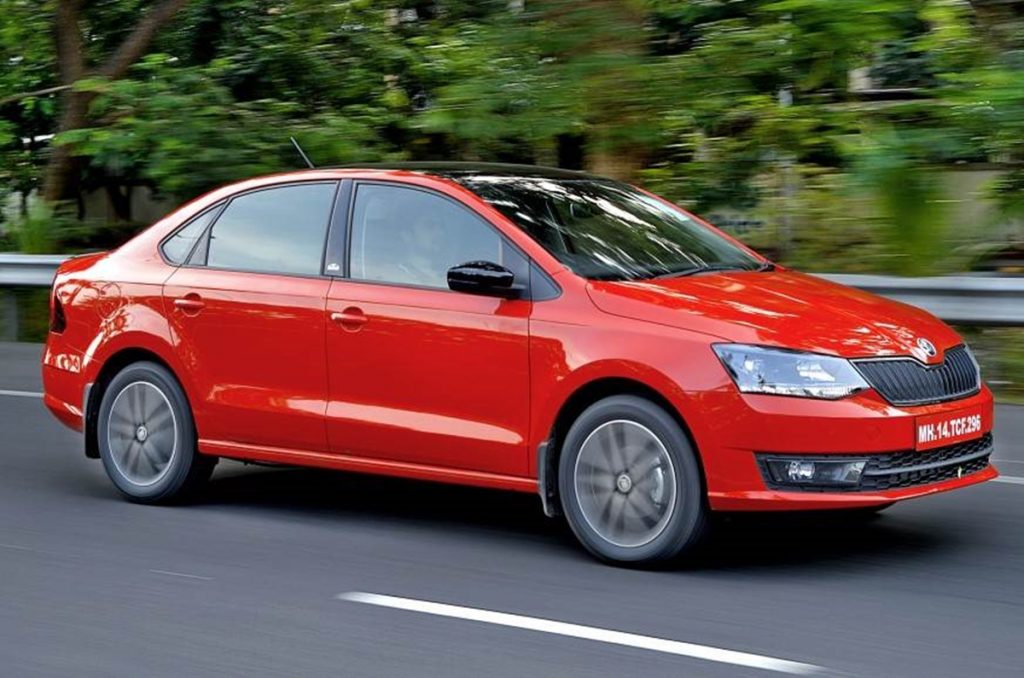 | | | |
| --- | --- | --- |
| | Hyundai Aura | Skoda Rapid TSI |
| 0-100kmph | 10.27 seconds | 9.77 seconds |
| 30-80kmph (Third gear) | 8.23 seconds | 8.68 seconds |
| 40-100kmph (Fourth gear) | 14.10 seconds | 13.83 seconds |
Also Read : Here's How Mahindra XUV300 Managed To Beat Hyundai Venue In A Drag Race!
The marginal power and torque advantage on the Rapid really shows in its performance test. In a test conducted by Zigwheels, the Skoda Rapid is half a second quicker to 100 kph from a standstill. However, in roll-on acceleration, its a mixed battle. The Hyundai Aura is marginally quicker in acceleration in third gear from 30-80 kph while the Skoda Rapid reverses the table in forth gear acceleration from 40-100 kph. The differences are very marginal and we doubt if any differences will be felt in the real world.
Also Read : Hyundai Verna vs Honda City – 0-100 kph Acceleration Test!
With so little to separate them in terms of performance, what should you rather choose between the two? Well, the Hyundai Aura Turbo is priced at Rs 8.55 lakh while the Skoda Rapid TSI is priced from Rs 7.49 lakh to Rs 11.79 lakh. If performance is your only criteria, you should undoubtedly go for the Rapid as it definitely drives better than the Aura. In that sense, the base-variants of the Rapid are great value-for-money for an enthusiast. However, the Hyundai Aura with considerably better fuel economy is the more sensible buy, if that is your priority.
Join us for FREE NEWS Updates on our Whatsapp Community or our official telegram channel.