Hyundai is leading the BEV (Battery Electric Vehicles) trend in India. Now, it has introduced a dedicated BEV Platform E-GMP (Electric Global Modular Platform).
EVs are becoming more and more popular among Indian users. As the demand is increasing, the customers are also expecting more from the BEV options. Hyundai is one of the few companies that is focusing on bringing competitive electric vehicles. Now, it has introduced its dedicated BEV Platform E-GMP (Electric Global Modular Platform) in India. Hyundai IONIQ 5 will next BEV from the brand. It will also be HMI's first model to feature the E-GMP Platform. Let's take a closer look at the Hyundai E-GMP (Electric Global Modular Platform).
You May Also Like: Maruti Alto Driven into Pond, Rescued by Hyundai Alcazar
You May Also Like: Watch Indian Vlogger Review Upcoming Hyundai Ioniq 5
Kickstarted Electric Mobility Campaign with Kona in 2019
Hyundai Motor Group started its Electric Mobility campaign in India in 2019 with the launch of the Hyundai KONA Electric. Now, it has taken the next step toward the development of future electric vehicles. With the recently unveiled E-GMP dedicated BEV platform, the company aims to drive the pump-to-plug revolution for electric vehicles. The E-GMP has been designed to offer enhanced driving dynamics with improved cornering performance. The driving stability at high speeds is improved by optimal weight distribution between the front and rear.
"Our Electric Mobility campaign in India began in 2019 with the launch of India's first electric SUV – Hyundai KONA Electric. As we continue to challenge the possibilities and dynamics of mobility, our pursuit of innovation is perfectly reflected in the Electric Global Modular Platform – E-GMP. With the introduction of E-GMP to India, we will be able to provide customers with advanced battery electric vehicles, derived from a platform that is modular, scalable, and versatile," said Unsoo Kim, MD & CEO, Hyundai Motor India.
You May Also Like: Vlogger Tries Driving Hyundai Accent with Square Wheels – Hilarity Ensues
Hyundai E-GMP platform
The E-GMP platform for vehicle chassis includes a battery, motor, and power electric system. It uses an advanced battery pack that offers a high range. The bi-directional charging plug enables the high-voltage battery to power various electronic appliances. Additionally, the E-GMP platform features an Integrated charging control unit (ICCU) that charges both the high-voltage battery as well as auxiliary battery. Customers will also benefit from Ultrafast Charging with a 350 kW DC charger (which can charge up to 80% in 18 minutes).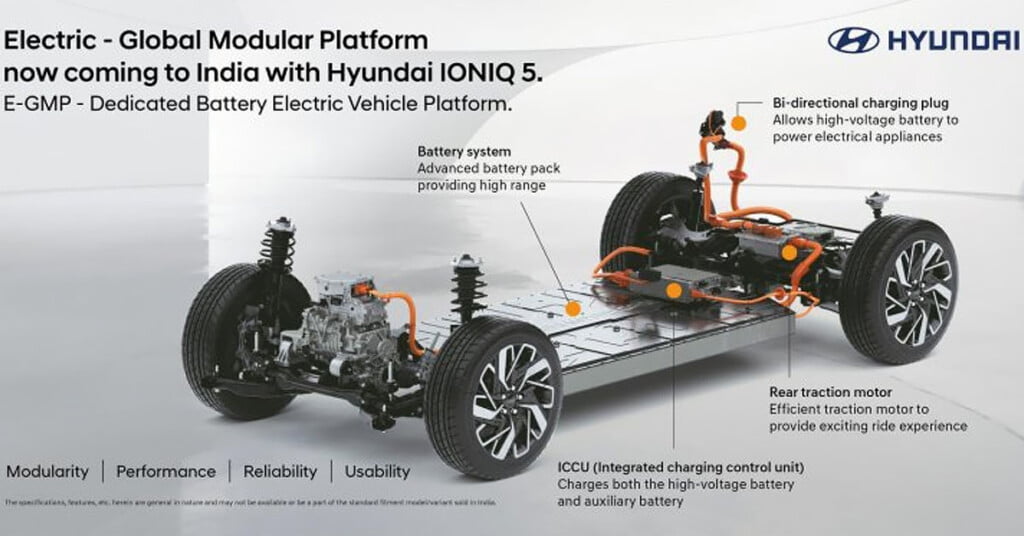 You May Also Like: Hyundai India Delivers 65,000 Cars in Festive Season, Confident of Selling Over 5.5 Lakh Cars in 2022
The Hyundai E-GMP platform comes with an inherent modular DNA. It can be used as underpinnings of vehicles with different body types. The innovative interior packaging features a flat floor and slim cockpit. This will be accompanied by a flexible yet spacious cabin. In India, the dedicated BEV platform is coming with the Hyundai IONIQ 5. The company claims that the upcoming car will redefine the Electric Mobility lifestyle and enable you to 'Power your world'. It will offer various seating positions and a moving console.
Join us for FREE NEWS Updates on our Whatsapp Community or our official telegram channel.