Social media engagement makes content creators do hilarious and bizarre stunts and this video shows exactly that.
Here is a video of a Hyundai Accent with square tires. We bet you haven't heard of any such case where a vehicle is being driven on square tires. In fact, one might even think it is impossible for a car to move on tires with any other shape than round. Well, you might have to re-think as this video will serve as a reminder to challenge the conventions. Let us check out the details here.
You may also like: Man Rips Apart Newly Constructed Rs 3.8 Cr Road with Bare Hands
You may also like: WATCH Bajaj Pulsar 220-Based Tyre Launcher Destroy a Hyundai Accent
You may also like: This Lovely Ferrari F430 Spider Was a Humble Hyundai Accent in Past Life
Hyundai Accent with Square Tires
This video has been created and uploaded by Crazy XYZ on YouTube. It is one of the biggest channels in India. The owner keeps performing entertaining experiments, mainly with cars and motorcycles in order to produce content for social media users. This time around, they decided to install square-shaped tires on a beaten old Hyundai Accent. Since there are no such tires in existence, the team produced them in-house. They compiled a few wooden boards cut as 17×17-inch pieces and bolted them together using a metallic plate.
You may also like: Using Fevicol Instead of Engine Oil in Hero Splendor is the Stupidest Thing You'll See Today
On the assembly, they drilled holes replicating the holes on regular tires from where they are mounted onto the wheel hub on vehicles. Since the team took great precautions to ensure the proper distance between these holes for nuts and bolts, they are easily mounted onto the vehicle. The Accent is seen standing on the wooden 'tires'. Finally, the YouTuber sits in the driver's seat and begins to accelerate the vehicle. Not surprisingly, the tires pose some resistance as the edges of the wooden boards were stuck in the ground.
You may also like: Little Kid Driving The Huge MG Gloster on Public Road is as Stupid as its Scary
Extremely Bumpy Ride
However, the YouTuber accelerated the vehicle hard and it starts to move. As one would imagine, the ride was extremely bumpy as the sides of the wooden board rotate. The driver stopped fearing that something is broken. But after inspecting everything, he puts his foot on the accelerator and does an entire round of the field where they are conducting this experiment. Interestingly, the car is being steered appropriately too. The entire team decided to jump in the car later on. The edges of the wooden board are completely destroyed at the front. It makes for a hilarious piece of content. How did you like this unique experiment?
You may also like: Road-Roller vs Honda Activa Strength Test is All Kinds of Stupidity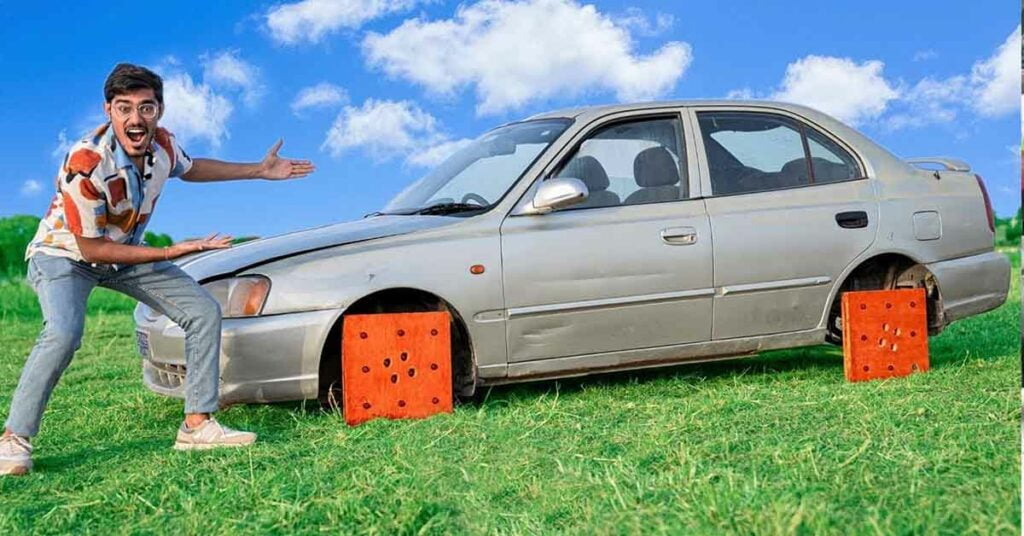 Disclaimer- The embedded videos/ external content is/are being used as a convenience and for informational purposes only; they do not constitute an endorsement or approval by Car Blog India of any of the products, services, and /or opinions of the corporation or organization or individual. Car Blog India bears no responsibility for the accuracy, legality, and/or content of the external site or for that of subsequent external videos/ external content. Contact the external publisher for answers to questions regarding its content.
Join our official telegram channel for free latest updates and follow us on Google News here.