In a bizarre set of events, a YouTuber is seen destroying a Hyundai Accent with a tyre launcher using a Bajaj Pulsar as its power source.
In this world of YouTube, people keep doing weird stuff and a great example of it is this tyre launcher that is being used to destroy a Hyundai Accent using a Bajaj Pulsar. The ingeniousness of this YouTuber enabled him to device an instrument that acts as a tyre launcher. Using it, a tyre can be propelled and launched at very high speeds drawing power from the engine of a Bajaj Pulsar. He uses this tyre to destroy various things that he keeps in the path of the moving tyre. Here are the details.
You may also like: Bajaj Pulsar 220 User Trying to be Ghost Rider is TOTALLY Stupid
You may also like: WATCH Lighter Rider on Yamaha MT15 Race With Bajaj Pulsar N250
Bajaj Pulsar-Powered Tyre Destroys Hyundai Accent
The bike has been parked in such a manner that allows for the rear tyre to rotate depending on the acceleration by the rider. The rotating rear tyre makes the monster tyre rotate that is placed on the device made by the YouTuber. He, along with his team keep bringing various obstacles on the path of the travelling tyre to see the results. In the first attempt, they let the tyre free and capture how far it travels using a drone. In this next attempt, a table is placed before the moving tyre. The speed and force of the tyre are such that the table gets broken into two. Thereafter, the same process is repeated with a couch/sofa. The tyre bounces in the air after hitting the sofa with such great force.
With things turning even more bizarre, the team brings in an old refrigerator. The used-up fridge gets destroyed as soon as the moving tyre hits it. The tyre goes on to hit the fencing as well. Then the YouTuber and his team bring a dysfunctional Hyundai Accent in front of the moving tyre. They hit the sedan multiple times. When the tyre hits the front door of the sedan, there is a massive dent on it and the glass gets out of the door panel and is seen on the seat. An even worse fate awaits the rear section of the car with the dent being even worse and the seat getting ripped off in the process.
You may also like: New Bajaj Pulsar F250 Challenges KTM RC200 in Drag Race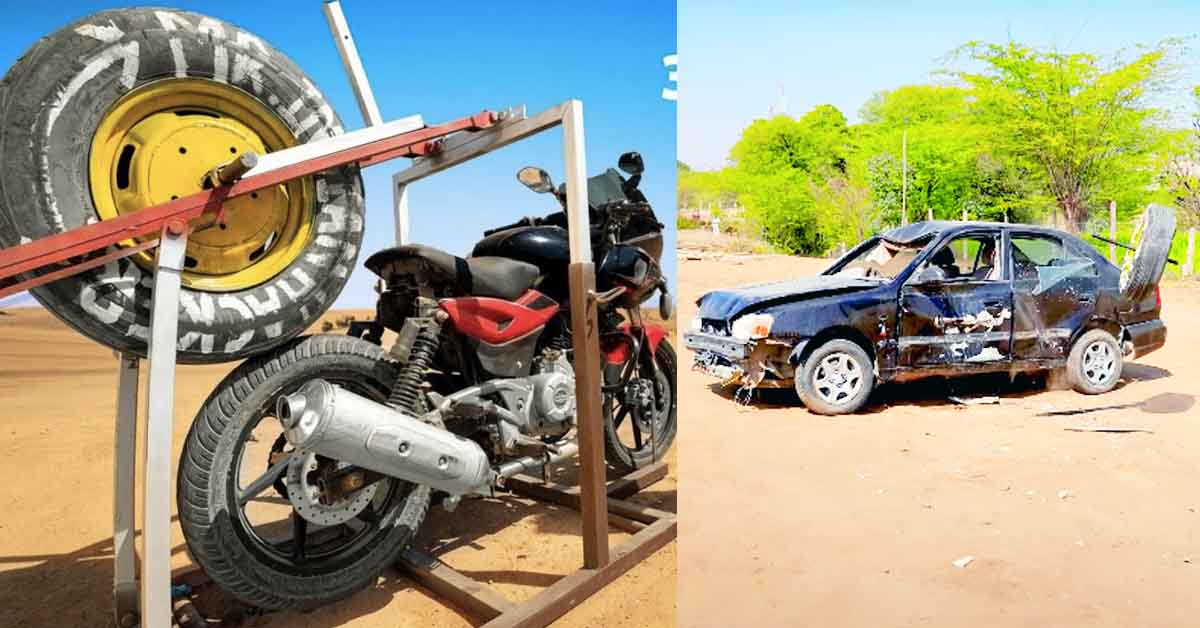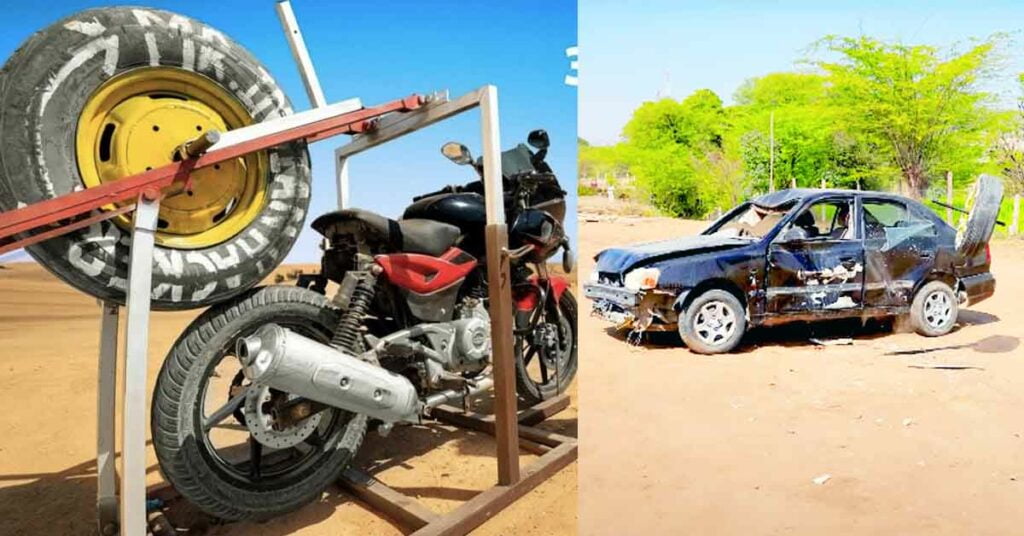 We would like to urge our readers to never try attempting such stunts on your own. These could pose serious safety issues for everyone involved.