People could go to extreme lengths to imitate movie scenes but in this case, this vlogger makes it extremely dangerous for himself and his pillion rider.
Have you ever seen the real-life version of the Ghost Rider bike using a Bajaj Pulsar? Well, this will be a great opportunity to witness it if you haven't already. It is a well-known fact that YouTubers keep coming up with unthinkable content to gain more subscribers and followers. Such unique and borderline stupid acts have the tendency of going viral quickly. However, it must be understood that these possess threats to lives as well. Let us take a look at how this guy was able to recreate the scene from the popular movie Ghost Rider.
You may also like: WATCH Lighter Rider on Yamaha MT15 Race With Bajaj Pulsar N250
You may also like: New Bajaj Pulsar F250 Challenges KTM RC200 in Drag Race
Ghost Rider With Bajaj Pulsar 220
The YouTuber starts the video off by introducing the Bajaj Pulsar 220 which will be used to perform this stunt. He begins by tying a black cloth around both the tyres of the bike. Then he sprays petrol on the cloth in large quantities. The location seems quite remote with the backdrop of a mountain. The ground has green grass and it becomes clear that the YouTuber has chosen a place away from the city. That is probably a great idea since the stunt involves setting the bike on fire. You can't just perform such acts in a city around people. The YouTuber sits on the bike and his friend sits behind him. However, what is a bit strange is that neither of them is wearing any fire suit or protective gear. In fact, the pillion rider is in his flip-flops.
But they go ahead with the stunt anyway. As soon as the bike starts to move, the tyres are set on fire. But as the YouTuber later confesses, the fire that was initiated was a bit too strong. The flames were extremely high and certainly more than what the YouTuber has thought. Within a distance of 10-15 m in about 10 seconds, the entire bike seems to be engulfed in flames. The riders are seen hanging their feet in the air because of the excessive heat which is to be expected. Soon afterwards, the bike is not possible to be driven and the riders jump off the bike. His colleagues are seen putting out the fire using water and mud.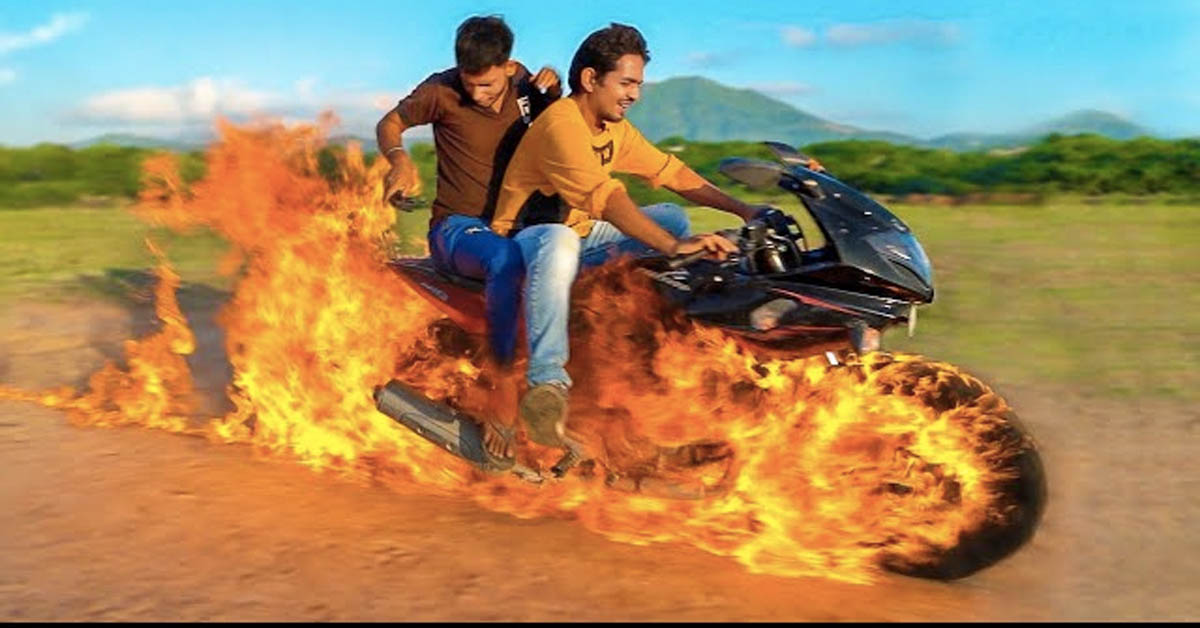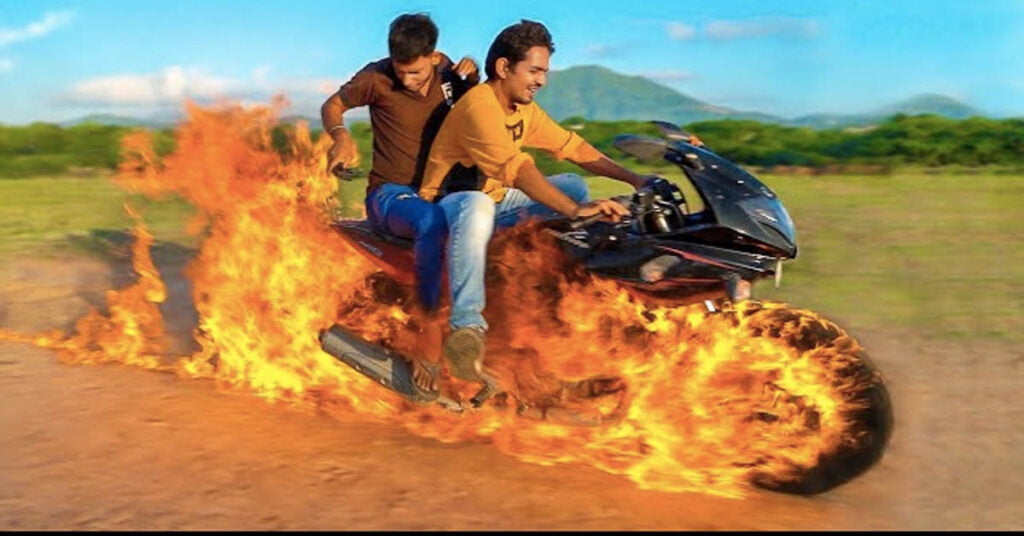 You may also like: Bajaj Pulsar RS400 Looks Smashing in New Illustration
We must urge our readers to never try to do such things under any circumstance at all. Even if you think you are well prepared, playing with fire could get ugly very quickly. Please never try this on your own.