The Hyundai Elantra 1.8 GLS has won the Car of the Year prize for 2012 in the prestigious annual competition of the South African Guild of Motoring Journalists and WesBank. Hyundai's medium luxury sedan with its exciting and eye-catching "fluidic sculpture" styling and with driving dynamics to match– was announced as the winner at the SAGMJ and WesBank's Car of the Year banquet at Gallagher Estate in Midrand.It is the first time that a Korean car has been awarded the South African Car of the Year prize, and it follows two years where Hyundai Automotive SA had been knocking hard at the door. In the 2011 competition Hyundai had two finalists – the Hyundai ix35 and Hyundai Sonata – and the Hyundai i20 was a finalist in the 2010 Car of the Year competition.
This has turned out to be a golden year for the Elantra: In January, at the Detroit Motor Show, the Elantra was also announced as the North American Car of the Year, and it also won the overall prize in the Canadian Car of the Year competition.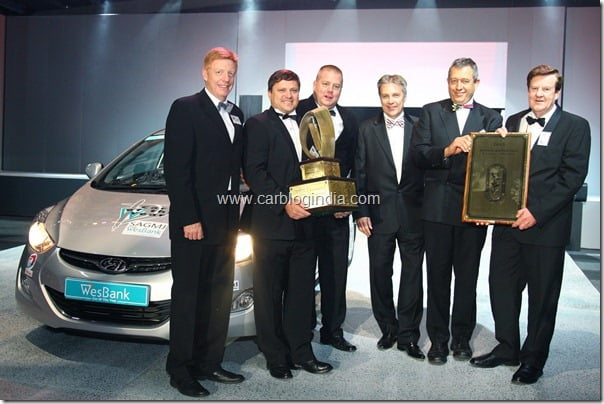 image – Hyundai Officials Collecting the Award at the Ceremony
South Africa's CAR Magazine named the Elantra as the Best Compact Saloon in their Top 12 Best Buys for 2012, and in their latest edition the topCar magazine chose the Elantra as their Best Compact Sedan in their Best Buy edition for 2012.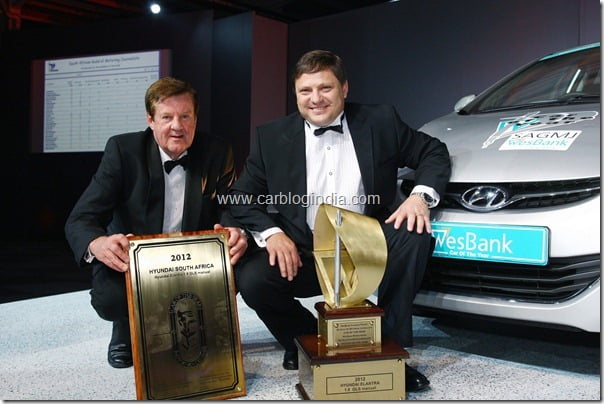 Since its South African launch in August 2011, the new Elantra has set the cat among the pigeons in its market segment. It quickly became a leader in its segment and gained recognition as the sedan that is more than well equipped to elevate the Hyundai brand to the Next Level: To compete as a modern premium vehicle that offers luxury, quality and an exciting motoring package at an accessible price.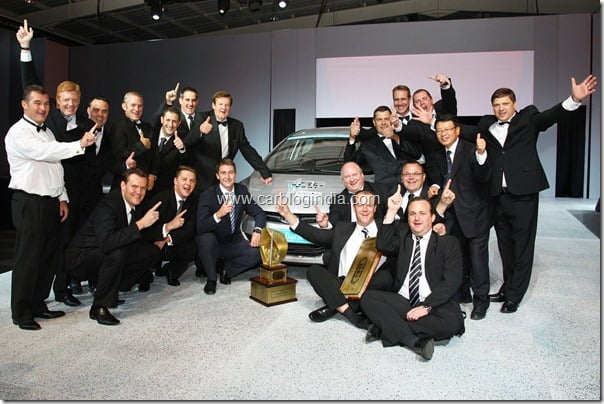 Alan Ross, managing director of Hyundai Automotive South Africa, after receiving the Car of the Year trophy quoted:
"We are extremely proud of the recognition that a world-class product such as the Hyundai Elantra has received from the South African Guild of Motoring Journalists. This award, and the fact that we had no less than two finalists in the previous competition, is confirmation of the giant strides that the Hyundai brand has made locally and globally. It is also recognition of the quality and emotional appeal that the Hyundai products have developed as part of the brand's 'Modern Premium' strategy."
check out more-
Join us for FREE NEWS Updates on our Whatsapp Community or our official telegram channel.