A last-gen Hyundai i10 car was spotted fallen inside a hole in the road after being swallowed due to rains in the capital. The monsoon season is here and such incidents are becoming very common. The video shows the front end of the Grand i10 inside a massive hole created on the road in Dwarka. The reason for this is the heavy rainfall that has engulfed the capital over the last week. In a similar incident reported earlier in Mumbai, a parked Hyundai Venue was seen half-buried in the road. Such incidents represent the poor build quality of our roads. The water causes the land beneath the road to slide creating a hole. These are some of the occurrences that have been caught on tape. We don't know how many times such things have come to pass.
Also read: What Is Your Take On The "Barbie Edition" Of Mahindra Thar?
Car Being Swallowed By Hole In The Road
In Mumbai, the parking was constructed on a well that was covered by a cement wall. People have been using this as an official parking space for their vehicles. But no one was aware of the fact that a well runs below the parking space. The compact SUV was pulled out using a crane later. In the event that occurred in Dwarka, however, there were no reports of any injuries yet. It was also on a road which looks quite busy. A crane would have to be called to pull the car out of the ditch. The sinkhole is too big for the car to drive out of. This tells us about the poor road construction in our country and one needs to pay attention to such things especially during the monsoon season.
Also read: First-Ever MG Hector With Gold Wrap!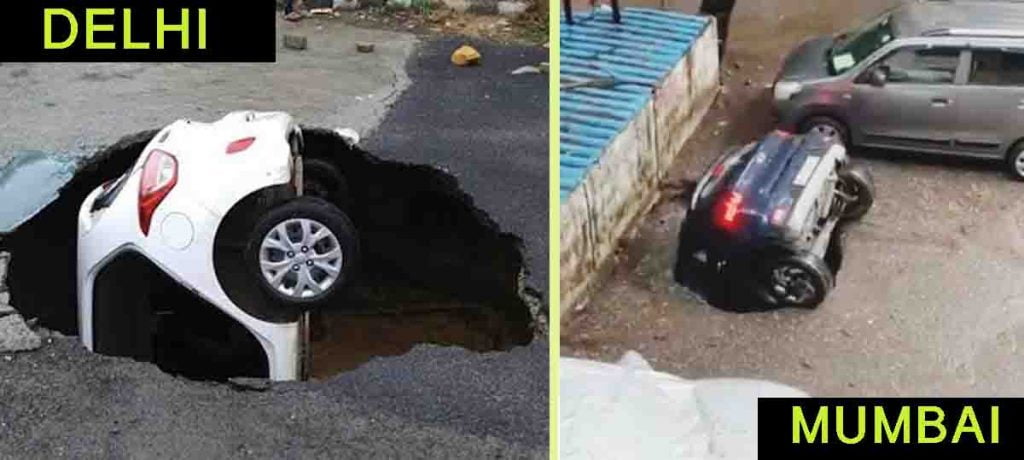 How To Prevent Such Accidents
Although there is no way to know, for sure, where this might happen, we can still try a couple of things from our end. During the monsoon season, one must always be on the lookout for the possibility of such events. If you sense that something like this might occur where you park your car, make sure to change the parking location. Do not drive on shady and newly constructed patches on the road. If you live in the hills, then don't park your cars under the trees or on the mountainside. There is the danger of falling rocks and landslides in such weather conditions. Following these guidelines can't promise that it won't happen to you but the chances will be reduced drastically.
Also read: Ford EcoSport Booking AXED By Aspire Owner As Dealer Lacks Clarity On Company's Future!
Join our official telegram channel for free latest updates and follow us on Google News here.