Hyundai Nexo Electric Fuel Cell SUV launch in India is confirmed. The futuristic SUV might launch in India by end of 2019 or the start of 2020. This SUV will be of the same dimensions as the Hyundai Creta.
The Hyundai Nexo Electric fuel cell SUV India launch has been confirmed by Hyundai. At the Global Mobility Summit, Hyundai said that it will launch 3 Electric vehicles in India starting next year. One of them is this Creta type SUV. It will be basically based on the Electric fuel cell concept, which required hydrogen plants. Now, India does not have any sort of hydrogen plants so it might take some time. Hyundai plans to launch zero-emission models globally. More fuel cell vehicles are evaluated for the Indian markets as well. Almost every other brand is gearing up for their EV launches starting 2020. With this SUV, Hyundai also plans to introduce the Kona Electric SUV in India.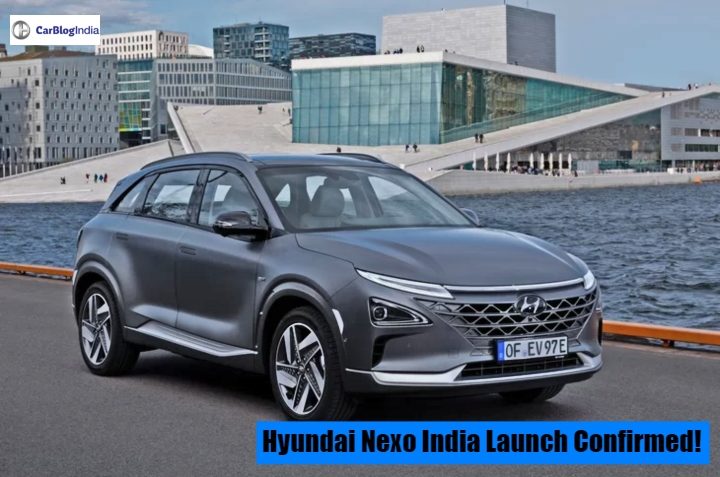 Also Read: Hyundai to launch 6 new Utility Vehicles in India within the next 3-5 years
Now, let me explain what is an electric fuel cell. It is an electrochemical cell that converts the chemical energy from fuel to electricity. This process is done through an electrochemical reaction of hydrogen fuel with oxygen or another oxidising agent. They are not needed to be charged, they just require hydrogen fuel and oxygen for fuel cells to run continuously. In summary, it is basically an electric motor which uses hydrogen combined with oxygen or any other oxidizing agent to produce electricity.
The fuel cell drivetrain used on Hyundai Nexo is lighter than a regular electric powertrain. The Nexo makes around 161 BHP of max. power and 395 Nm of peak torque. The top speed estimated for this SUV is around 177 km/hr. The 0-100 km/hr sprint can be achieved in 9.2 seconds flat.
Also Read: Hyundai Carlino Price In India, Launch, Features, Interior, Images & Specs
The Hyundai Nexo will come with a total range of 609 kms on a single charge. Usually, fuel cells take less than 5 mins to charge. The SUV can also handle temperatures dipping low till -30 degrees. Also, it gets the air purifying ability to 99.9%. Polluted air particles are purified while you are driving and for that, there is a meter showing the percentage.
Features onboard the Hyundai Nexo are blind spot view monitor, lane following assist, highway driving assist and remote parking assist. Also, LED headlamps with DRLs are seen on the exteriors. In the interior, it will come with 2 large LCD screens for showing vehicle stats such as speed, range, efficiency. One of this LCD screen will double up as an infotainment system.
Also Read: Hyundai Kona Electric SUV Launch Confirmed For India: We Tell You All About It
However, before this, we believe that the Kona Electric SUV will launch in India. It will be a pure EV with all the charging kit and battery packs. It is expected to come with a 39.2 kWh battery pack. This motor can produce 135 BHP of max. power and 395 Nm of peak torque. It can also come with a 64 kWh battery pack.