The trend of converting ICE cars into EVs is relatively modern and people are coming up with customisable ways to do it.
This is a great video showing how a Hyundai Santro owner converts his compact hatchback into an EV. People all across the country are reeling under the astronomical fuel prices. What's worse is the fact that the prices are constantly on a rise and show no signs of reducing. Hence, people are beginning to look for alternatives. Since EVs are significantly more expensive at this point in time, CNG or aftermarket EV conversion seem to be the only way to save money on fuel. That trend is what led to this creation.
You may also like: YouTuber Drives His Hyundai on Water instead of Petrol – See It to Believe It! – VIDEO
You may also like: Discontinued in India, Hyundai Santro Gets Cargo Variant Abroad
You may also like: Best Hyundai CNG Cars in India – Santro to Aura
Hyundai Santro Owner Converts It Into EV
The video has been uploaded by the owner Mihir on his YouTube channel. He has designed the entire process himself and implemented it with the help of a local experienced mechanic. He took out the top part of the engine called the engine head and left the bottom part intact. Removing the engine head and pistons freed up enough space to mount the electric motor on the top. In this way, the power steering pump and AC compressor remain intact and can be powered by the electric motor directly.
You may also like: This Chinese EV is a Hyundai Santro Lookalike with Merc Face
In order to power the 12 V battery in the car for headlights, power windows, central locking, etc, the main battery supplies power to this small battery using a 72-12 V DC-DC converter. The main battery pack is a 6 kWh Lithium Ferro Phosphate (LFP) and the motor used is a 72 V BLDC (Brushless DC Motor). This arrangement allows a top speed of around 60 km/h and a range of about 80-90 km on a single charge. The charging point has been positioned at the exact spot from where the regular fuel is filled.
You may also like: Classic Mercedes W123 Converted to EV to Escape Getting Scrapped in Delhi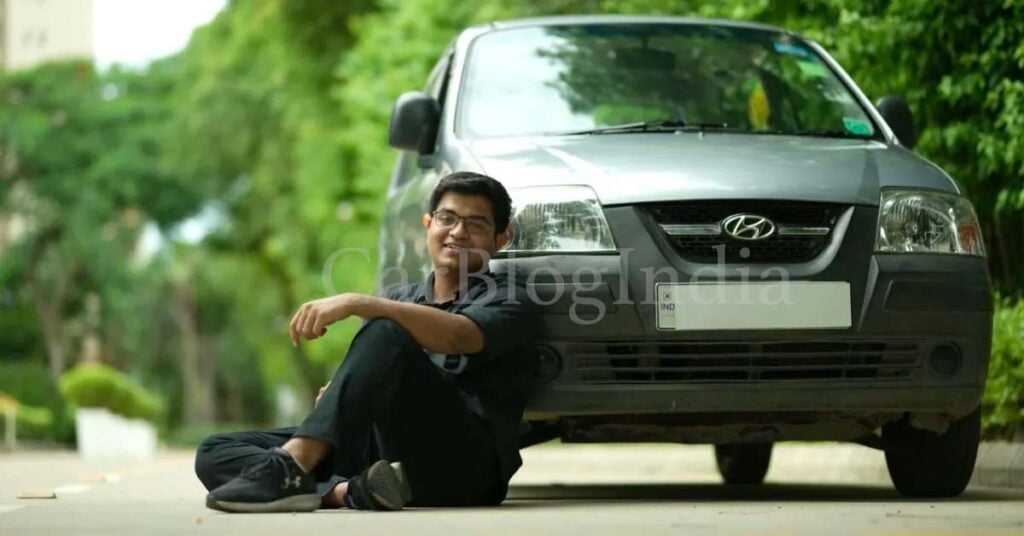 Cost of Conversion
The entire setup costs just Rs 2.4 lakh. The battery is placed in the boot. The running cost is less than Re 1/km which is impressive. With low top speed and range, it is a perfect city car. This is because it can be manoeuvred easily in tight spaces owing to its compact dimensions. Also, the car would still use the AC, power steering and gearbox just like under normal circumstances. Mihir mentions that this is the first project which focuses on practicality and affordably. There will be more to come in the future.
Disclaimer- The embedded videos/ external content is/are being used as a convenience and for informational purposes only; they do not constitute an endorsement or approval by Car Blog India of any of the products, services, and /or opinions of the corporation or organization or individual. Car Blog India bears no responsibility for the accuracy, legality, and/or content of the external site or for that of subsequent external videos/ external content. Contact the external publisher for answers to questions regarding its content.
Join our official telegram channel for free latest updates and follow us on Google News here.