You must've heard that cars can't be driven using just water but this YouTuber has proven everyone wrong.
In a shocking video, a YouTuber drives a Hyundai Santro using water and some stones. Yes, you heard that right! Crazy XYZ is one of India's biggest YouTubers with over 24 million subscribers. He keeps conducting unique scientific experiments mostly on cars and bikes to produce some informative content in the garb of entertaining videos. But this time around, he has managed to do something truly remarkable. Here are the details of this latest experiment.
You may also like: Hyundai Santro Converted Into EV in 3 Days for Rs 2.4 Lakh
You may also like: Tata Tigor EV Owner Shows How to Charge Car Using Petrol Generator
YouTuber Drives Hyundai Santro on Water
At the beginning of the video, the YouTuber disconnects all the wires and cables responsible for transporting fuel from the tank to the engine. He shows the car not being able to ignite due to no fuel supply. Furthermore, he squeezes out the entire fuel from the tank using a motor. In this way, the viewers are able to know that there is no way the car can use fuel to start now. Thereafter, the YouTuber brings large water canisters and some syringes.
You may also like: WATCH What Happens When a 4-Ton Container Falls on Maruti Omni
He takes some stones (which are actually Calcium Carbide stones) and puts them in a bottle which has a little water in it. The chemical reaction between Calcium Carbide and Water results in the formation of Acetylene gas. Acetylene is flammable and powerful gas. Using the energy of this gas, the YouTuber tries to drive the car. He puts the syringes inside the intake manifold of the engine to supply Acetylene. As the team adds more and more stones inside the water canister, more gas is produced.
You may also like: Vlogger Tries Driving Hyundai Accent with Square Wheels – Hilarity Ensues
Good Merely for an Experiment
What is mighty impressive is the fact that they are able to not only switch ON the car but also drive it for around 100 m. This is a very raw and impromptu experiment that caused the Santro to be driven around using just this gas. However, if done at a large scale under proper testing conditions, it might not be a feasible source of energy. What are your thoughts on this?
You may also like: Maruti Swift vs 1,00,000 Diwali Crackers – Will It Survive?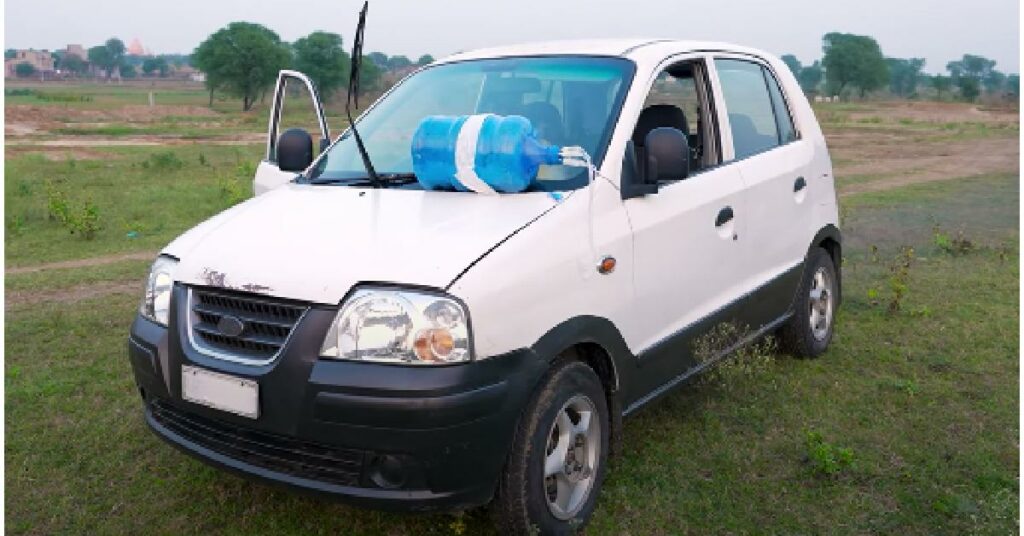 Disclaimer- The embedded videos/ external content is/are being used as a convenience and for informational purposes only; they do not constitute an endorsement or approval by Car Blog India of any of the products, services, and /or opinions of the corporation or organization or individual. Car Blog India bears no responsibility for the accuracy, legality, and/or content of the external site or for that of subsequent external videos/ external content. Contact the external publisher for answers to questions regarding its content.
Join our official telegram channel for free latest updates and follow us on Google News here.