A new video shows a Tata Tigor EV owner using a generator to charge their car. This method can be used in an emergency.
Electric cars are getting more popular in the Indian market. Since the Tata Nexon EV received a good response, more models have been added by the parent company. The Tata Tigor EV is currently one of the most affordable electric cars in the country. It is also very popular among consumers. However, there is still a lot of mistrust of EVs among Indians. What if they run out of charge in the middle of nowhere? Now, a Tata Tigor EV has found a solution in a petrol generator. Can this method be used in an emergency situation? Let's take a look!
You May Also Like: Top 5 Electric Cars In India- Porsche Taycan to Audi e-Tron GT
You May Also Like: Top 5 Electric Cars for Indians in Canada- VW ID.4 to Tesla Model 3
Tata Tigor EV Charged Through Genset
As you can see in the YouTube video by sinto antony, the Tata Tigor EV ran out of charge on a trip to a hill station. The group was on their way to Wagamon, Kerala. After traveling for almost 90 km, the car had to be recharged at a proper charging station. With up to 84 percent, the uphill drive began and the battery percentage started dropping pretty soon. Upon reaching their destination, the car was left with only 26 percent of the charge. Since the hill station does not have any charging stations, they had to improvise.
You May Also Like: Gujarati Doctor Couple Buys India's first Mercedes EQS580 4MATIC with 857 km Range
The Tata Tigor EV owner confessed that the trip was part of an experiment. They had always wanted to test if an electric car can be charged with a 3 kw petrol generator. As you can see, the Tata Tigor EV shows no error in the charging setup when the charger is connected. Please note that if the earth wire is not properly connected, it is likely to show an error. When the generator was started, the instrument cluster in the Tigor EV showed a 26 percent of charge in it. After running the generator for almost one hour, the car had a 36 percent of charge. The charging experiment is definitely successful. However, the rate of charging in this method is quite slow. Still, you can use this setup in an emergency situation.
How To Charge Electric Car With Generator In Emergency
To solve the earthing issue while plugging in an electric car to a generator, a metal rod is fixed to the ground.
Next, a piece of wire from the switchboard connects the neutral, and the earth is connected to the metal rod.
Once the wires are properly connected, the three pins of the Nexon EV home charger are plugged into the switchboard.
Then, the generator is then started.
Next, the switch is turned on.
That's it! The car starts charging properly.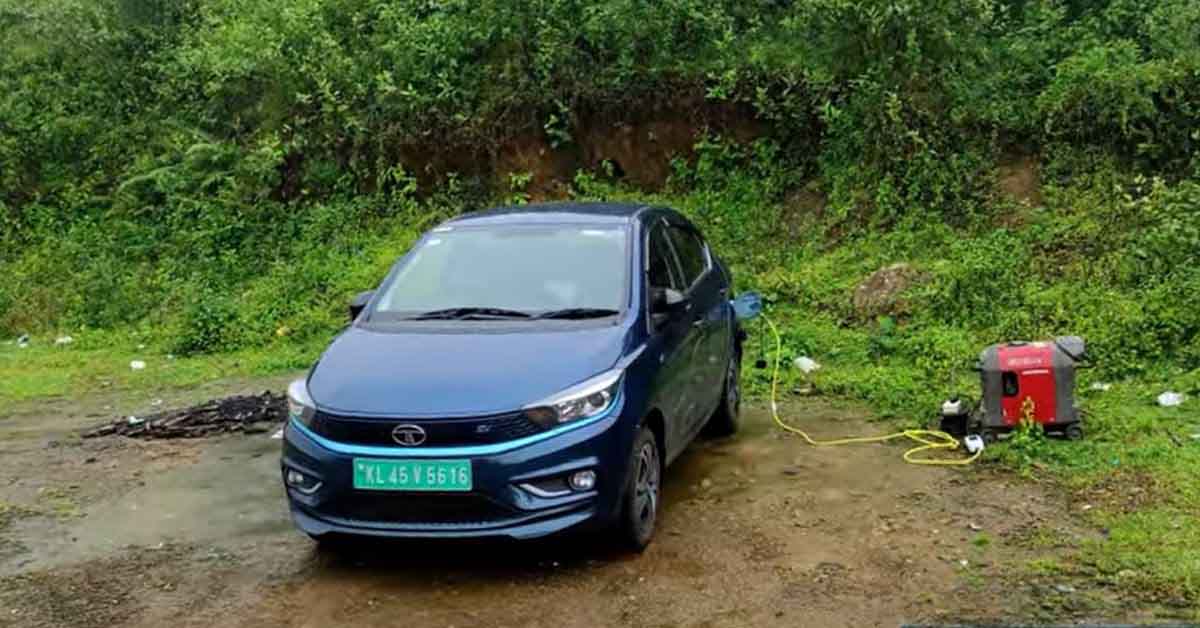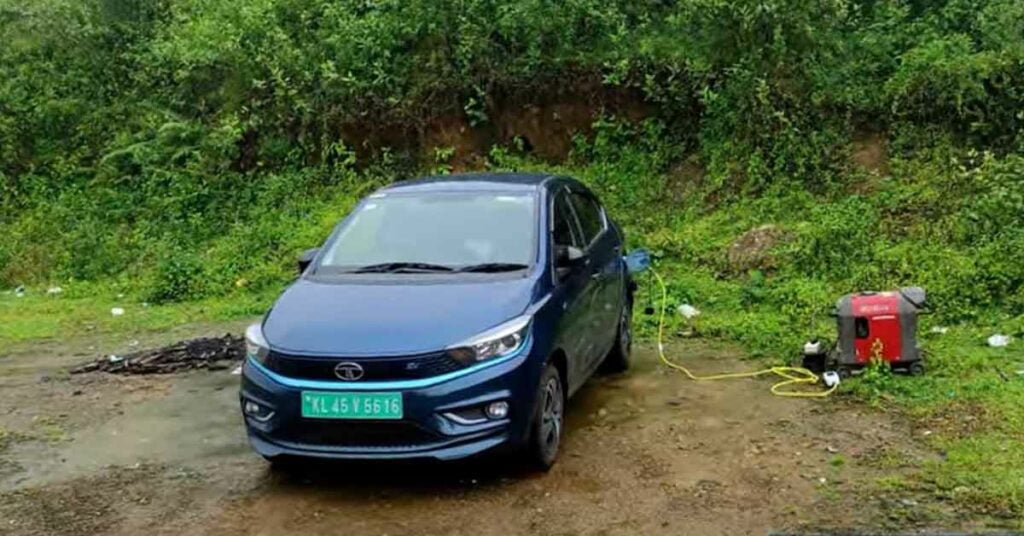 You May Also Like: Upcoming Budget Electric Cars In India 2022
While EVs have a small share of the automobile market in India, this segment is growing rapidly. For electric cars to replace the petrol/ diesel/ CNG/ LPG powered cars in India, many changes need to be made. To begin with, there is a serious lack of charging stations around the country. Currently, Indian highways are not optimal for electric cars. Smart planning needs to be done to push EVs for city cars and for highway use. Fortunately, the Indian government is quite keen on promoting electric vehicles in the country. We are likely to see better infrastructure pretty soon. Affordable electric cars might be the final key.
Join us for FREE NEWS Updates on our Whatsapp Community or our official telegram channel.